for the alfajor wafers:
2

cups

of all-purpose flour sifted,

250

grams

3

egg yolks (we will use the whites for the meringue)

5 tablespoons

of whole milk

1 teaspoon

vinegar (apple cider or white)

1 tablespoon

of melted butter or vegetable oil

1

can Dulce the Leche
for the meringue:
3

egg whites at room temperature (

1/2 cup

)

3/4

cup

granulated sugar

1 teaspoon

vanilla extract, optional
Instructions
To make the alfajor wafers: Put the flour in a large bowl. Add the yolks and work with a fork or your hands to form crumbs.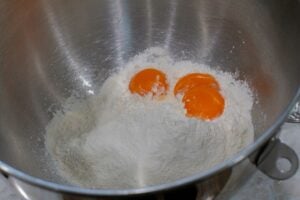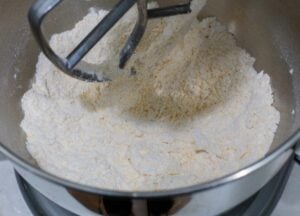 Add the milk, vinegar, and melted butter.

Form a dough, add teaspoons of water if necessary. Knead until it forms a smooth and sound dough, about 10 minutes.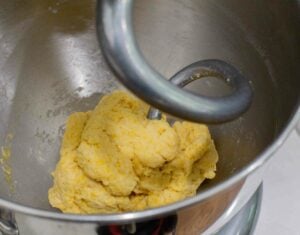 Wrap in plastic wrap and chill in the refrigerator for at least 30 minutes or up to 2 days.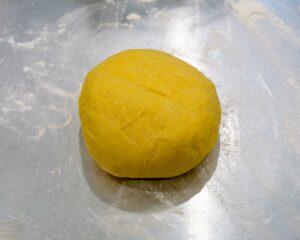 Preheat the oven to 350F or 180C. At least 20 minutes of preheating.
Roll thin and cut the alfajores. Before putting it in the oven, score with a fork. I roll the dough into the cookie sheet with a bit of flour, cut them up, and that's it. So I don't have to move the wafers, and they don't deform.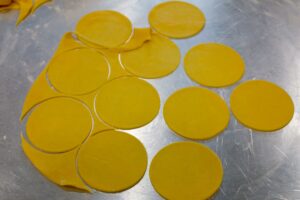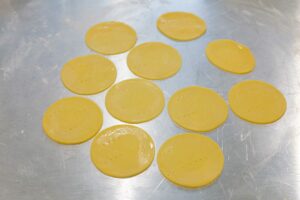 Bake for 10-12 minutes or until golden brown.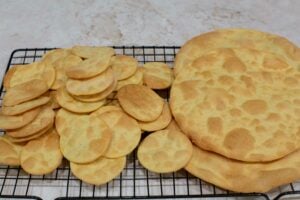 To make the meringue: In a large pot, place 5cm of water and bring to a boil for the bain-marie. When it comes to a boil, reduce the heat to a minimum.
Place the whites, sugar, and vanilla, if desired, in a metal bowl that you can place over the pot to set up the bain-marie so that the bowl does NOT touch the water. With a manual balloon whisk, combine all the ingredients.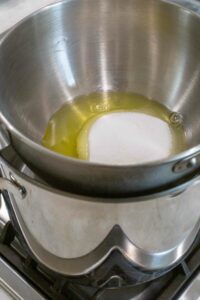 Place in a water bath and stir until the sugar dissolves, is quick 3-5 minutes. To ensure that the sugar is dissolved, take out a little and rub it between your fingers. If smooth, it's ready.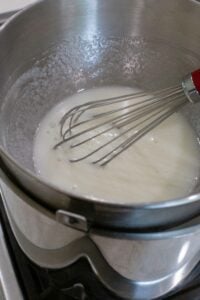 Remove from the water bath and start beating with a mixer at maximum speed until the meringue is cold—about 10 minutes.
Preheat the oven to 100C or 212F. Hopefully, you have an oven thermometer because it's essential, so they don't brown.
To assemble the chilenitos: glue the alfajor wafers with Dulce de Leche, cover the sides with meringue and put the top meringue layer.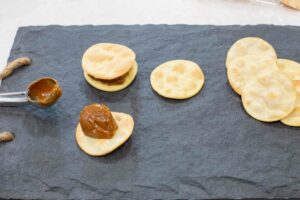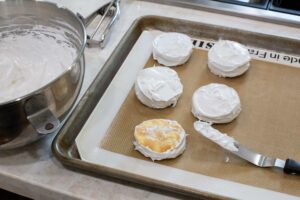 Place the chilenitos on a cookie sheet.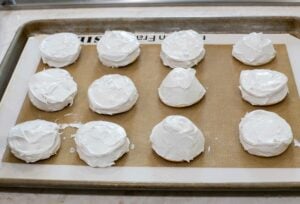 Bake for 20 minutes, open the oven and touch the chilenitos. They should feel and look dry. Turn off the oven and let them cool in the oven.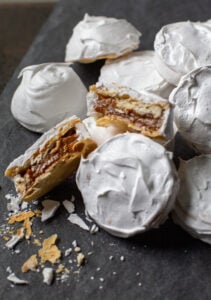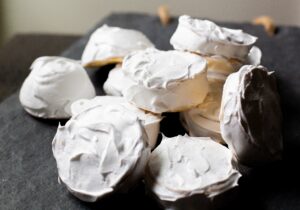 Notes
You can store the baked alfajor wafers without filling in an airtight can for up to 1 week, freeze for up to 2 months. The chilenitos last a week at room temperature and can be frozen for up to 2 months.
Author:

Pilar Hernandez

Prep Time:

2 hours

Cook Time:

30 minutes

Category:

Sweets

Method:

Baked

Cuisine:

Chilean
Nutrition
Serving Size:
Calories:

181

Sugar:

24.1 g

Sodium:

56.7 mg

Fat:

3.7 g

Saturated Fat:

2.1 g

Carbohydrates:

32.6 g

Fiber:

0.2 g

Protein:

4.2 g

Cholesterol:

30.5 mg
Keywords: chilean chilenitos, chilean sweets