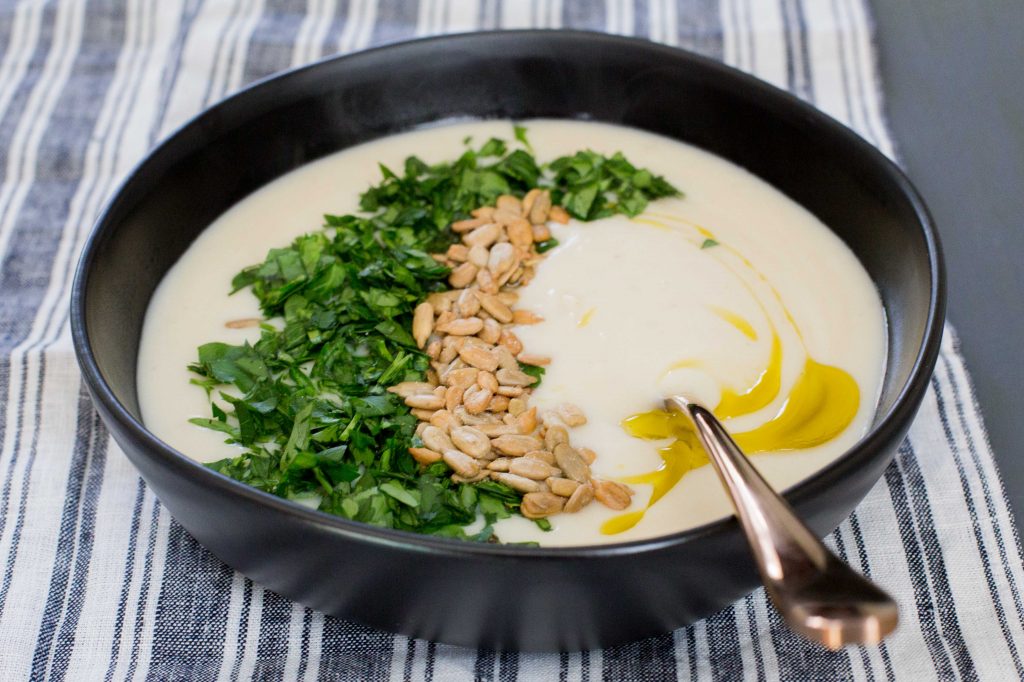 This Cream of Cauliflower Soup is delicious and perfect for warming up a cold day. I recommend thickening it with white sauce, so the flavor of the cauliflower is highlighted. When I have used potatoes or other thickeners, I find that the character of the cauliflower is lost.
Cauliflower has a bad reputation with many generations, not with me. As a girl, I had no problem eating it in salads with a lot of lemon or vinegar. Now they sell several foods based on cauliflower and as a result low in carbohydrates. I have tried pizza with cauliflower dough, and it is not my thing, but cauliflower gnocchi is delicious. Undoubtedly a versatile vegetable. I still prefer it in a casserole or warm with white sauce on top and a side of mashed potatoes.
Growing cauliflower is simple, and the cheddar, purple or romanesco varieties look beautiful in the garden, it does require a lot of space.
Cream of Cauliflower Soup
for 4 people
Ingredients:
1 large or 2 medium cauliflower
2 1/2 tablespoons of butter
3 1/2 tablespoons of all-purpose flour
2 cups of milk
2 cups of vegetable broth, milk or water
salt, pepper, and nutmeg
Preparation:
Cut the cauliflower into small florets. In a large pot add 2 cm. or 1″ of water and when boiling, add the florets with the stems down.
Cover and let cook for 5-8 minutes until they are barely cooked or al dente. Meanwhile prepare the white sauce, in a medium saucepan melt the butter over medium heat, add the flour and cook stirring for 2 minutes.
Remove from the heat and add the milk little by little always stirring with a balloon whisk, after adding the first 1/2 cup of milk, return the pan to low heat and keep adding the milk always stirring.
Boil 2 minutes gently after finishing adding the milk, and thickens. Add the salt ( 1/2 teaspoon to begin), pepper and nutmeg to taste. Add the cauliflower and the vegetable broth, using an immersion blender, process until a smooth cream is obtained.
Adjust the seasoning and the consistency and serve hot. Decorate with sunflower seeds or walnuts, parsley, and olive oil.