Many families have Empanadas de Pino or Chilean Beef Empanadas for lunch every Sunday in Chile, and they are the centerpiece of the Fiestas Patrias (Independence Day celebrations). They bring to mind the comfort and familiarity of home.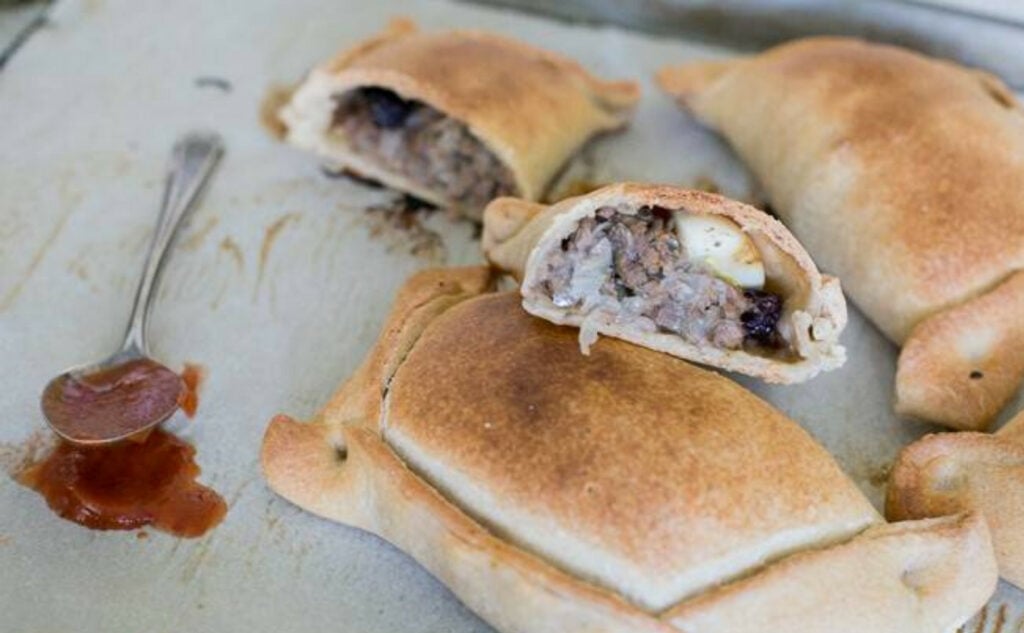 Origins of the beef empanadas
Empanadas are a popular dish that exists across Central and South America. Their strength is in their versatility, with versions both fried and baked with endless possibilities for fillings. Every country has a classic, and the Chilean Beef Empanadas or EMpanadas de Pino are the traditional favorites in Chile.
I learned to make mine with my grandmother a long, long time ago. And although they are not in our weekly rotation, I try to make them at least once a year.
What is the Pino?
Pino is the Chilean name given to the combination of onions and a protein, which in most cases will be ground beef, but it can be seafood too. The diced onion is sauteed with traditional condiments (paprika, cumin, oregano) to form a Sofrito. Pino is a Mapuche word.
To streamline the process, you can make the Pino (ground meat filling) the day before. Once baked, they keep well for 2-3 days in the fridge.
You can use the same dough from this recipe to make other traditional Chilean empanadas like Fried Cheese, Shrimp Cheese, or Seafood. The dough fries well.
The folding or the way you close the empanada de Pino is fundamental. You can do the three-fold you see in the pictures or a two-fold (triangular empanada shape). Do not close the empanada with crimps reserved in Chile for fried empanadas.
Can I freeze the empanadas de pino?
Yes, I recommend freezing them already baked it. Then heat directly (without defrosting) in the oven at 200C or 400F for about 15-20 minutes. They come out perfect, like freshly made.
Can I freeze the empanada dough?
I do not recommend it. The dough gets very difficult to work.
Can I freeze the Pino?
Yes, for up to 3 months, thaw overnight and mix well before using as stuffing.
Can I use vegetable broth instead of beef broth in the Pino?
Yes, it is not a problem. You can also use a dissolved broth cube.
Is this dough good for fried empanadas?
Yes, the recipe for the dough is the same.
What can I do so that the empanadas do not burst in the oven?
It is essential to keep an eye on them and prick them with a toothpick when they inflate so that the steam escapes and does not burst.
Serve your Beef Empanadas with these for a complete Chilean feast:
Other recipes popular in Chile with ground beef:
Print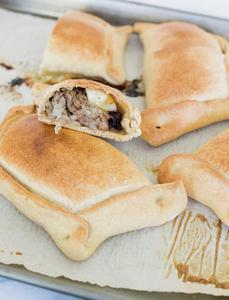 Chilean Beef Empanadas de Pino
A traditional Chilean empanada with the perfect dough and filling.
Total Time:

1 hour, 45 minutes

Yield:

12
For the Pino,
• 1 kilo or 2 pounds of ground beef 90%
• 1 cup beef broth
• 3 large or 4 medium onions chopped into small cubes
• 2 tablespoons all-purpose flour
• 2 tablespoons red pepper or paprika or Merken (Chilean smoked chili)
• 1/2 teaspoon ground cumin
• salt and pepper
• 4 tablespoons vegetable oil
Optional,
• 20 black olives
• 40 raisins
• 4 hard-boiled eggs
For the dough,
• 1 cup whole milk
• 1 cup of warm water
• 1 tablespoon salt
• 1 kilo or 2 pounds of all-purpose flour
• 2 eggs
• 180 grams/ 6,5 oz of melted shortening, warm
Instructions
1.    For the Pino, always prepare it the day before,
In a large saucepan, heat the oil and fry the meat until lightly browned about 8 minutes. Add the paprika, salt, pepper, and cumin, and saute for a few minutes.
Add the broth and simmer for 30 minutes over low heat. Add the onion, mix well, and cook over medium heat until the onion is tender, about 30 minutes.
Add the flour and stir well and adjust the seasoning if necessary. Cook two more minutes. Cool and refrigerate.
2.    For the dough,
Make a brine with the milk, water, and salt, and stir to dissolve the salt. Mix the flour and eggs in a large bowl or a stand mixer with the paddle attachment and mix for a minute to incorporate.
Add the melted shortening and work a little more. At this point, you will see only crumbs. To form the dough start adding the brine with the mixer running on low speed until the dough is soft and flexible. If needed, keep adding water. Separate the dough into 20 portions and cover with a moist cloth.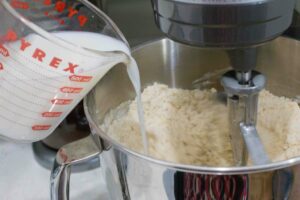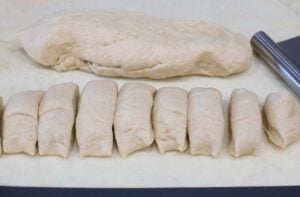 Work each piece individually, rolling until thin, cut in a circle about 7″ and fill with two tablespoons of Pino, a quarter of a hard-boiled egg, olives, and raisins if desired. Close by smearing the edge, pressing firmly, and making the folds. Brush with an egg wash before baking.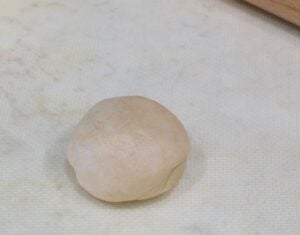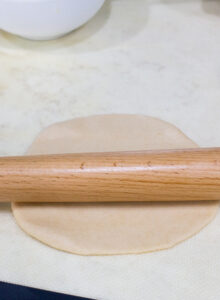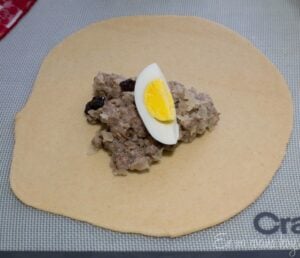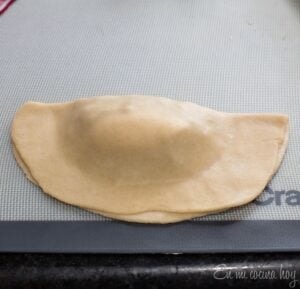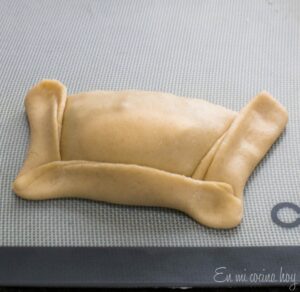 3.    Preheat the oven to 350F or 180C. Bake for 30-35 minutes until golden.
4.    Serve hot.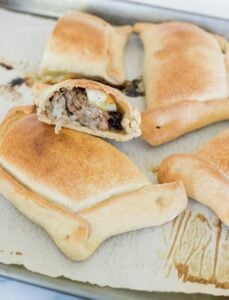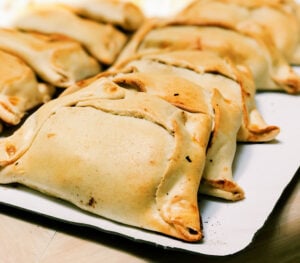 Notes
Store in the fridge for up to 3 days. Freeze for up to 2 months.
To reheat, use the oven at the same temperature for 15 minutes.
Author:

Pilar Hernandez

Prep Time:

1 hour, 10 minutes

Cook Time:

35 minutes

Category:

Savory

Method:

Baked

Cuisine:

Chilean
Nutrition
Serving Size:
Calories:

430

Sugar:

2.7 g

Sodium:

588.4 mg

Fat:

21.4 g

Saturated Fat:

5.9 g

Carbohydrates:

39.8 g

Fiber:

2 g

Protein:

18.7 g
Keywords: Beef empanadas, chilean empanadas