Chilean Pastel de Choclo is an iconic dish—a classic during the summertime. The traditional Pastel de Choclo is usually cooked in a clay dish inside a wood-burning oven if living in the countryside. A standard oven and a baking pan are enough if residing in the city. The flavors of the meat and corn mingle delightfully in this casserole.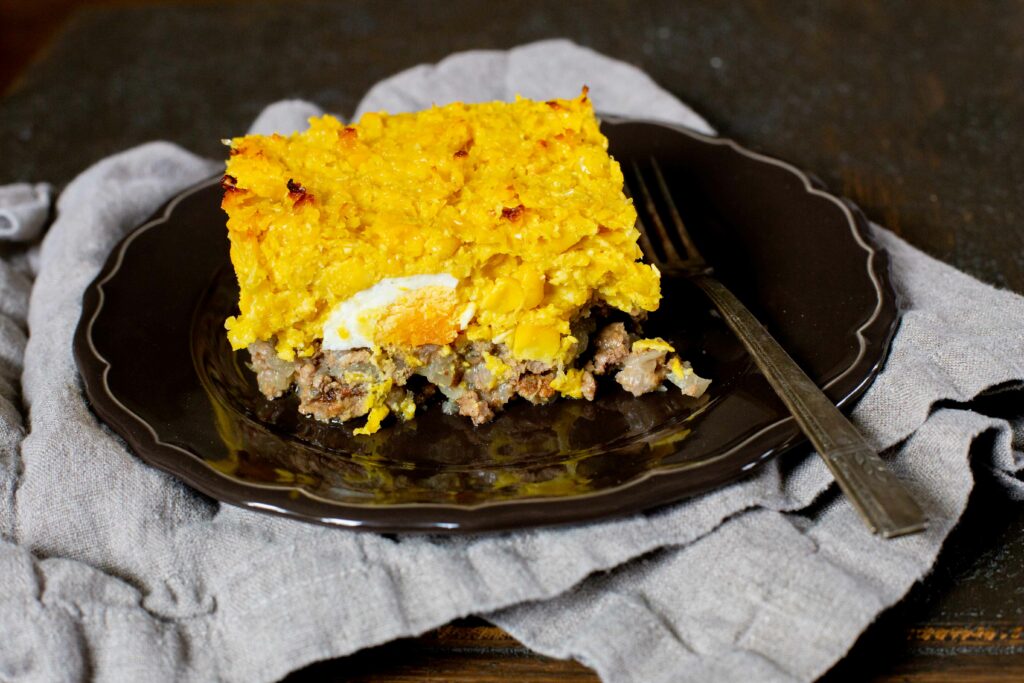 Chilean corn is different from the varieties available in the USA. Read ahead for tips on how to get the best result with US ingredients.
Tips for a delicious Chilean Pastel de Choclo:
What is Pastel de Choclo?
Pastel de choclo is a traditional dish from Chile, typically made with a filling of Pino (ground beef mixed with onions)—a piece of chicken (a leg or 1/4 breast), raisins, and olives are also commonly added and topped with a layer of sweet corn purée. The sweet corn topping is usually mixed with basil or other herbs to add flavor.
The dish is typically baked in an oven and served hot. Ensalada chilena, a simple salad made with tomatoes, onions, and cilantro, is usually eaten as a side. Pastel de choclo is a popular comfort food in Chile, enjoyed at family gatherings and special occasions.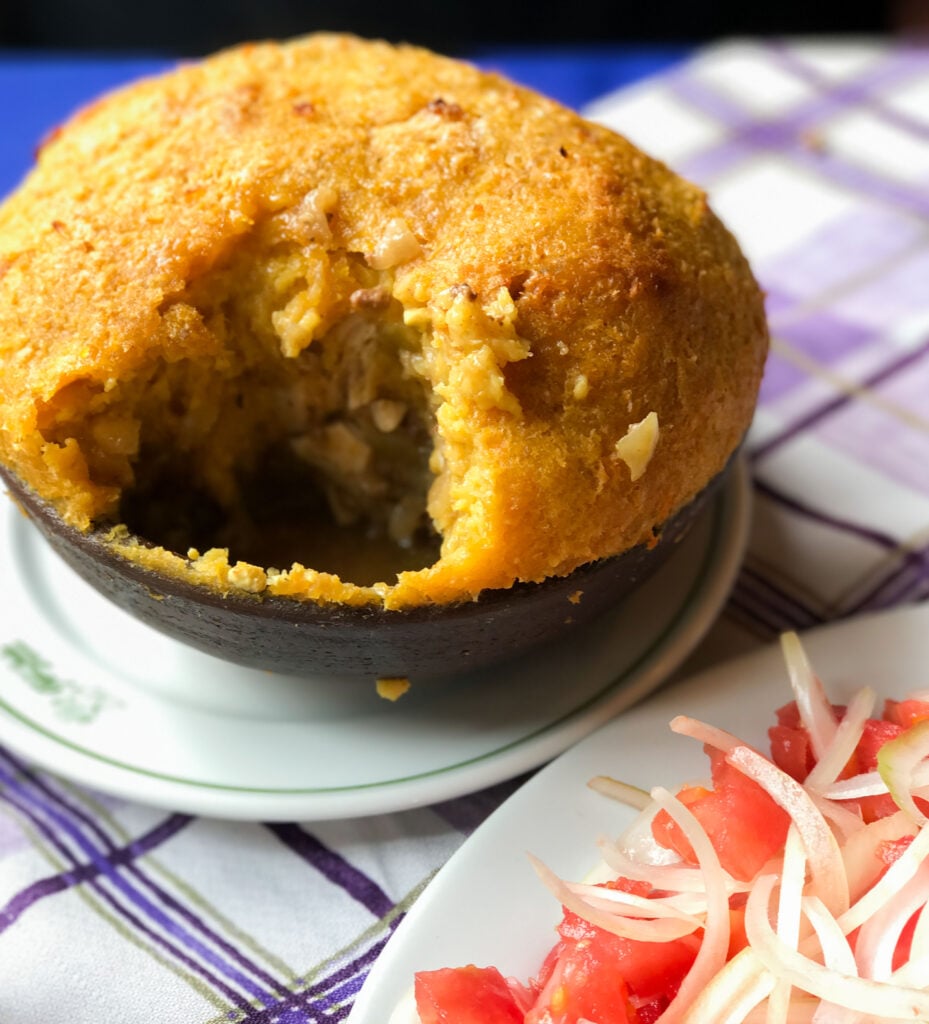 Pastel de Choclo is one of the most classic examples of Chilean Criolla cuisine, combining a native product like corn with European meat (beef). The word Choclo comes from the Quechua name for corn.
The type of corn used for this recipe is not the long, narrow, corn-on-the-cob type, but a short, wide, yellow corn called Choclero, Humero o Cristalino that yields a creamier paste when grated.
What variety of corn is traditionally used?
The Pastel de Choclo is made with Humeros corn. This variety of corn is widespread in Chile but very difficult to find in other countries. Humero corn has irregular kernels. If the rows of the grain are neat, it is not the correct one.
The husk is hard. When you prick the corn, whitish milk comes out. Use fresh; don't store it for more than ten days. The corn dries out and loses its consistency.
Is the Humero corn native or introduced to Chile?
Humero corn is a cross of native Chilean corn and a commercial variety introduced in the early 1900s. Corn was grown in Chile; before the arrival of the Spaniards, it was an abundant crop from Copiapó to Chiloé.
Along with potatoes, they were the most popular crops. Wheat was introduced by the Spaniards and partially displaced corn.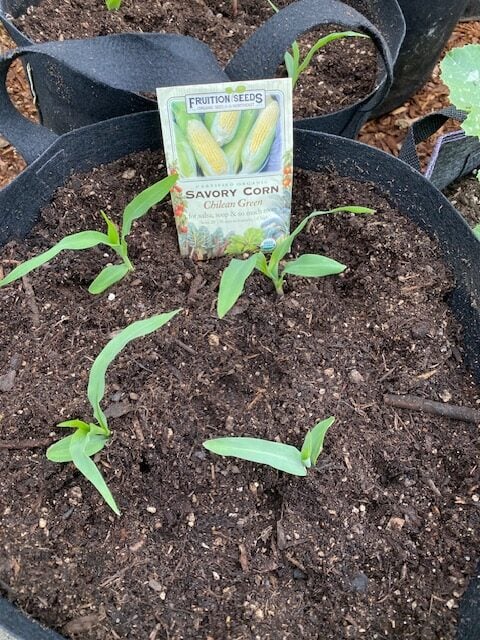 When does the Humero corn season start in Chile?
It starts showing up at markets in mid-December and is easy to find until early March.
How do I cut the corn?
Break the base of the corn or shank, peel the husk, and remove all the silk. Cut from top to bottom with a large knife with the corn standing firm.
You can do it in one pass, almost touching the cob, or several passes (2-3) so the grain is finely chopped. Do it as seen in the photo so that they keep all the juices or milk from the corn.
In what other dishes can I use corn?
Humitas, Porotos con Mazamorra (summer bean soup), and Porotos Granados (bean stew) are traditional. Click on the names to see the recipes.
If I let a Humero corn dry, can I make popcorn?
In theory, the classic variety of dried popcorn for popcorn in Chile is Curagua.
How do I replace Chilean corn in the US?
I recommend using frozen corn (yellow whole kernel) and adding cornmeal to thicken and improve the flavor while cooking the corn paste. The corn in the US is sweeter because it is a different variety.
Cornmeal works better than cornstarch and polenta. Never add sugar to the mix.
Do not use the Peruvian giant frozen corn available at Latin supermarkets. It will not work here.
Can I plant Chilean corn in the US?
Yes, you can follow the same calendar as the US corn varieties. Here, you can buy seeds.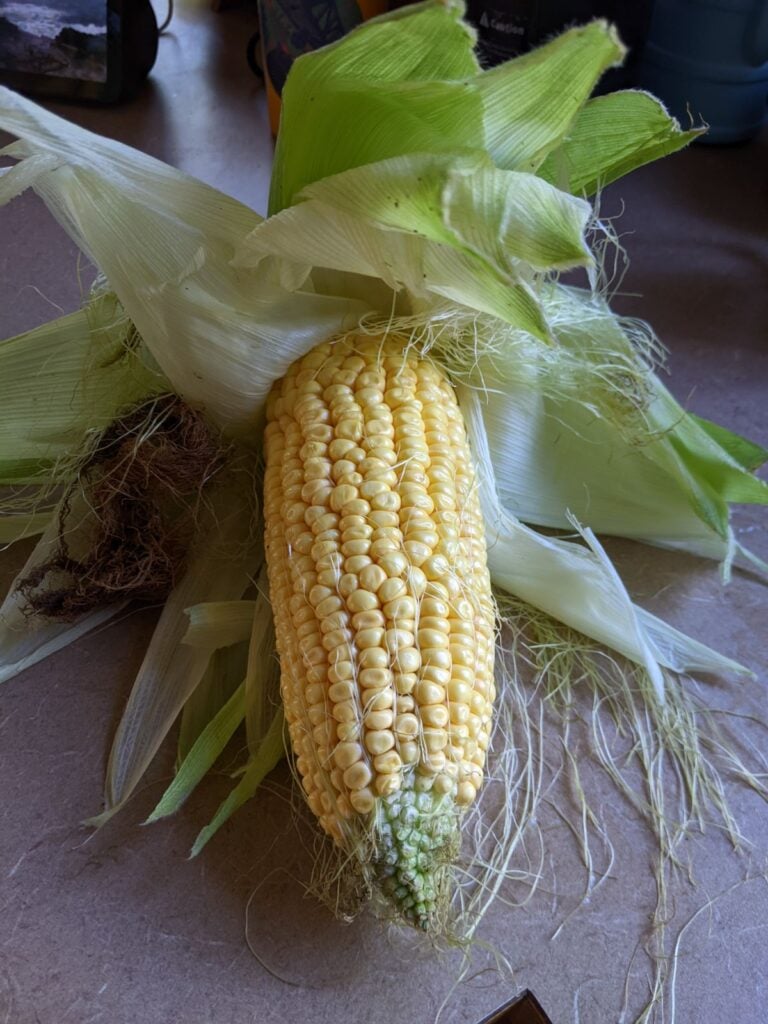 Can I use canned corn, and what basil should I buy in the US?
I do not recommend using canned corn. It has more water than frozen corn. If you do not have an option, calibrate it with cornmeal to achieve the correct texture.
You have to be careful with basil. Thai basils have a lot of anise flavors. I recommend using Sweet basil or Genovese (in moderation). Taste the basil before adding it to the corn paste.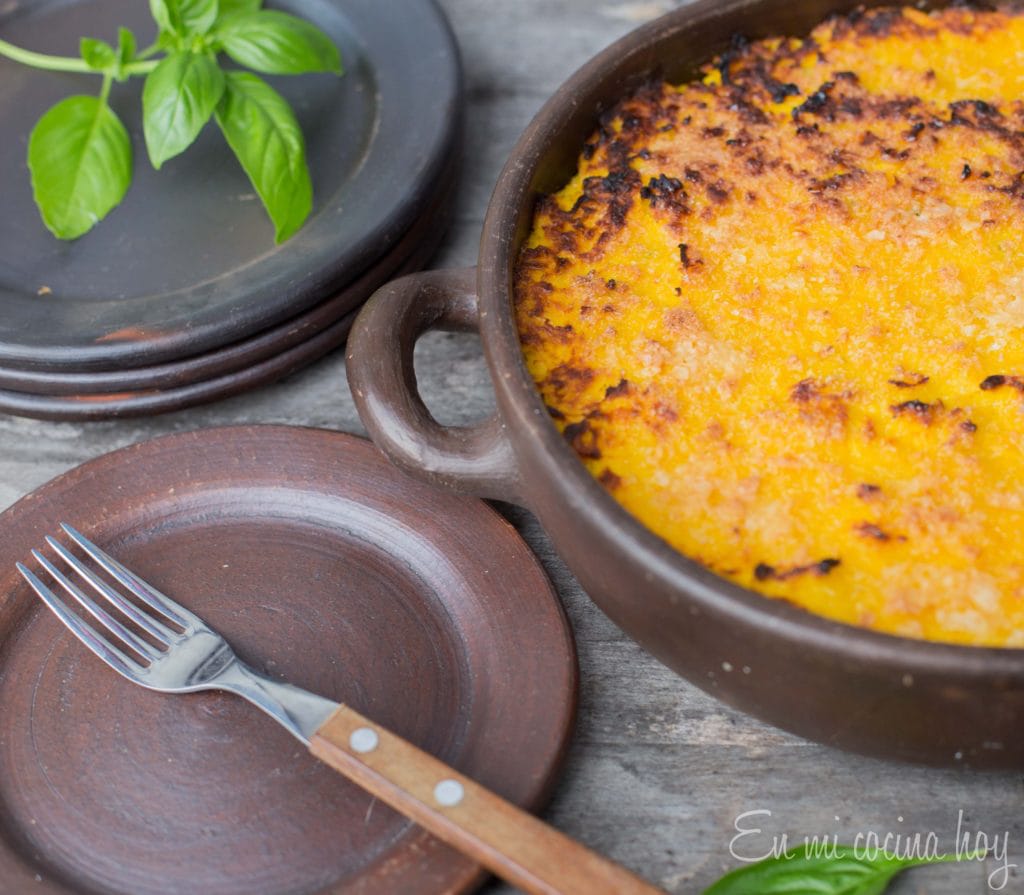 Proper sides for Chilean Pastel de Choclo are:
Other recipes popular in Chile with ground beef:
Print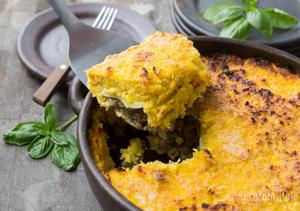 Pastel de Choclo Corn and Beef Casserole
The Chilean version of Sheperd's pie with a twist: corn pudding on top.
Total Time:

1 hour, 30 minutes

Yield:

6
For the corn mixture,
• 2 tablespoons butter
• 4 bags of frozen corn (454 grams each) or 10 cups
• 1/2 cup whole milk
• 3 tablespoon cornmeal
• 1 bunch basil, about 10 leaves, Sweet basil preferably
• salt, pepper and Merkén or paprika
For the meat,
• 2 tablespoons of vegetable oil
• 2 pounds ground beef
• 1 cup water or beef broth
• 3 onions, diced small
• Merkén or 1 tablespoon sweet paprika
• 1/2 teaspoon ground cumin
• salt, pepper
• 2 tablespoons flour
Optional: cooked chicken, hard-boiled eggs, olives, and raisins
Instructions
For the meat, it can be done the day before,
For the corn mixture,
In a cast iron or a large pot with a thick bottom, melt the butter over medium-high heat, add the frozen corn, and occasionally stir for about 8 minutes.

Add milk, basil, salt, pepper, and Merquén or paprika and continue to cook, occasionally stirring for about 10 minutes longer.
Put one layer of the prepared meat filling on a clay or baking dish. Add cooked or rotisserie chicken parts, quartered hard-boiled eggs, olives, and raisins on top of the meat.

Cover with the corn mixture. Sprinkle with granulated sugar for a nice browning in the oven.

Author:

Pilar Hernandez

Prep Time:

1 hour

Cook Time:

30 minutes

Category:

Savory

Method:

Baked

Cuisine:

Chilean
Nutrition
Serving Size:
Calories:

621

Sugar:

19.6 g

Sodium:

230.6 mg

Fat:

27.5 g

Saturated Fat:

13.2 g

Carbohydrates:

59.8 g

Fiber:

6.4 g

Protein:

40.6 g
Keywords: Corn pie, Chilean cuisine, Pastel de choclo