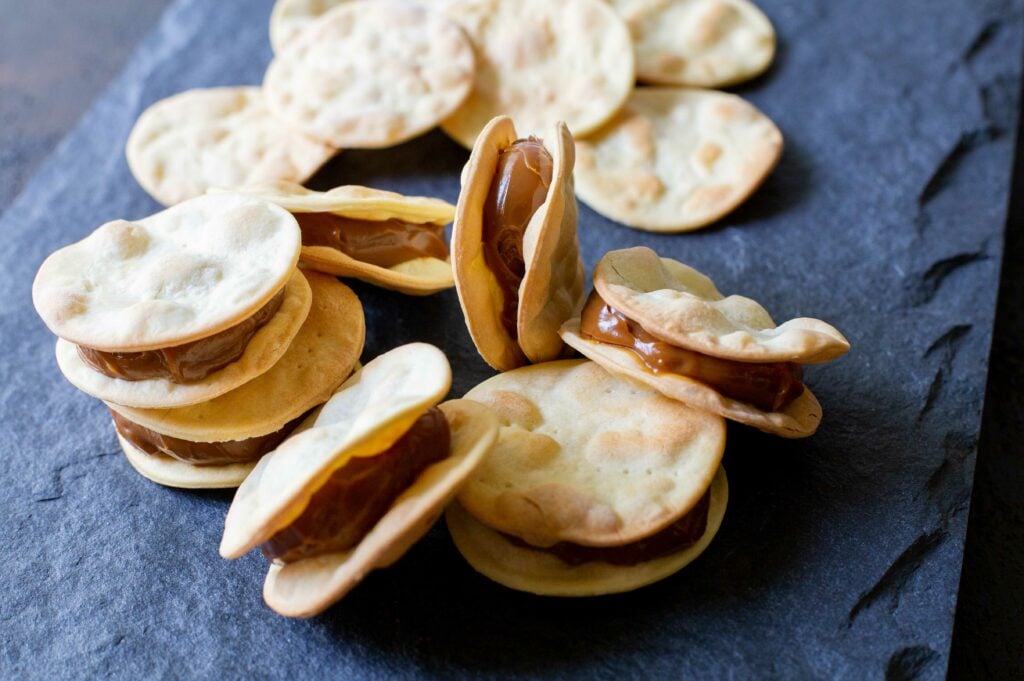 Chilean Alfajores are traditional sweet cookies. Make at home for the Independence celebrations or Christmas, and the rest of the year bought at bakeries unless there is a big family event like a baptism or graduation. At these parties, offering small pastries, including Alfajores, is customary.
Filling for Chilean Alfajores:
Dulce de Leche
Huevo Mol
Molasses paste
The recipe for the dough is a family heirloom; my great-aunt taught me how to do it; she was in charge of our family's famous Thousand Layer Cake.
Alfajores are my favorite Chilean sweet. The recipe for the dough is the traditional one of my family. Alfajores are always present at Christmas, baptisms, and Chilean parties in general.
When I'm craving but without time, I stick two water crackers with manjar, and I imagine I'm eating alfajores, a classic from college.
What are Alfajores made of and filled with?
Great question and it depends. Alfajores is a cookie filled with something, and like many recipes introduced by the Spaniards, with time, they have gotten different variations throughout Latinoamerica.
They are most popular in South America, especially in Chile, Peru, and Argentina.
In Peru and Argentina, the most common variation of Alfajor is the recipe: a melt-in-your-mouth cornstarch cookie filled with dulce de leche.
In Chile, alfajor is a cookie made with a crunchy dough (Hojarasca) made with egg yolks and flour and filled with dulce de leche; or try this other traditional filling with molasses Alfajores Atoradores.
In Argentina and Chile, Alfajores Mendocinos are very popular too. I included a recipe in my book, The Chilean Kitchen (Amazon affiliate link). You can see a recipe here, too: Chocolate alfajores, which are similar to the commercial ones Alfajores Havanna (Amazon affiliate link).
Tips for great Chilean Alfajores:
What is the most important thing for the alfajores to be delicious?
The kneading by hand for 10 minutes and with a machine for at least 5 minutes, the dough should be smooth and sound (crack)
What manjar do you recommend?
I like the Colun or the artisanal one from Playa Venado in Chile. It's terrific. I preferred the La Lechera brand, canned in the USA and made in Chile. Do not use Argentinian Dulce de Leche or Cajeta. They have different flavor profiles.
Can I remove or replace the vinegar?
It can be replaced with orange juice or alcohol (brandy or pisco). The idea is to prevent the flour from forming gluten so that the alfajores are crispy and not chewy. The acid and alcohol help, so I don't recommend omitting this ingredient.
What can I do so the circles do not deform or shrink when cutting and handling them?
I recommend rolling the dough directly on the baking sheet (cookie sheets work great for this) with a bit of flour. Cut and prick the alfajores and go straight to the oven. Or on silicone mats that you can slide onto the baking sheet. Avoid having to lift the circles.
My dough is dry. Can I add milk or water?
Occasionally if you live in a very dry climate, or the egg yolks are too small, they will lack liquid to hold the dough together. Add milk or water one teaspoon until you can unite and knead it.
What is the standard egg size in pastry?
Recipes in the US are written for large eggs, which weigh about 65 grams in the shell.
Without the shell, 50 grams: 35 grams the egg white, 15 grams the yolk.
Print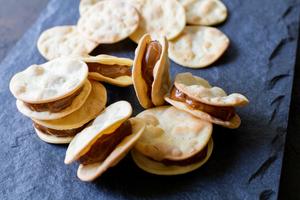 Chilean Alfajores
Alfajores, Chilean Recipe are a traditional sweet in Chile, filled with dulce de leche or Huevo Mol.
Total Time:

45 minutes

Yield:

35
2

cups

of all-purpose flour, sifted

3

egg yolks

5 tablespoons

of milk (whole or 2%)

1 teaspoon

of vinegar (apple or white)

1 tablespoon

melted unsalted butter
Dulce de Leche to fill
Instructions
Preheat oven to 350F or 180C.
Put flour in a large bowl.
Add the egg yolks and work with a fork or your hands to form crumbs.

Add the milk, vinegar, and melted butter.
Form a dough, add water if necessary, one teaspoon at a time.

Knead to a smooth dough, about 10 minutes.

Wrap in plastic wrap and let it rest, refrigerate for at least 2 hours and up to 2 days.
Roll thin and cut the Alfajores, prick with a fork.

Bake for 10-12 minutes or until golden brown.

Fill with the Dulce de Leche once they are cool.

Author:

Pilar Hernandez

Prep Time:

30 minutes

Cook Time:

15 minutes

Category:

Cookies

Method:

Baked

Cuisine:

Chilean
Nutrition
Serving Size:

1 alfajor

Calories:

95

Sugar:

9.6 g

Sodium:

26.3 mg

Fat:

2.3 g

Saturated Fat:

1.3 g

Carbohydrates:

16.1 g

Fiber:

0.2 g

Protein:

2.3 g
Keywords: chilean alfajores, chilean cookies