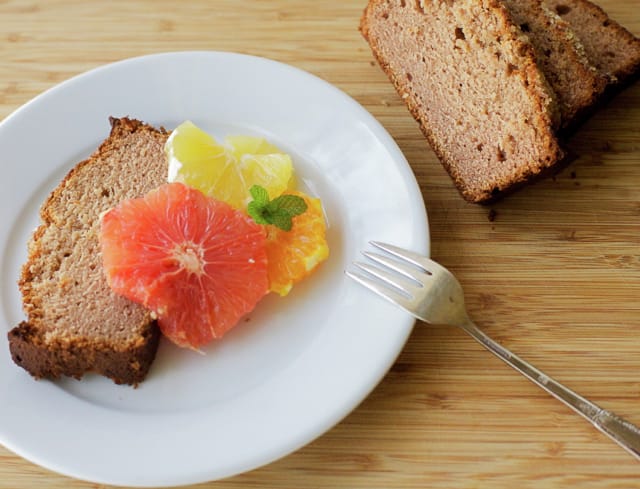 This Lucuma Pound Cake is flavored with lucuma puree, my American friends commented on how much the flavor resembles the taste of the dulce de leche. I served it with a salad of citrus: pink grapefruit, oranges, mandarins and Meyer lemons with honey and mint. It was a very successful combination.
You can but Lucuma powder at Amazon and replace the lucuma puree with 1/3 cup of lucuma powder and add 1/2 cup of brown sugar to the recipe.
Lucuma Pound Cake
Ingredients:
200 grams of softened butter (if using unsalted add 1/2 teaspoon to the dough)
1/3 cup granulated sugar
3/4 cup lucuma puree (use Guallarauco) or 1/3 cup lucuma powder and 1/2 cup brown sugar
3 eggs
1 teaspoon vanilla
1 1/3 cup all-purpose flour
1 teaspoon baking powder
Preparation:
Preheat oven to 350F or 180C. Butter a pound cake mold 9 "x 5" or 12 x 23 cm.
In a large bowl with a mixer, beat butter until creamy like mayonnaise. Add sugar and beat until pale, about 2 minutes. Add lucuma puree and beat until well incorporated.
Add eggs, one and then the other, beating until fully incorporated in between. Add vanilla and salt, if using, and beat until a homogeneous mixture, 1 minute more.
Add the flour and baking powder and beat until well incorporated throughout.
Place dough in a greased cake pan and bake for 55-60 minutes until golden, and a stick inserted in the middle comes out clean.
Cool on a rack, unmold cold, cut and serve.