Ulpo is an ancient Chilean drink consisting of water, Harina Tostada (toasted wheat flour), and sugar or honey.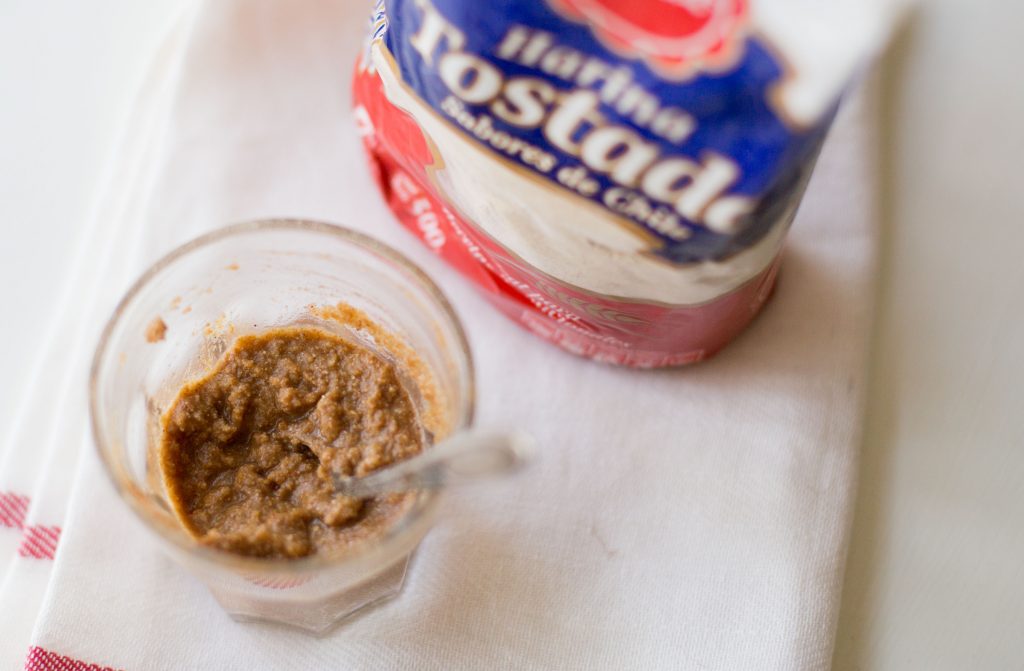 The word ulpo comes from the Quechua and means dry flour. However, there are also researchers who say that the word Ulpo derives from Mapudungun.
Other common uses of toasted flour are to mix it with wine or to sprinkle on a freshly cut watermelon. When I was a child, I spent the 2 months of summer on the beach with my grandparents and cousins and many afternoons we ate ulpo.
Historical background about the Ulpo:
In Gastronomic Geography of Chile (Geografía Gastronómica de Chile, 2018) (page 57), an article written in 1955 by Oreste Plath describes:
"In this same stall, toasted wheat flour is sold, which in the summer is sprinkled on watermelon, grapes or served with chicha (fermented wine), wine, lagrimilla and then that drink is called "chupilca", "pihuelo". ", "chicha with arithmetic", "cotintín"; in the winter it is prepared with hot water and sugar and is "cocho", also "ulpo".

In another mention Plath clarifies that ulpo is always served cold, if served hot it is called choco.
In Food Heritage of Chile, O'Higgins region (Patrimonio Alimentario de Chile, 2023) (page 82), we read:
Ulpo is a highly recognized food drink with a long tradition in the Chilean countryside. It is associated with replenishing energy, given that the work of workers in the field is arduous. Likewise, it is consumed by local cowboys, since the toasted flour is easy to transport, and to make it thick, it only needs water from mountain slopes. In the northern part of the country, it is known as "cocho".

The etymology of the word ulpo comes from the Mapudungun ulpu or ulpud, which means "simple drink of toasted flour with water" (Lenz, 1910, 759).

The interviewee Rosa Galaz, from Pumanque, tells us details of her preparation:

"To a cup [of toasted flour], I add honey or sugar, and I add a little boiling water, and I prepare the ulpo, and we serve (…). In winter, it is consumed more than in summer; During this time, the cold ulpo called cold water is consumed more. You prepare an ulpo with ice water."

It can be consumed at any time. Mrs. Gloria Mena, from the town of La Estancilla, in the commune of Codegua, mentions that she prepared at all hours: "At night, the ulpitos also make you feel full of energy. The ancients consumed a lot of flour (…) for lack of bread, ulpo is good because people were better at eating food."

The interviewee Ana Yáñez from the commune of Peumo, remembers the consumption of ulpo in peasant tasks: "At three in the afternoon, I had to leave there. In a clay pot, I remember my mother poured a block of ice with flour… Water with toasted flour, [for] the workers." Cold water with toasted flour was a refreshing drink.
And about Pihuelo (page 86):
This preparation is a drink that mixes toasted flour and a liquid, generally alcoholic. There are mentions that liquor or chicha could be used, and it is related to chupilca; In the latter, toasted flour and wine are combined, plus some sugar.

Pihuelo is more liquid than ulpo. It is very easy to prepare. You only need three ingredients: chicha, toasted flour, and sugar.

In a cup or container, put "the chicha and add the toasted flour; with the toasted flour, it is the true pihuelo" (Gloria Mena, Codegua), and stir. Finally, sugar is added to taste.

You can substitute chicha with red wine if you don't have chicha.
In the USA, you can get Harina Tostada at Chinchile
Print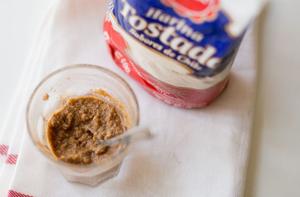 Chilean Ulpo
A very old Chilean drink.
Total Time:

10 minutes

Yield:

1
1/4

cup

toasted flour

2 tablespoons

sugar or honey
pinch of cinnamon

2 tablespoons

warm or hot water
milk powder or whole milk, optional
Author:

Pilar Hernandez

Prep Time:

10 minutes

Cook Time:

0 minutes

Category:

Drink

Method:

Raw

Cuisine:

Chilean
Keywords: Ulpo, Chilean drink