The Chilean Beef Cazuela is an old and traditional dish in Chilean kitchens; like many others, it's adapted to fit the seasons: in Summer with green beans, peas, corn, and even tomato. In winter, with potatoes, carrots, chard, or spinach.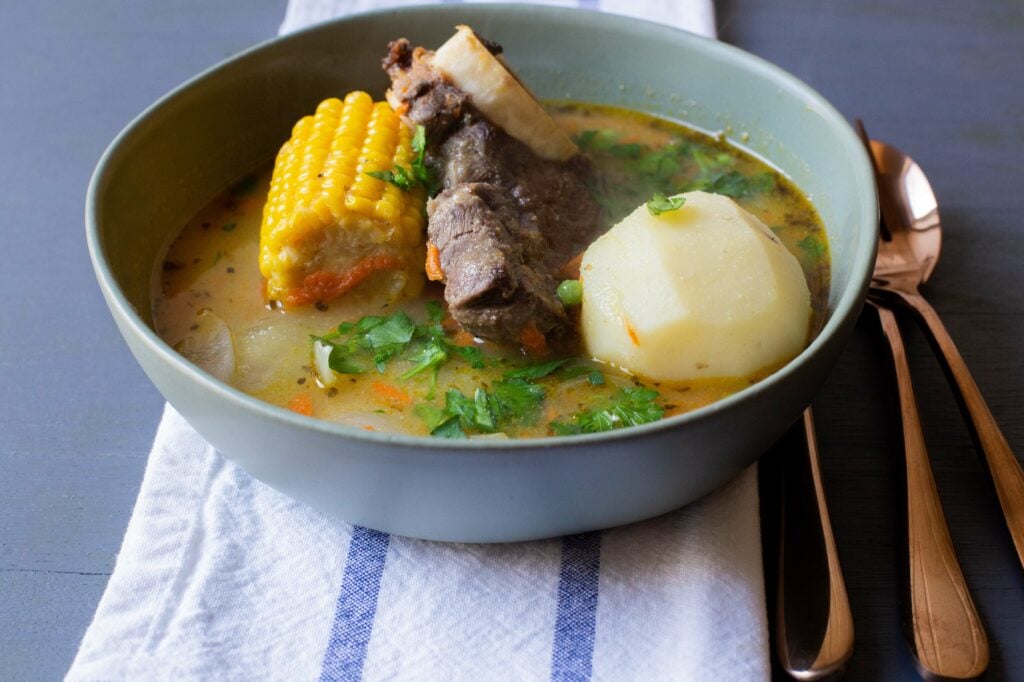 Chilean cazuela de vacuno is a traditional Chilean beef stew beloved throughout the country. It's a hearty and flavorful dish especially popular during the year's colder months. The name "cazuela" refers to the type of pot in which it is traditionally cooked, and "vacuno" means beef in Spanish.
Here are the key ingredients and preparation steps for making Chilean cazuela de vacuno:
Beef: The primary ingredient is beef, typically a tougher cut like chuck or shank, which is ideal for slow cooking and becomes tender and flavorful when stewed. I also like using short ribs or brisket cut in smaller pieces.
Vegetables: Cazuela is known for its variety of vegetables, which often include potatoes, pumpkin or squash, corn on the cob, carrots, green beans (buy frozen French cut), and onions.
Spices and seasonings: Cazuela highlights various flavors, including sweet paprika, cumin, oregano (use Mexican oregano for the closest to Chilean flavor), and bay leaves—salt and pepper to taste.
Broth: The stew is simmered in a flavorful broth, usually made with beef or a combination of beef and chicken or vegetable broth.
Garnishes: Traditional garnishes may include fresh cilantro or parsley.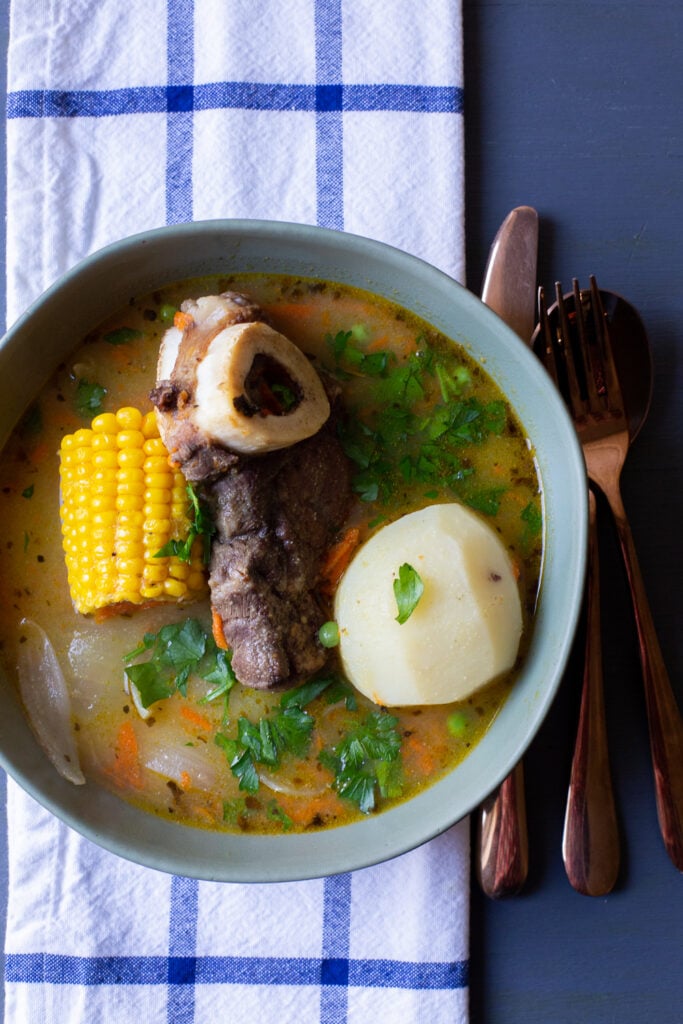 It can include rice, Chuchoca (Chilean cornmeal), or egg as a thickener. Usually, Chilean Beef Cazuela is the main dish, served with assorted salads like celery, cabbage, or tomato.
Chuchoca is a traditional ingredient in Andean cuisine, particularly in Chile, Peru, and Bolivia. It is made from the roasted and ground kernels of Andean corn called "maíz chulpe" or "maíz mote."
Chuchoca has a distinctive texture that is chewy, crunchy, and nutty. It is used in various dishes, including stews, soups, and salads. It is often used in the popular dish Papas con Chuchoca in Chile.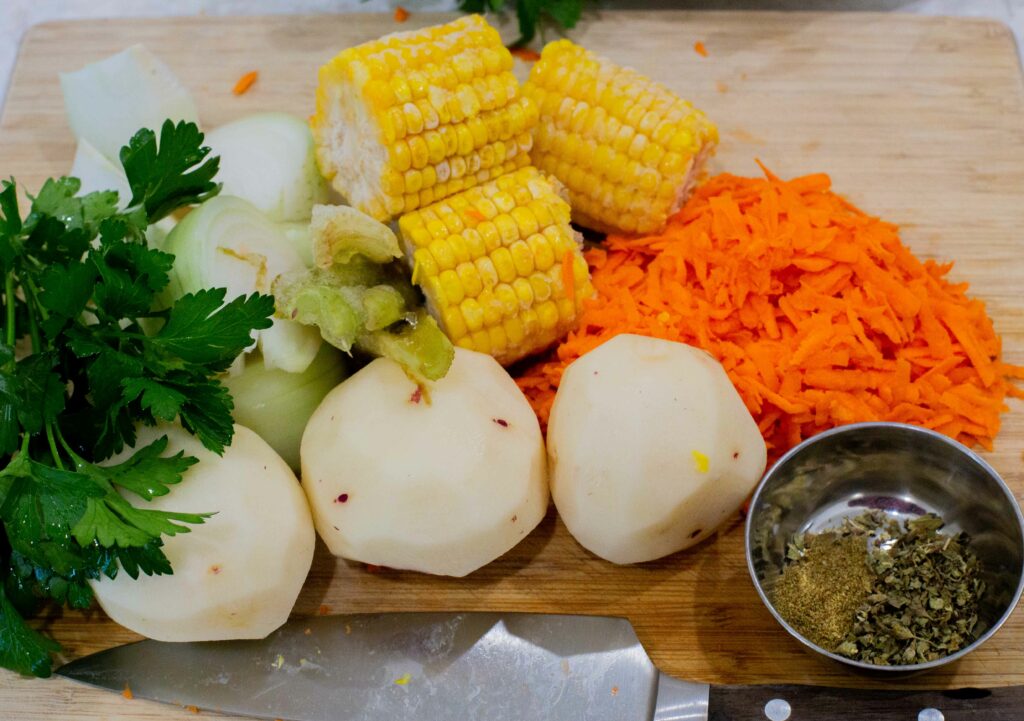 There is also local variation. In the North of Chile, they have available Llamo meat; in the South, goat is prevalent. Most like you can't find two same cazuelas in Chile, it's a great dish to get to know the peculiarities of each part of the country.
Finally, if you have pebre sauce on the table, please add it. It goes great.
Print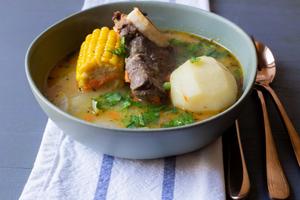 Chilean Beef Cazuela
A traditional Chilean soup, commonly serve as main dish.
Total Time:

40 minutes

Yield:

4
2

pounds

of beef, with bone, is tastier, short rib or brisket. Cut into 4 pieces.

1

large onion, cut in thick half-moons

2

grated carrots

4

peeled red potatoes

4

pieces of corn with crown

4 tablespoons

rice, stone-ground cornmeal

1

red or green pepper, without seeds and cut into thick strips, optional

4

handfuls of green beans, peas or chard or spinach leaves
parsley or cilantro, chopped to serve
Hot water

1/2 teaspoon

cumin and dried Mexican oregano
salt and oil
Instructions
In a large pot, heat one tablespoon of vegetable oil over medium-high heat—Brown the meat on the sides, salt, and pepper, about 3 minutes per side. Remove to a plate.

Add onion, carrots, paprika, cumin, oregano, salt, and pepper. Saute for 3 minutes.

Return the meat to the pot, and add the potatoes, corn, and rice if desired. Cover everything with plenty of hot water, about 2 liters.

Stir and cook covered over medium heat. Boil for 15 minutes.

Add the cornmeal or noodles, green beans, peas, or Swiss chard. Cook for another 5 minutes. Make sure the potato is cooked.

Serve hot with cilantro or chopped parsley on top.
Author:

Pilar Hernandez

Prep Time:

20 minutes

Cook Time:

20 minutes

Category:

Soups

Method:

Stove

Cuisine:

Chilean
Keywords: Chilean Beef Cazuela