Pie de limón, also known as lemon meringue pie, is a popular dessert originating in the United States but has gained popularity in many countries, including Latin America. It is a sweet and tangy dessert that combines a buttery pie crust, a smooth and zesty lemon filling, and a fluffy meringue topping.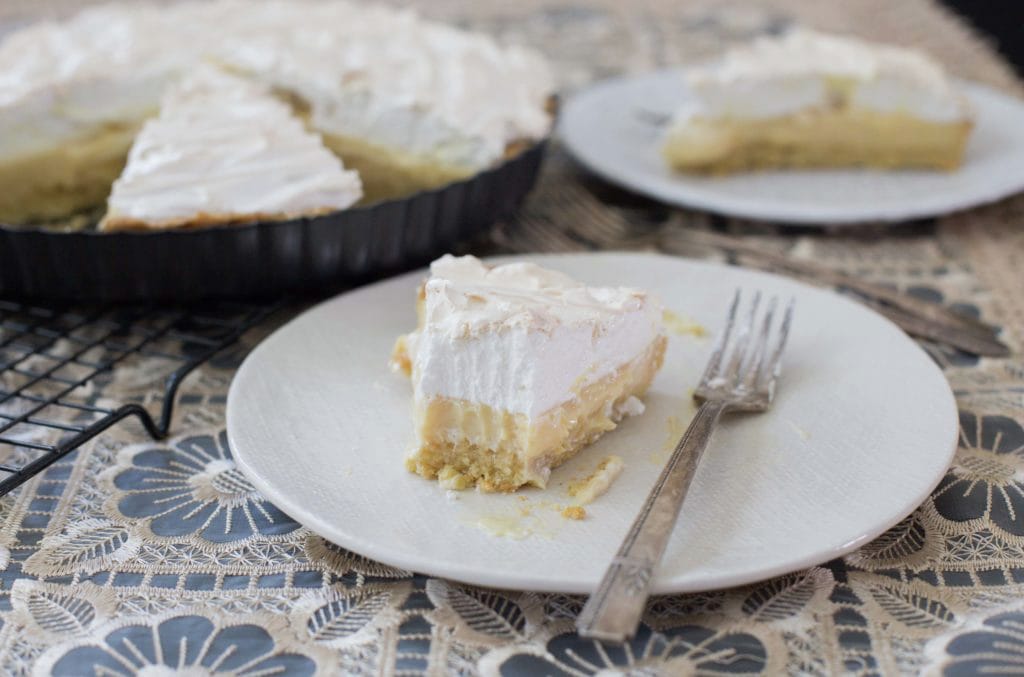 Pie de limón is a beloved dessert in many Latin American countries, especially Argentina, Chile, and Peru. It is often featured on restaurant dessert menus and is a favorite for family gatherings and celebrations.
To make pie de limón, prepare the pie crust and bake it until golden brown. This crust acts as a delicious contrast to the creamy lemon filling. The lemon filling is made by mixing the lemon juice and sweetened condensed milk. This mixture is then poured into the baked pie crust. Next, the meringue topping is added and browned in the oven or with a torch.
Pie de limón is typically served cold. The combination of sweetened condensed milk and fresh lemon juice gives pie de limón its signature sweet and tangy flavor, making it a refreshing and satisfying dessert.
My family's recipe is easy and delicious.
You can refrigerate it for 2-3 days.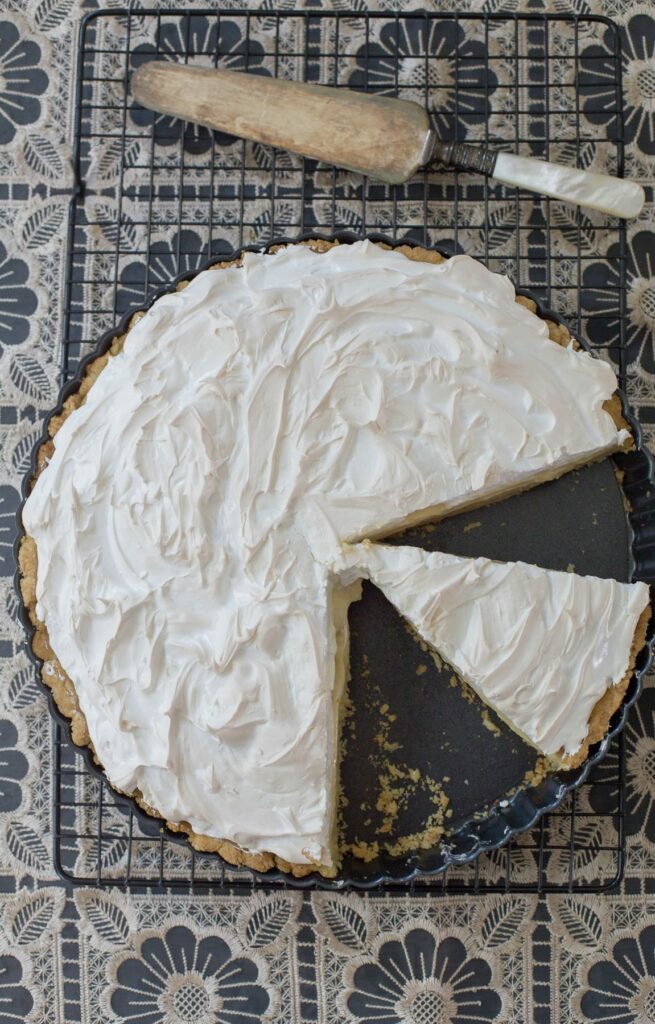 Tips for making the Pie de limón:
Are you sure it is not necessary to bake the filling?
Baking the filling in this version of lemon pie without egg yolks is unnecessary, but you must be careful when mixing the lemon juice with the condensed milk. It needs to mix thoroughly to set and have excellent final consistency.
Is it worth making the meringue in a bain-marie?
It is a much more stable meringue that will not release water or syrup.
Is there any substantial difference between Lemon Meringue Pie and Chilean Pie de limón?
Not really. It's unclear how Pie de limón was introduced to Chile and why it became such a widespread and ingrained pastry in our culture.
What can I do with the egg yolks?
I make Chilean Alfajores.
Print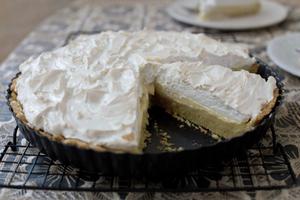 Chilean Pie de Limón Lemon Meringue
My family's recipe, easy and delicious.
Total Time:

1 hour

Yield:

10
Dough:
125

grams

butter, room temperature

3 tablespoons

confectioner's sugar

1

egg

2

cups

regular flour

2 teaspoons

baking powder

1

pinch of salt
filling:
2

cans sweetened condensed milk

1 1/4

cup

lemon juice, strained
lemon zest
meringue:
4

egg whites at room temperature

1

cup

granulated sugar
Instructions
Preheat oven at 180C or 350F.
Butter an 11″ removable bottom quiche or tart pan (affiliate link).
In a bowl, beat the butter and confectioner's sugar for 5 minutes until creamy. Add egg and stir to combine. Add flour, salt, and baking powder and beat until crumbles form. Keep working it using your hands until the dough is soft.
Make a disc and extend over a form compressing the dough with your knuckles until the base and the walls are covered.

Bake for 15-20 minutes until it is slightly golden.

While the dough bakes, mix condensed milk with lemon juice and lemon zest. Stir until combined –you need to be patient as this may take some time.

Remove the cooked dough and pour the lemon- condensed milk mixture over the warm dough.

Prepare a water bath in a large pot. Boil 5cm water.
Prepare the meringue. Use a clean un bowl (I use my KitchenAid's) that you can place over the pot of boiling water without touching the water. Mix the egg whites with sugar and beat with a wired beater. Place over the water bath and constantly beat until sugar dissolves; it's quick, about 3-5 minutes. The easiest way of checking is to take some of the egg whites between the fingers; you should not feel any grains.
Remove from Bain Marie and beat the egg whites with the hand mixer at maximum speed until the mix cools and the meringue is white, bright, and firm. You can put the meringue in a piping bag with a star tip (use the largest you have) and make whatever design you like.

Brown in the oven at 180C (keep an eye on it continuously, it's quick 5-8 minutes) or burn with a kitchen torch as I did.
Serve cold; you can refrigerate overnight unmolded.

Author:

Pilar Hernandez

Prep Time:

30 minutes

Cook Time:

30 minutes

Category:

Pie

Method:

Baked

Cuisine:

Chilean
Nutrition
Serving Size:
Calories:

547

Sugar:

66.8 g

Sodium:

367.4 mg

Fat:

17.9 g

Saturated Fat:

10.9 g

Carbohydrates:

88.3 g

Fiber:

0.9 g

Protein:

11.2 g
Keywords: lemon meringue pie, chilean pie, lemon pie