This recipe Milk Braised Pork Loin is sponsored by the National Pork Board.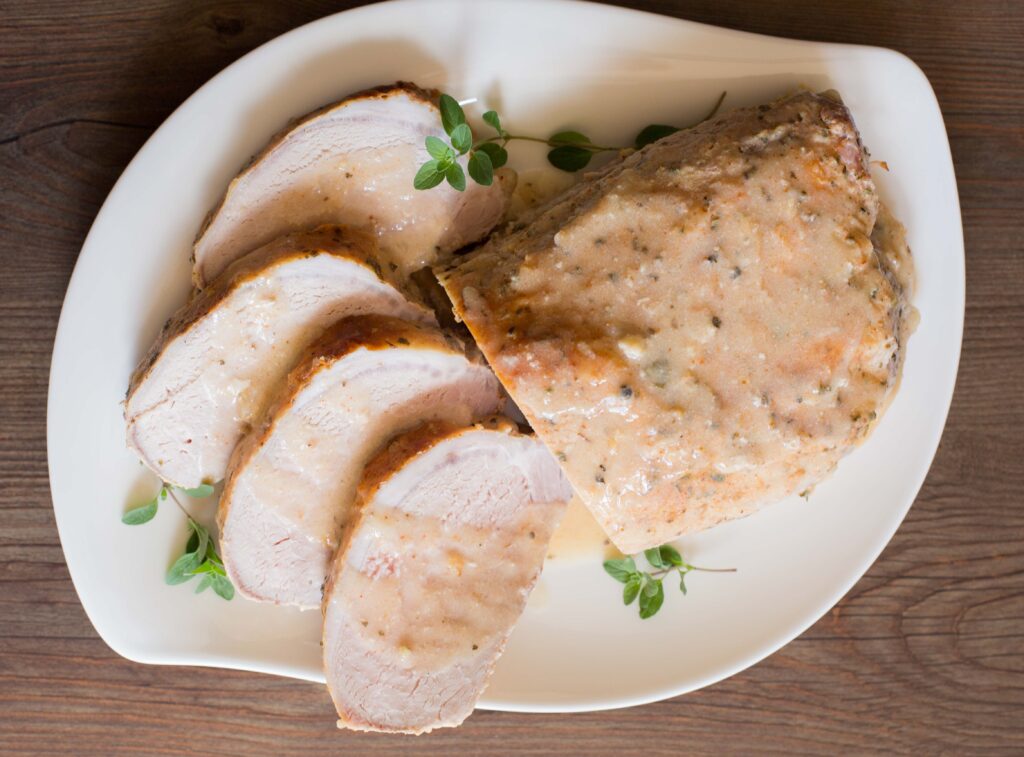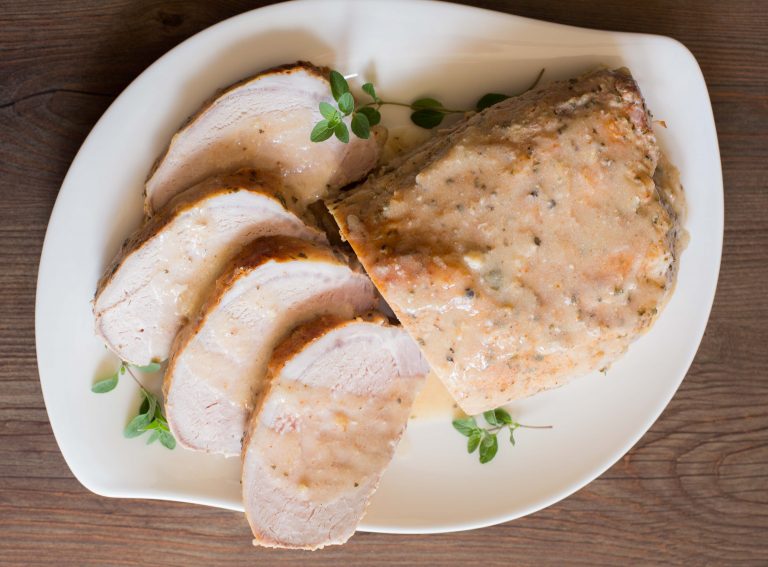 Milk Braised Pork Loin or "chancho en leche", as it is known in Chile. Apparently, it was introduced by the British or Italian immigrants who arrived in the port of Valparaiso. Over the years the spices used in the marinade were changed to adapt to the local taste. Today it includes merquén and oregano.
The merquén is a blend of spices or Mapuche seasoning. The Mapuche are one of the indigenous cultures of southern Chile. Famous warriors, they never submitted to the Spanish conquistador.  Merquén includes coriander seeds, smoked chiles, and salt. The merquén is available in the USA at Savory Spice Shop.
You can marinate the loin for 1 hour or overnight if desired. If you do not like the lemon flavor in the meat, you can replace the lemon for water or reduce the amount by half. You can serve the braised loin with or without the milk sauce. The result is a juicy and tasty roasted pork. You are going to love it.
Serve with rice or mashed potatoes. A roast pork loin is our usual Thanksgiving meat because I don't like turkey, this recipe is always a hit.
Milk Braised Pork Loin, Chilean Recipe
8 people
Ingredients:
4-5 pounds of boneless pork loin
2 lemons
1 teaspoon Merquén
2 teaspoons coarse salt (kosher salt)
1 teaspoon oregano
pepper to taste
2 cups whole milk
2 tablespoons cornstarch
Preparation:
Place the pork in a roasting pan that can go in the oven. Dress with the juice of 2 lemons, salt, Merquén, oregano, and pepper.
Turn and season the same way. Marinate 1 hour, refrigerated.
Preheat oven to 350F or 180C. In a jar place 1/4 cup of milk and dissolve the cornstarch. Add the remaining milk and make sure the cornstarch is well dissolved.
Pour the milk over the pork and put in the oven.
Roast for 1 hour and 30 minutes. Every 30 minutes, remove, stir the sauce and bathe the meat with the milk sauce.
The meat should reach an internal temperature of 145F or 63C.
Remove from the oven, cover with foil and let stand 10 minutes before cutting and serve with the sauce if you want. The sauce should be light, not thick.