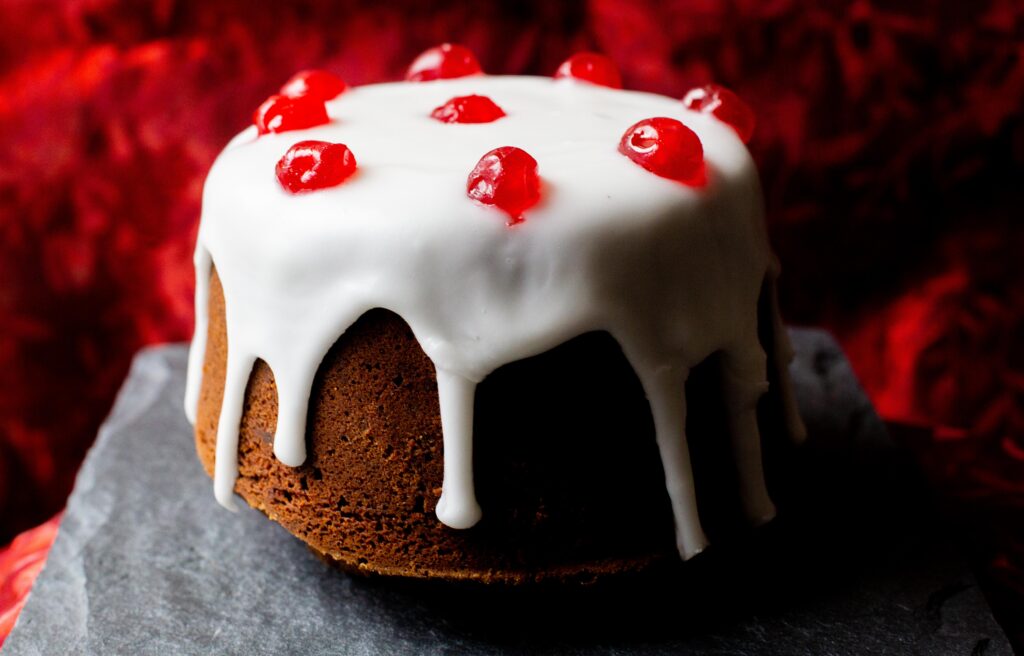 Traditional Chilean Pan de Pascua, or Fruitcakes, are many. The classic version in my family is this Fruitcake with Dulce de Leche. Every year, I experiment with different versions, and the truth is they all have their charm. This year, I wanted to make it cheaper to bake a fruitcake without butter.
The name "Pan de Pascua" is misleading. "Pascua" is Easter in Spanish, but for unknown reasons, Christmas in Chile is also known as "Pascuas." We don't eat this fruitcake for Easter, I promise. It's an end-of-year Holiday cake usually served with a cold glass of Cola de mono.
It is generally good to let the fruitcake rest, wrap it in plastic, and store it in a bag for a few days. This rest helps prevent crumbling, and it also improves the taste.
You can omit the candied fruit or replace it with the same amount of nuts, chopped figs, apricots, candied pineapple, or whatever you prefer.
If you want it darker, add two tablespoons of cocoa powder or replace 1/2 cup of flour with rye flour.
In the US, candied fruit is now easy to find in supermarkets. If you use molasses instead of Chancaca use the full or mild flavor versions (affiliate link), not the more bitter blackstrap.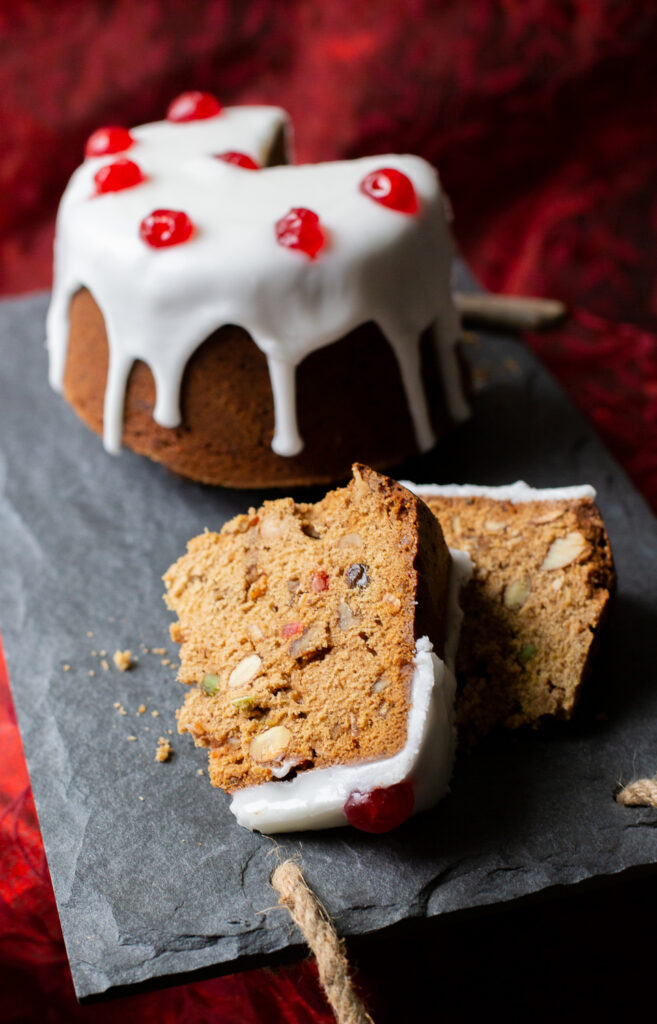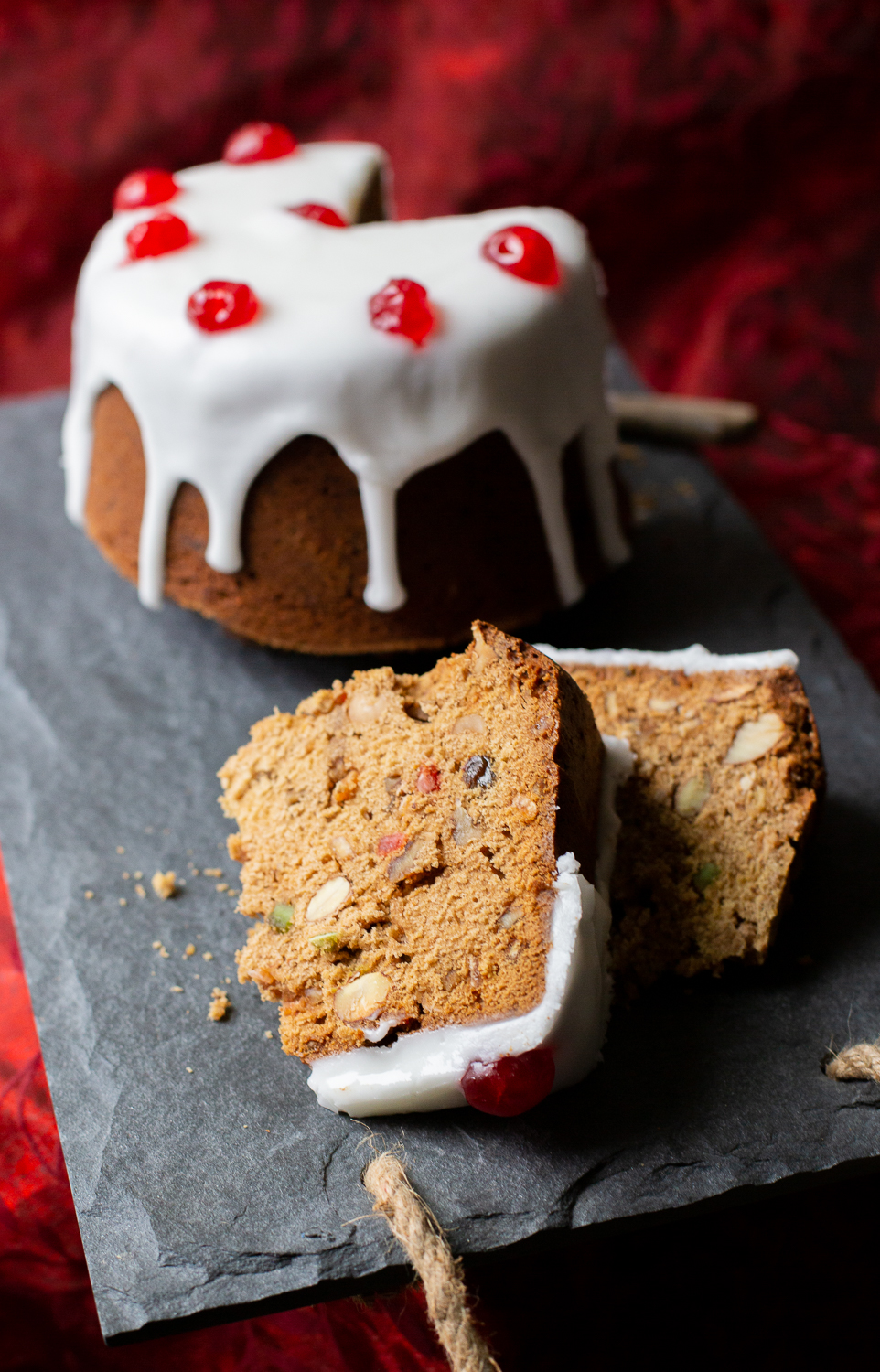 Print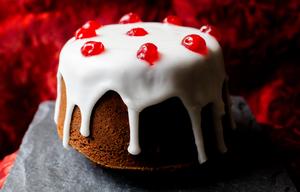 Chilean Pan de Pascua
The most traditional recipe for fruitcake in Chile.
Total Time:

3 hours

Yield:

12 portions
1/2

cup

golden raisins

1/2

cup

chopped walnuts

1/2

cup

whole almonds

1/2

cup

roasted peanuts, unsalted

1

cup

candied fruit (can be omitted)

1/2 teaspoon

ground cinnamon

1/2 teaspoon

ground nutmeg

1/2 teaspoon

ground cloves
the zest of a lemon

2 tablespoons

rum, pisco or brandy
1/2

cup

vegetable oil

1

cup

granulated sugar

3

eggs

1

cup

mild or full flavor molasses or Chancaca (225 grams diluted in 1 cup of water)

3

cups

of all-purpose flour

1 teaspoon

baking powder
pinch of salt
Instructions
Mix the nuts with the candied fruit, spices, lemon zest, and rum the night before. Stir well and cover with a cloth or plastic kitchen.

Preheat the oven to 180C or 350F.
Prepare an 8″ baking pan, cover the bottom with a circle of parchment paper, and grease all sides with butter.
In a large bowl, beat the oil, sugar, molasses, or Chancaca until incorporated. Add the eggs one by one, beating 30 seconds or until mixed.

Add the flour, baking powder, and salt. Mix thoroughly.

Add the nuts and fruit and incorporate them with a spatula. Transfer into the pan and smooth the surface.

If you want the Pan de Pascua to protrude from the pan, fill it 3/4 of the way. If you want it flush with the edge of the pan, fill the pan 2/3 of the way with the dough (this is recommended if you plan to glaze it).
Bake for 1 hour to 1 hour and a half or until a stick inserted in the center comes out clean.
Let cool and wrap in plastic.
For the glaze
2 cups of powdered sugar
Three tablespoons milk
a few drops of lemon juice
Mix well until you get a bright and thick glaze with a glue-like consistency. Cover the bread and decorate with almonds or candied maraschinos. Let dry thoroughly before packing, about 2-3 days. How long it takes for the glaze to dry completely will depend on the environmental humidity.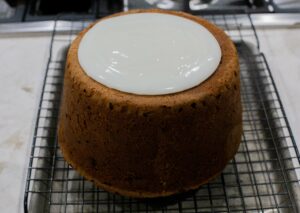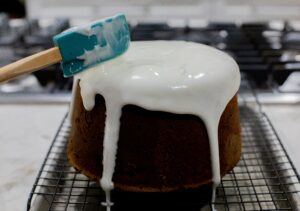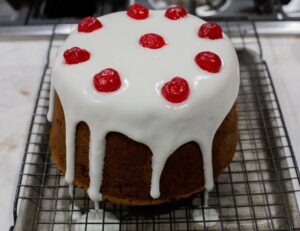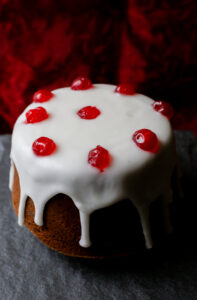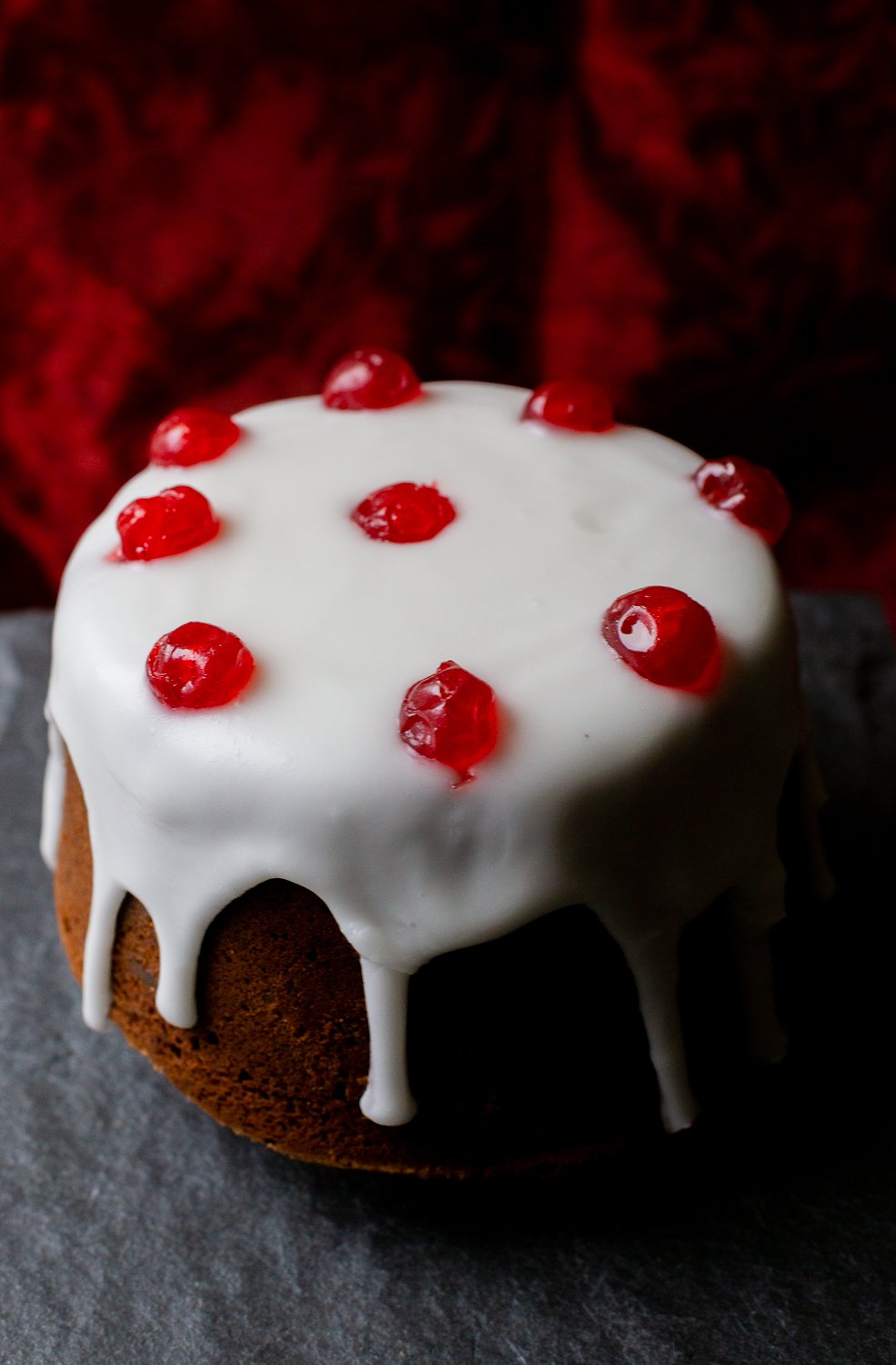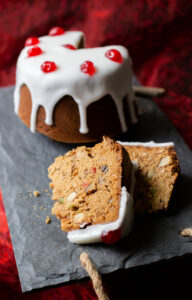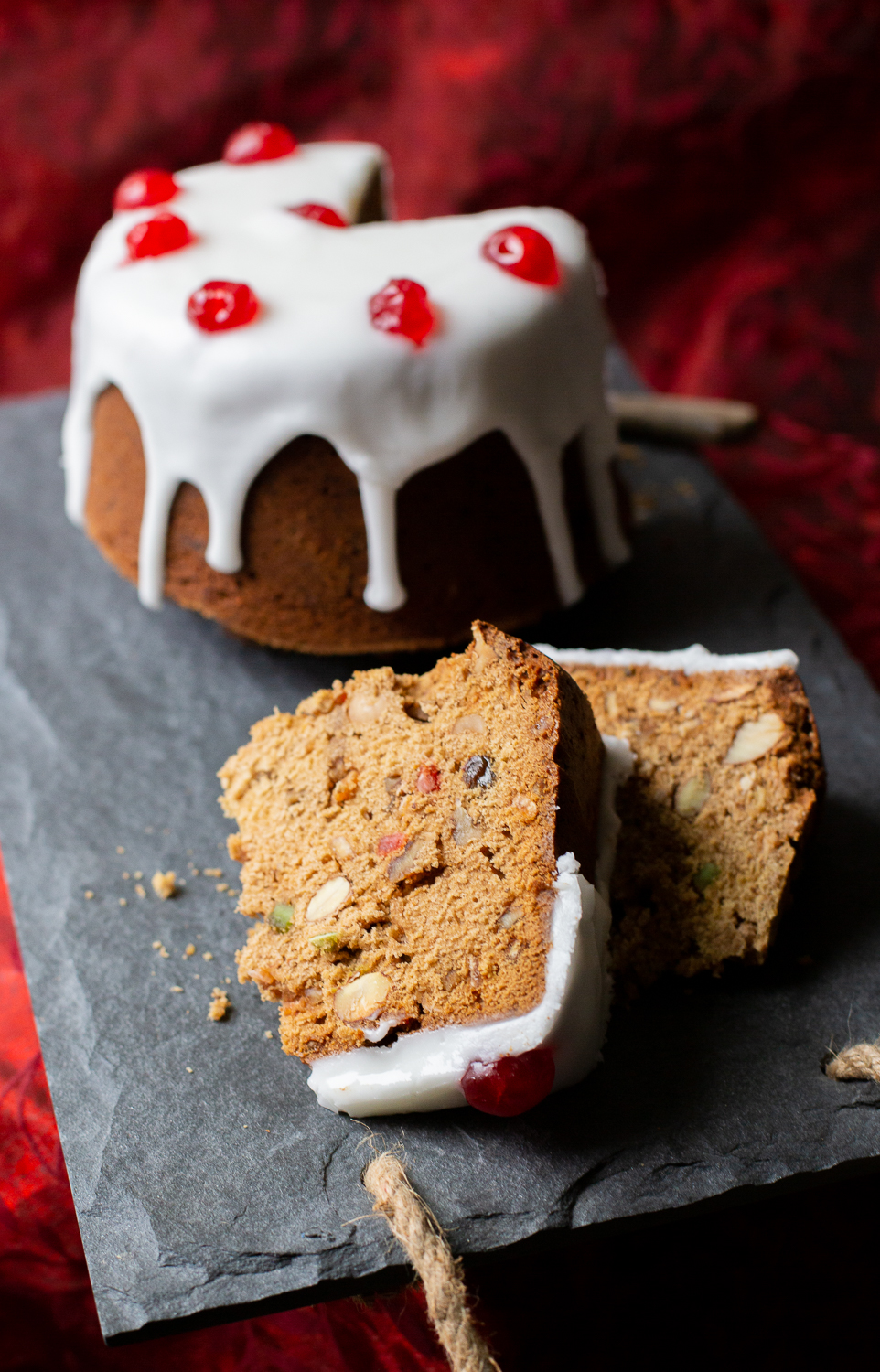 Author:

Pilar Hernandez

Prep Time:

2 hours

Cook Time:

1 hour and 15 minutes

Category:

Cake

Method:

Oven baked

Cuisine:

Chilean
Keywords: chilean fruitcake, chilean pan de pascua