Cola de Mono is a traditional Chilean alcoholic beverage, often enjoyed during Christmas and other special occasions. Its name translates to "Monkey's Tail" in English, although the origin of this name is unclear.
Cola de Mono has a creamy and sweet taste with a kick of alcohol, making it a favorite among Chileans for celebrating the holidays.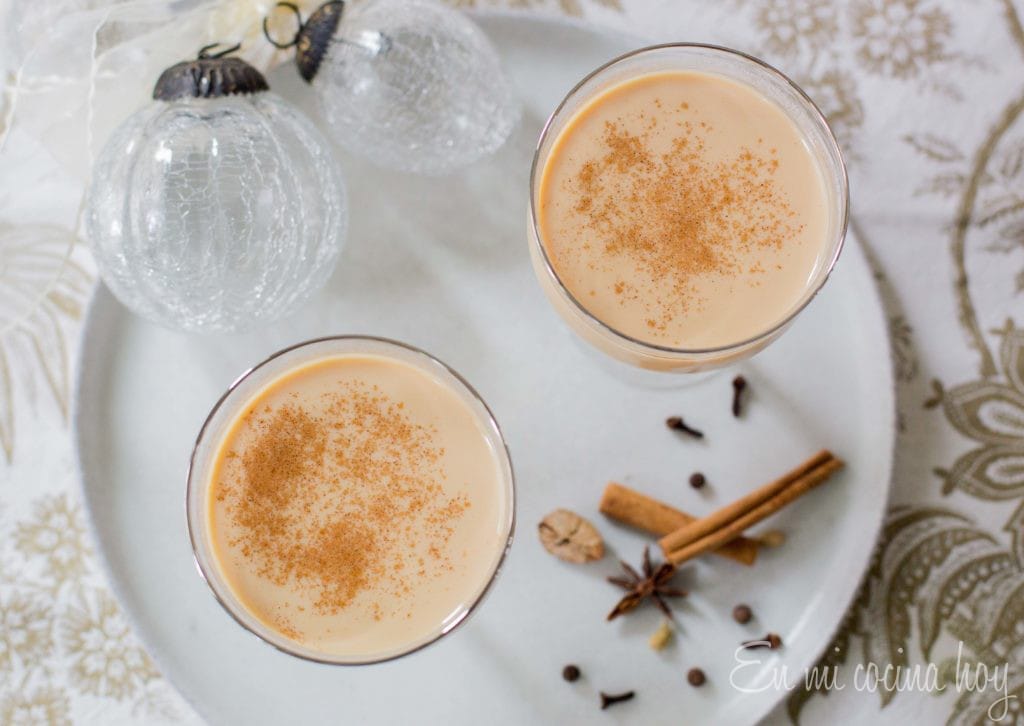 The main ingredients for making Chilean Cola de Mono are:
Aguardiente: This is a strong alcoholic spirit similar to brandy, grappa, or Pisco, serving as the drink's base. It's typically made from grapes.
Coffee: Freshly brewed coffee or Nescafé gives Cola de Mono its coffee flavor.
Milk: Whole milk or condensed milk gives the drink a creamy texture.
Granulated sugar: Sugar makes the mixture sweet.
Spices: Common spices and flavorings include cinnamon, cloves, and vanilla extract. Some recipes may also have orange or lemon zest for added flavor.
Cola de mono is best served chilled. It's similar to Eggnog, but plus coffee.
It's important to note that the recipe for Cola de Mono can vary from one family to another, and there are many regional and personal variations. Some people like experimenting with the ingredients and the proportions to suit their preferences. The key is to strike a balance between the sweetness of the milk and sugar and the strong, somewhat fiery kick of the Aguardiente.
Cola de Mono is traditionally served in small glasses, and it's a social drink, often enjoyed with family and friends. This version has very little liquor, as I like. You can always add more to the taste.
Since Aguardiente is challenging to find in the US, I tested making Cola de Mono with bourbon, rum, tequila, and vodka for those needing help getting Pisco. The closest thing is vodka. Another good alternative is grappa.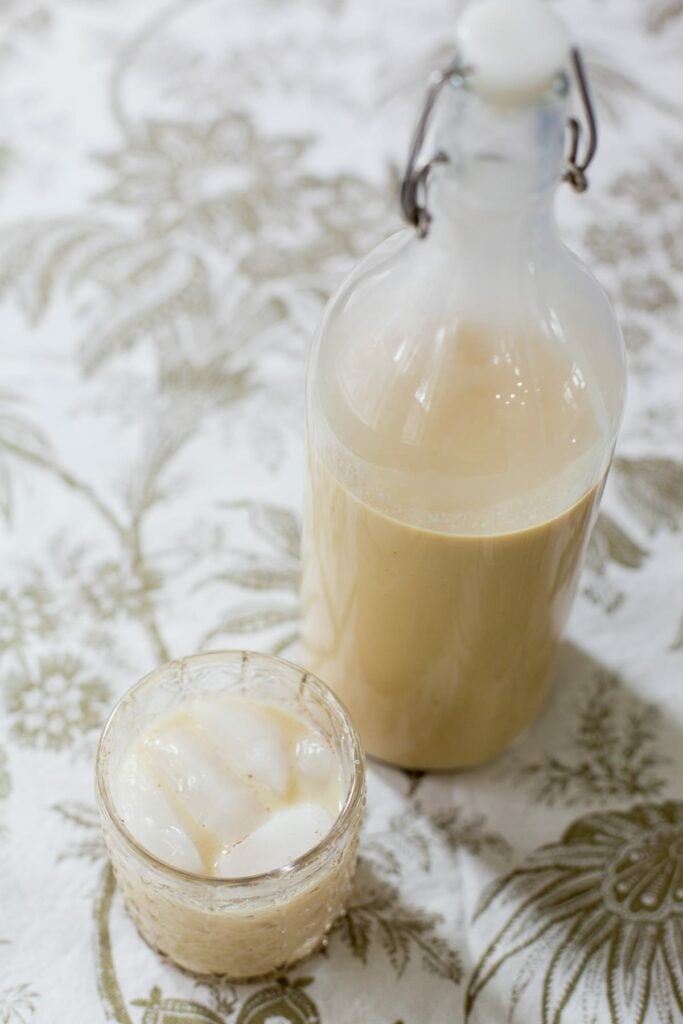 ¿Where to buy Pisco in EEUU?
Total Wines and most liquor stores in EEUU now carry Pisco. You can use Peruvian Pisco in Cola de Mono, no problem. In Houston, Spec and most liquor stores have Pisco. And if you want to buy premium pisco, visit Catan (a women-owned brand produced in Chile).
¿How do you enjoy Cola de mono?
Cola de Mono is offered and served at home to any visitor and for family reunions with Pan de Pascua (Chilean fruitcake) in Chile. It's also very popular at office parties.
While this beverage is a beloved part of Chilean holiday traditions, it's crucial to consume it responsibly, as it contains a significant amount of alcohol. Drink it in moderation and be mindful of your alcohol tolerance.
Print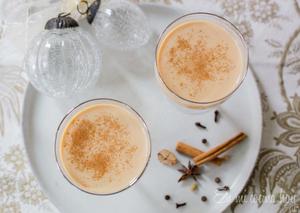 Chilean Coffee Eggnog (Cola de Mono)
The classic Chilean drink for the holidays.
Total Time:

25 minutes

Yield:

8
1

liter

of milk

300

ml

of pisco or another brandy, in the USA (vodka)

2

yolks

3

cloves

1

cinnamon stick about

6

cm long

3 tablespoons

instant coffee (Nescafé Colombian)

1/3

cup

granulated sugar

1 teaspoon

vanilla
Instructions
In a medium saucepan, place the milk, cloves, and cinnamon.

Heat on medium-high. Keep an eye on, because milk can boil and overflow easily.
When milk is warm, take 1/2 cup, dissolve the coffee in it, return everything to the pot, and continue heating and stirring occasionally.
In a medium bowl, beat the egg yolks with the sugar until combined well, a minute with a fork.
Once the milk starts boiling, lower the heat to a minimum and get 1/2 cup of boiling milk and keep adding to the yolk mixture, always whisking, repeat with 2-3 1/2 cups of milk.
Return everything to the pot and continue heating and stirring until thickened. Increase heat to medium—about 5 minutes.
Cool and add vanilla and liqueur.
Taste and adjust the sugar and liqueur to taste. Strain.

Bottle and kept refrigerated for up to 10-12 days. Serve cold.

Author:

Pilar Hernandez

Prep Time:

15 minutes

Cook Time:

10 minutes

Category:

drink

Method:

Stove cooked

Cuisine:

Chilean
Nutrition
Serving Size:
Calories:

220

Sugar:

14.9 g

Sodium:

60.6 mg

Fat:

5.5 g

Saturated Fat:

2.8 g

Carbohydrates:

16.3 g

Fiber:

0.4 g

Protein:

4.9 g

Cholesterol:

59 mg
Keywords: cola de mono, coffee punch, chilean cuisine