One of our favorite foods: sopaipillas, cannot be missed alone, with avocado, pebre, and jams.
Chilean sopaipillas are a traditional fried dough snack. They are popular street food, and can Chilean eat them at festivals, markets, and restaurants throughout the country.
Sopaipillas start with a simple dough mix of flour, squash, baking powder, and salt. The dough is then flattened into a round shape and fried in hot oil until golden brown and crispy outside.
One of the distinctive features of Chilean sopaipillas is the addition of pumpkin or squash to the dough, which gives them a slightly sweet flavor and a moist, tender texture.
They are typically served hot, with a sprinkling of salt or powdered sugar, and sometimes with a drizzle of pebre, a mild salsa made from tomatoes, onions, cilantro, and chili peppers.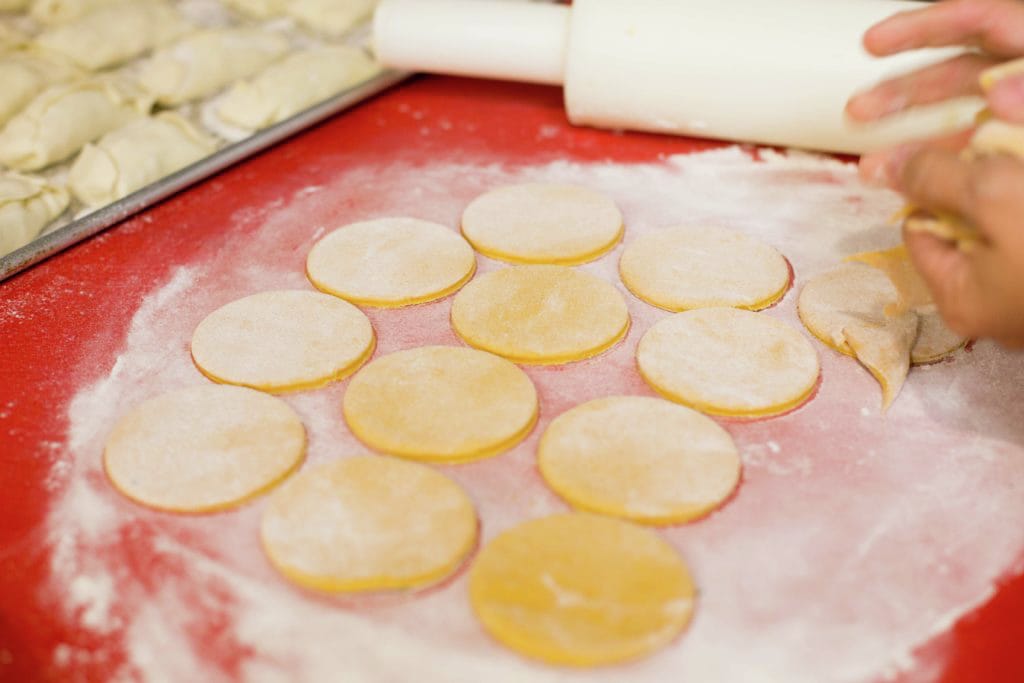 Chileans eat sopaipillas as a mid-afternoon snack or light meal, particularly during the colder months. Many families make them when it rains in the Central Valley. They are also a popular food during the country's Independence Day celebrations, which take place on September 18th.
Overall, Chilean sopaipillas are a delicious and versatile snack loved by many in Chile and beyond.
It's important to note – Chilean Sopaipillas are different from Mexican Sopaipillas. The Chilean version includes squash and is eaten with savory or sweet sauces.
"Sopaipillas Pasadas" is a clever dessert that allows you to use any leftover sopaipillas. Sopaipillas are dipped or soaked in a warm thick molasses sauce. In Chile, we use Chancaca.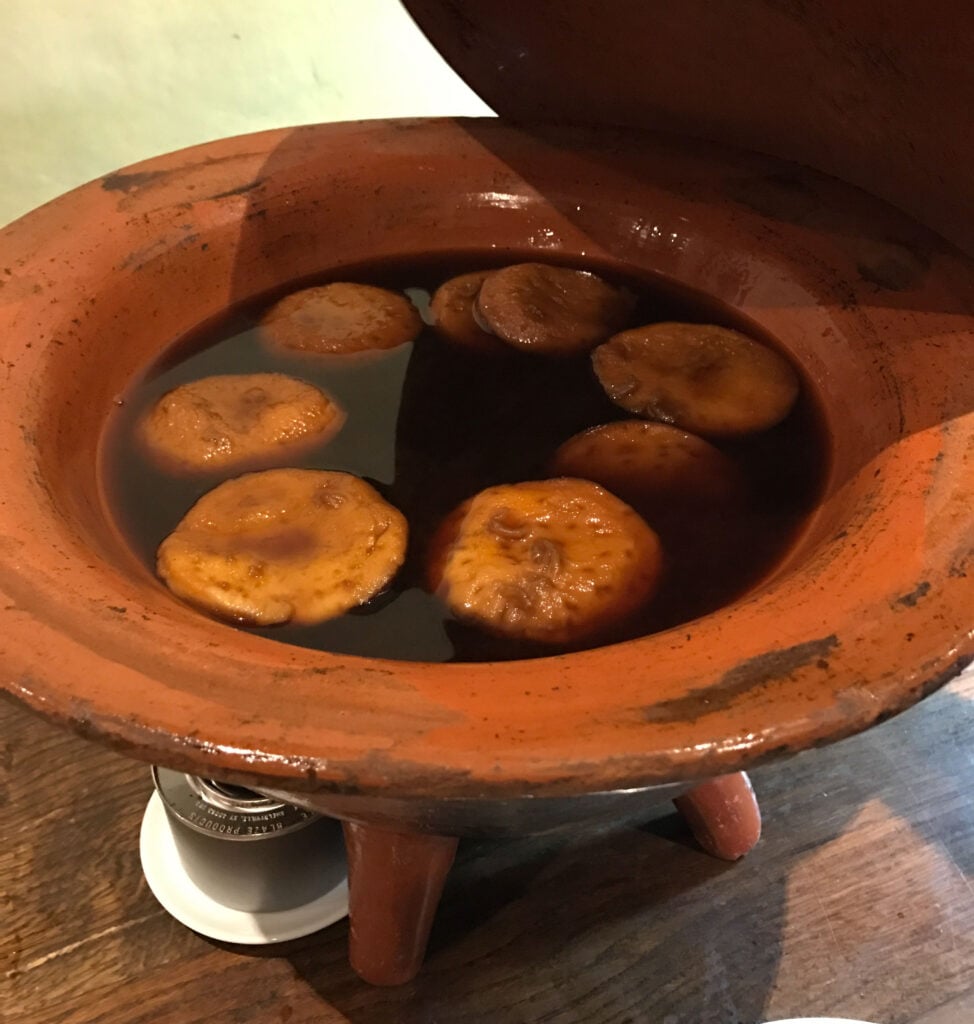 If you don't have Chancaca or Panela to make the sauce for Sopaipillas Pasadas you can use dark molasses blackstrap. It's always made to taste.
Start with 1/2 cup of dark molasses, dissolve in 2 cups water, and add sugar and orange peel. Cook to boil, taste, and adjust. Add one teaspoon of cornstarch dissolved in 1 tablespoon of cold water to thicken when you are happy with the taste. Let it boil. Don't use brown sugar.
Tips for delicious sopaipillas:
Can I make the sopaipillas in the oven?
Yes, you can, but frankly, it is NOT the same. I think baked sopaipillas work better for sopaipillas pasadas, but it is better to fry them to eat them fresh.
How do I make the pumpkin puree?
To replace the traditional Zapallo Amarillo (Chilean winter squash) in the US, use Kabocha or Hubbard squash, even the Halloween pumpkins can be used successfully.
Baking or cooking the pumpkin or winter squash in the microwave without water is best. It's ready when you can go through with a table knife without resistance. The purée is the pumpkin passed through a sieve or ground with the stick blender or in the blender. It is better to let it cool before grinding, and you can freeze it in portions for when you want to make sopaipillas again. It lasts three months frozen.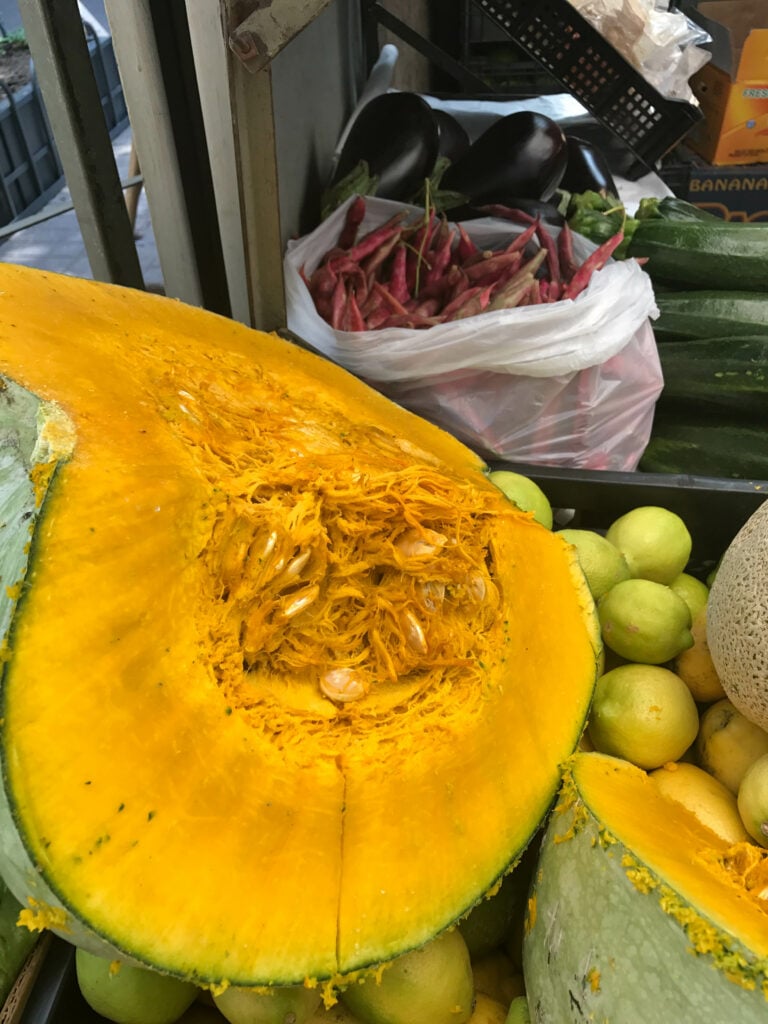 I made sopaipillas, but they were hard. What did I do wrong?
Two possibilities too much kneading. Kneading develops the gluten of the flour and can result in hard sopaipillas. Or the baking powder is expired. If you suspect the baking powder is expired: place a teaspoon in a cup and add boiling water. It should bubble a lot for at least 30 seconds.
How to measure flour?
Use measuring cups: 1 cup = 240 ml.
A cup of flour is 125-140 grams.
Print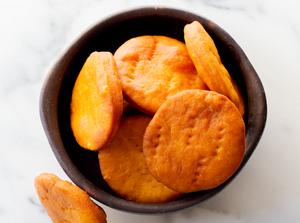 Chilean Sopaipillas with Pumpkin
Perfect appetizers with Chilean salsa Pebre or as a dessert, dusted with powdered sugar or in a molasses sauce.
Total Time:

45 minutes

Yield:

20
1

cup

pumpkin puree (I use canned in the USA)

2

cups

flour

2 teaspoons

baking powder

1 teaspoon

fine salt

3 tablespoons

vegetable shortening, lard, or butter, melted
Instructions
Place the flour, baking powder, and salt in the food processor and pulse a few times to mix, add the remaining ingredients, and pulse until a dough forms, should be smooth and pliable.

Take out of the food processor and knead a couple of times. Let stand, cover with a cloth, for 20 minutes.
Roll into a floured counter until the desired thickness; I prefer thin, 1/2 cm. more or less or 1/4′

Heat oil to 180C or 350F.
Remove to a plate lined with a paper towel to absorb excess oil.

Notes
For the Chancaca sauce: 1 square of Chancaca or Panela or Piloncillo, 2 cups of water, lemon or orange peel 2 little squares, 1 cinnamon stick, 3 cloves, and 2 tablespoons cornstarch dissolved in 1/4 cup cold water
Place the water, panela, orange peel, cinnamon and cloves in a medium saucepan. Cook over medium heat stirring occasionally until brown sugar is melted. Boil gently for 15 minutes.
If you want it thicker, add the cornstarch dissolved in cold water and stir until thickened.
You can drizzle the sopaipillas with sauce or soak into the sauce and serve warm.
Author:

Pilar Hernandez

Prep Time:

30 minutes

Cook Time:

15 minutes

Category:

Savory

Method:

Fried

Cuisine:

Chilean
Nutrition
Serving Size:
Calories:

162

Sugar:

0.4 g

Sodium:

131.7 mg

Fat:

12.8 g

Saturated Fat:

2.2 g

Carbohydrates:

11 g

Fiber:

0.7 g

Protein:

1.4 g
Keywords: Chilean Sopaipillas, chilean bread, sopaipillas with pumpkin