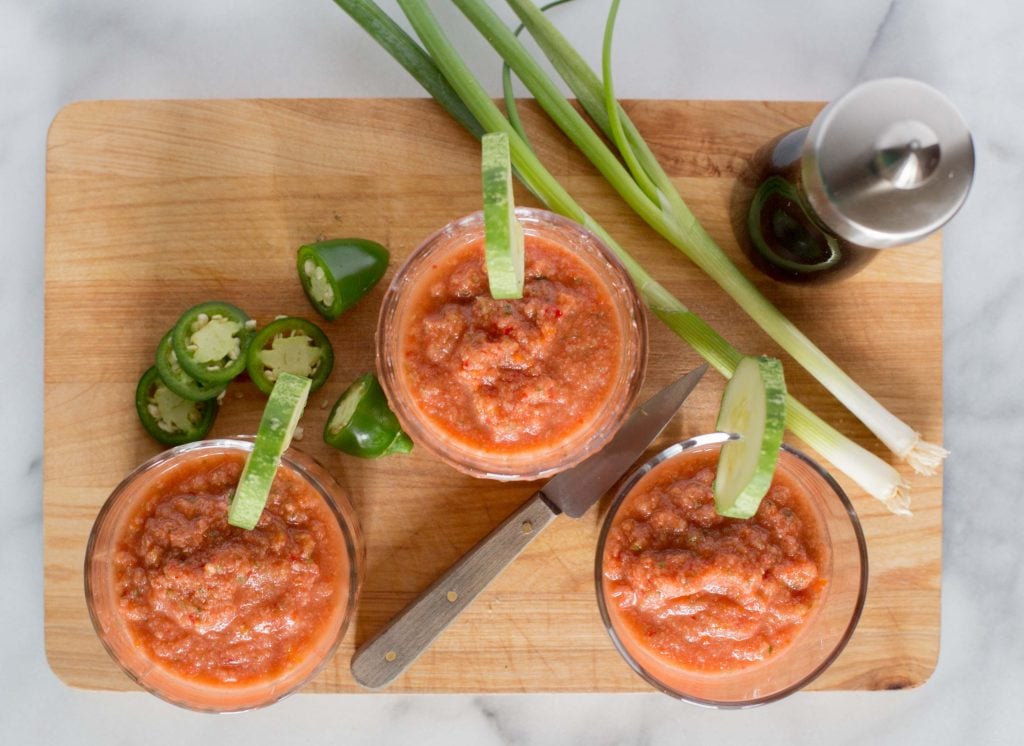 The tomato season in Houston is short but delicious. Growing tomatoes here begins in February and harvest is usually May/June. During the summer the plants continue to produce, but the quality of tomatoes goes down faster with the oppressive heat.
This year, I planted several varieties, because I like testing and figuring out my favorites, a variety that matures quickly (80 days) like the Early Girl is always a safe bet, but Early Girl does not have the best texture and flavor. This year my absolute fave was the Purple Cherokee, been years since I ate a tomato so tasty.
So Early Girl tomatoes got relegated to this cold tomato soup. Also known as gazpacho. It is important to prepare the soup at least an hour before serving so the flavors have time to mix well. You can control the thickness with the bread, star with half of what the recipe says and go adjusting.
Cold tomato soup
4 servings
Ingredients:
5 medium ripe tomatoes
1/2 red bell pepper, seeded and coarsely chopped
4 scallions white part and the beginning of the green chopped
1 baguette piece (6″ long) chopped
1 cucumber chopped
salt, pepper and olive oil
garlic, optional
Preparation:
Place everything in the blender, process until a thick soup forms.
Taste and adjust the seasoning.
You can strain it or serve it as is.
Refrigerate at least 1 hour before serving. Serve cold.