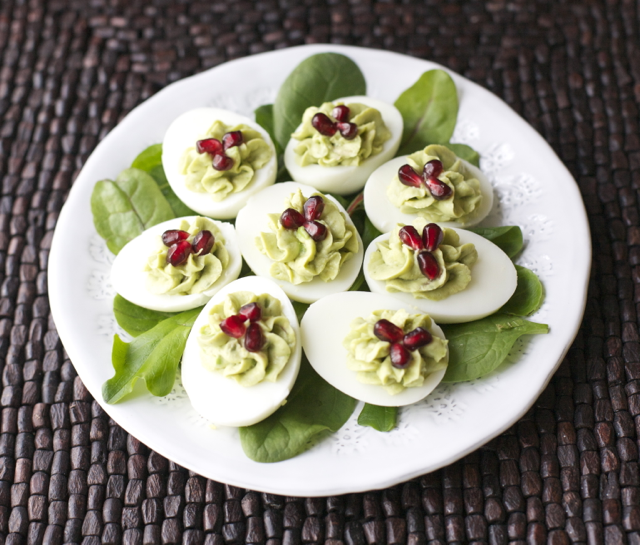 In our family, the most important meal of the year-end holidays is Christmas Eve dinner. We usually ate turkey, stuffing, potatoes duchesses, applesauce, etc.. This year I want to introduce a healthier option to the many cookies set on the table pre-dinner time. I came up with this devil eggs using one of our favorites Ingredients: Avocados. I loved how these deviled eggs have a flair with Christmas color give for the avocado and pomegranate, and the combination of flavors is very refreshing and delicious.
In Chile, where I was raised, we do not celebrate the Posadas, although the idea is very nice, basically between the 15 to Dec. 24 friends and family gather and go to a home every night and relive the moment when Mary and Joseph asked for overnight accommodation.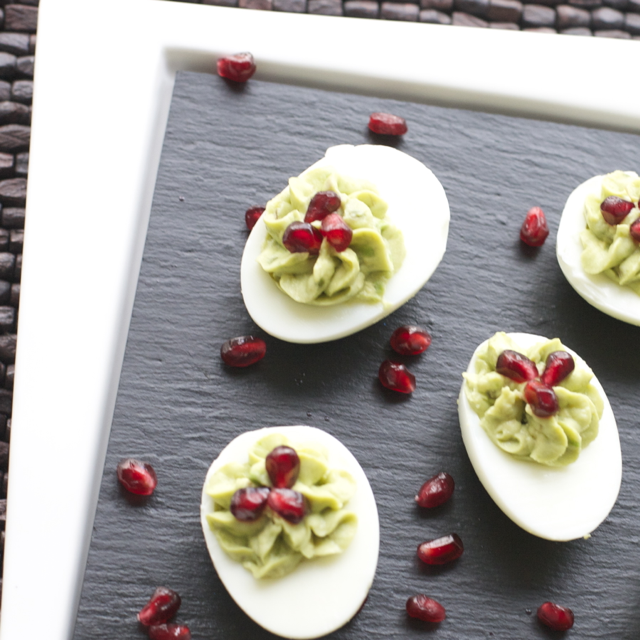 Avocado deviled eggs
for 10 halves
Ingredients:
5 eggs
1 avocado
1 teaspoon mayonnaise, optional
1 tablespoon lemon juice
salt
pomegranate for garnish
Preparation:
In a small saucepan put 5 eggs, should be in one layer, not mounted. Cover completely with cold water. Cover the pot.
Cook over medium-high heat until it boils. Boil for 1 minute. Turn off the heat and leave the pot covered for 10 minutes.
Discard water and replace it with cold water to cool and stop the cooking.
Once cool, beat with a spoon cracking the egg and peel all the skin from the eggs.
Cut in half and scoop each egg yolk to a plate.
Place the egg whites cooked in the dish where they will be served.
Cut the avocado in half, and discard the pit, mix avocado with the egg yolks. Mashed with a fork and season with lemon, salt, and mayonnaise to taste.
Pour avocado mixture in a plastic bag or pastry bag with a star tip.
Cut a corner of the plastic bag or using the pastry bag fill the egg whites with avocado mixture and garnish with pomegranate.
I recommend filling the egg whites just before serving. But you can make ahead and keep the avocado mixture into the bag in the fridge for several hours (remember to extract all the air out before closing).
*This post was in collaboration with Latina Bloggers Connect and
Avocados from Mexico
, but all stories and opinions are only mine.