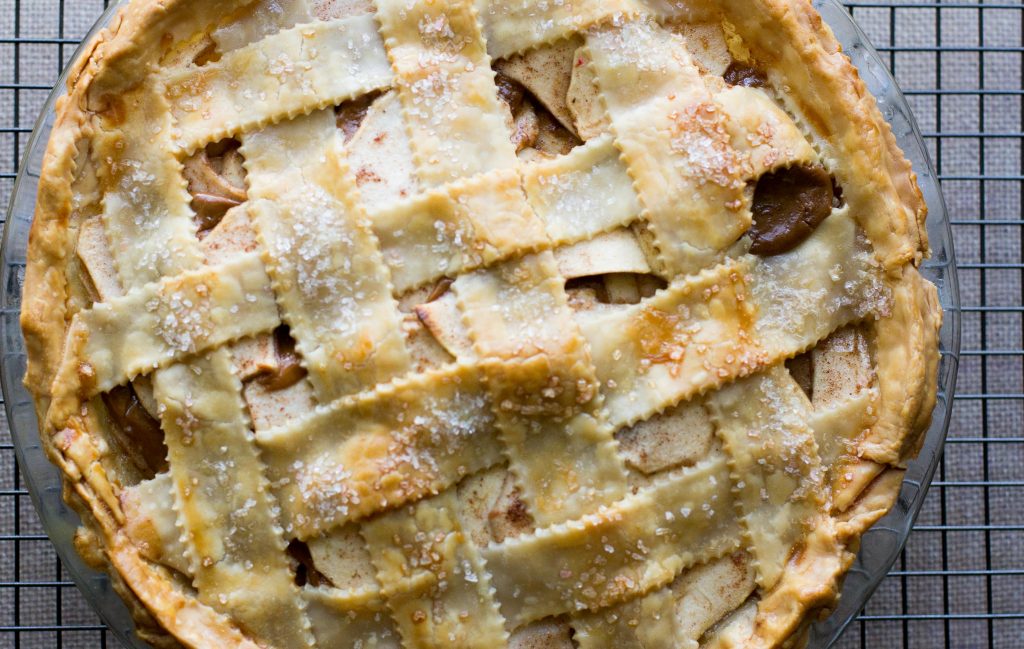 I have long wanted to make a ?Dulce de Leche apple pie, the combination is delicious and had tasted this recipe for empanadas so for Thanksgiving I did. You can buy the dough if you do not want to work so much. ?Serve as is or warm with ice cream or whipped cream. Delicious.
Dulce de Leche Apple Pie
for dough,
2 1/2 cup all-purpose flour
2 teaspoons sugar
1 teaspoon salt
1 1/4 cups ( 250 grams ) butter, cut into cubes and well chilled
1/4 – 1/3 cup ice water
Place the flour, sugar, and salt in food processor, press a few times to mix. Add the cold butter and pulse until coarse crumbs form, this can also be done in a bowl working with two table knives or a fork, it is important NOT to use their hands because you do not want the butter to warm up. Add 1/4 cup cold water and press a couple of times, keep adding cold water 1 tablespoon at a time, until dough begins to form. Gather the dough with your hands and form 2 disks. Wrap in plastic wrap and refrigerate for at least 2 hours or up to 3 days.
When you go to prepare the pie, take 1 disc of dough and spread on a lightly floured counter until you have a circle of about 30cm. in diameter. Line the pie dish with the dough, pressing lightly against the walls and bottom of the mold, leaving the dough hanging on. Refrigerate.
Remove the other disk of dough and roll on waxed paper until you have a circle of about 30cm. in diameter, cut into strips 2 cm in diameter. Refrigerate. Prepare the filling.
for filling,
5 green apples or a mixture of green and red, peeled and cut into slices about 3 mm. thick
3/4 cup lemon juice
2/3 cup sugar
3 tablespoons flour
1 teaspoon cinnamon
1/4 teaspoon ground cloves
1/8 teaspoon ground nutmeg
1 jar Dulce de Leche (1 1/2 cup)
Peel and chop the apples into slices, place in a large bowl with lemon juice so they do not turn black. Stir occasionally. In a small bowl mix the flour, sugar, cinnamon, nutmeg, and cloves, stir well. When you have the 5 apples chopped, drain and discard the remaining lemon juice and add the flour mixture and sugar, stir well to coat all the apples.
to put together the pie and painting
Remove the pie dish from the refrigerator, place 1/3 of the apples arranged in a layer in the pan, put 5 teaspoons of Dulce de Leche, repeat 2 more times. To fill the mold, cover the dish with some apples.
Remove the pr -cut strips from the refrigerator and cover the pie making a trellis.
Cut the excess dough and form wavelets on the edge.
Freeze for 30 minutes.
In the meantime preheat the oven to 350F or 180C.
Beat the egg with a fork for 1 minute to mix the white and yolk well.
Remove the pie from the freezer and paint the dough with the beaten egg, sprinkle with sugar and bake 30 minutes, cover the edge with foil to prevent burning.
Continue baking for 30 more minutes until well browned on top and bottom ( if using a glass mold, always look under it).
Remove to a wire rack and let cool completely before serving.
Lasts 2 days covered and refrigerated.
Recipe translated and adapted from Brown Eyed Baker blog.