Make this Brazo de Reina today. It's a treasured dessert or snack in Chile. This recipe is the traditional melt-in-your-mouth cake with Dulce de Leche filling. You are going to love it!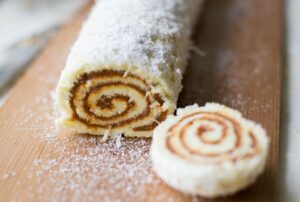 This recipe is long overdue, but I tried different jelly roll recipes, and they didn't do it for me. Not soft enough. But, when I read this recipe in the excellent blog Kanela y Limón, I thought this was it! And I was right—the difference: no baking powder.
Brazo de Reina is a confection that, similar to Empanadas, has its version in almost every country in Latinamerica. It can be called Pionono. And the filling will change.
What is the traditional filling of the Brazo de Reina?
In Chile, the cake is a vanilla flavor, and the filling is Dulce de Leche. You can be a little more creative with the decoration, just a dusting of powdered sugar, a mix of dried shredded coconut and powdered sugar, or a mix of chopped walnuts and powdered sugar.
Why is called Brazo de Reina?
We have no idea. The literal translation is "Queen's arm." We do know that in Chile, most of the old bakery items were produced in convents by nuns. And also, Chile was a colony of Spain, so maybe they thought it was an appropriate name for a delicate cake.
What Dulce de Leche do you recommend?
This is an important question; the most traditional will be a canned Dulce de Leche, La Lechera brand (made in Chile) Amazon affiliated link. Easy to find in Latino markets in the USA. I don't recommend using Argentinian Dulce de Leche; they are very heavy on vanilla flavor and distracting for Chilean purposes.
Where and when do Chileans eat Brazo de Reina?
In Chile, it's common to see and buy a slice de Brazo de Reina in bakeries and eat it on the go as a snack. As a homemade pastry, it's usually something for a special occasion like Sunday Once (tea time) or even for a birthday party in place of a more traditional cake.
I found this Brazo de Reina easy to make, roll and fill. 100% recommended. You can double the recipe to make 2. I filled one with lemon cream and the other with dulce de leche and coconut in the traditional way in Chile.
Print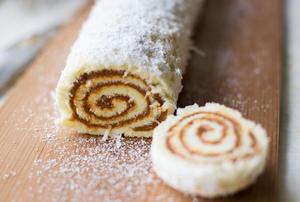 Brazo de Reina Chilean Dulce de Leche Roll
A perfect adittion to a dessert table. Spongy and sweet.
Total Time:

50 minutes

Yield:

10
50

grams

of milk (by weight)

50

grams

of canola oil (by weight)

4

eggs

70

grams

of sugar, 20 and 50 separately

80

grams

of all-purpose flour
pinch of salt

1

can of dulce de leche, I used La Lechera, easy to find on Latino markets
coconut and icing sugar to decorate
Instructions
Preheat oven to 325F or 160C.
Cover the baking sheet with parchment paper. You can use a standard jelly roll pan or a half sheet pan.
Using two separate large bowls, eggs, whites, and a pinch of salt, on the other yolks, 20 grams of sugar, milk, oil, and flour with a balloon whisk mix well until it looks like a batter.

Beat egg whites until they are white, add sugar, and beat a soft peak meringue (see photo).

Mix both carefully.
Pour the batter into the prepared baking pan. Spread in an even layer.

Bake for 15-18 minutes until golden.
Remove from the oven and turn onto another sheet of parchment paper. Peel off the paper on top and roll using the new paper. Allow cooling.

When cool, unroll and spread the dulce de leche covering the entire cake. If it is thick and hard to spread, heat on medium in the microwave (out of the can) for 1 minute.
Rollback and sprinkle with powdered sugar and coconut. Slice and serve.

Recipe from the blog Kanela y Limón
Author:

Prep Time:

30 minutes

Cook Time:

20 minutes

Category:

Sweets

Method:

Baked

Cuisine:

Chilean
Nutrition
Serving Size:
Calories:

331

Sugar:

27.9 g

Sodium:

318.6 mg

Fat:

17.3 g

Saturated Fat:

9.3 g

Carbohydrates:

38.1 g

Fiber:

2 g

Protein:

7 g
Keywords: dulce de leche roll, dessert