In Chile, this dessert started as something you would buy to send to school. Manjarate is Dulce de Leche Mousse's commercial name, sold next to the jelly and yogurt at the supermarket. It's always served in small portions with a crust of dark chocolate on top.
My mother did not favor packing desserts besides fruit in my lunch box, so eating Manjarate (a play with the word Manjar = Dulce de Leche) was exceptional for me.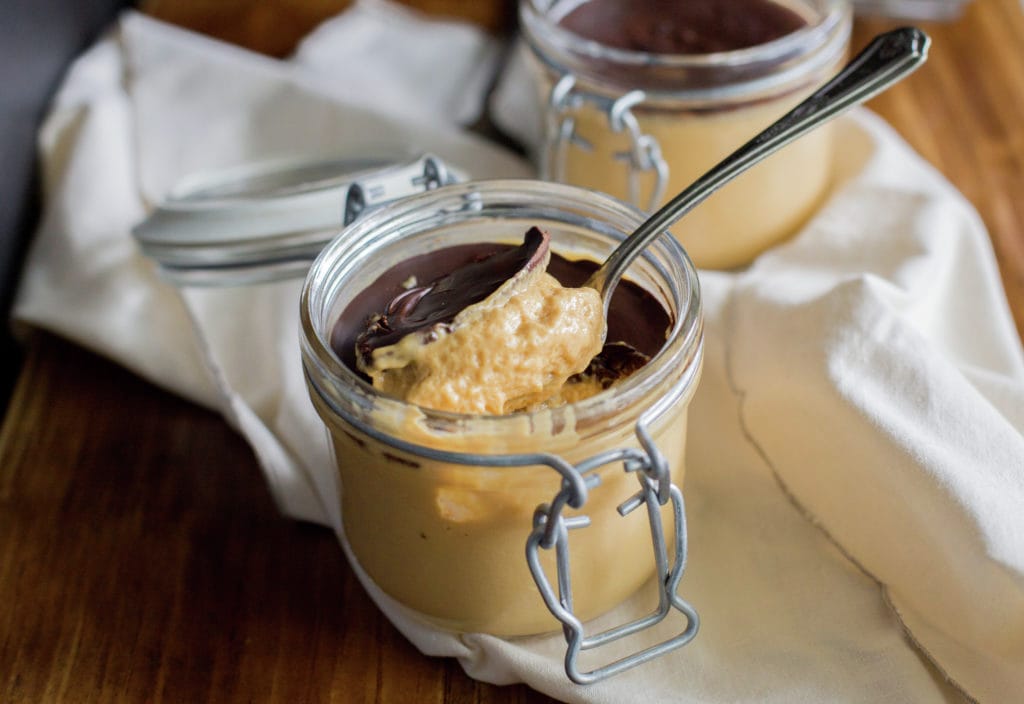 Living abroad, Manjarate is something I miss, so I now make this homemade version. It's even better than the commercial one, fluffy and melts in your mouth with dulce de leche sweetness. The chocolate cover is a lovely crunchy compliment. I use dark chocolate to balance the dulce de leche, but you can use milk chocolate, too.
What brand of Dulce de Leche do you recommend?
This is an important question; the most traditional is a canned Dulce de Leche, La Lechera brand (made in Chile), Amazon-affiliated link. Easy to find in Latino markets in the USA, also available in Safeway and Walmart. I don't recommend using Argentinian Dulce de Leche; they are very heavy on vanilla flavor and distracting for Chilean purposes.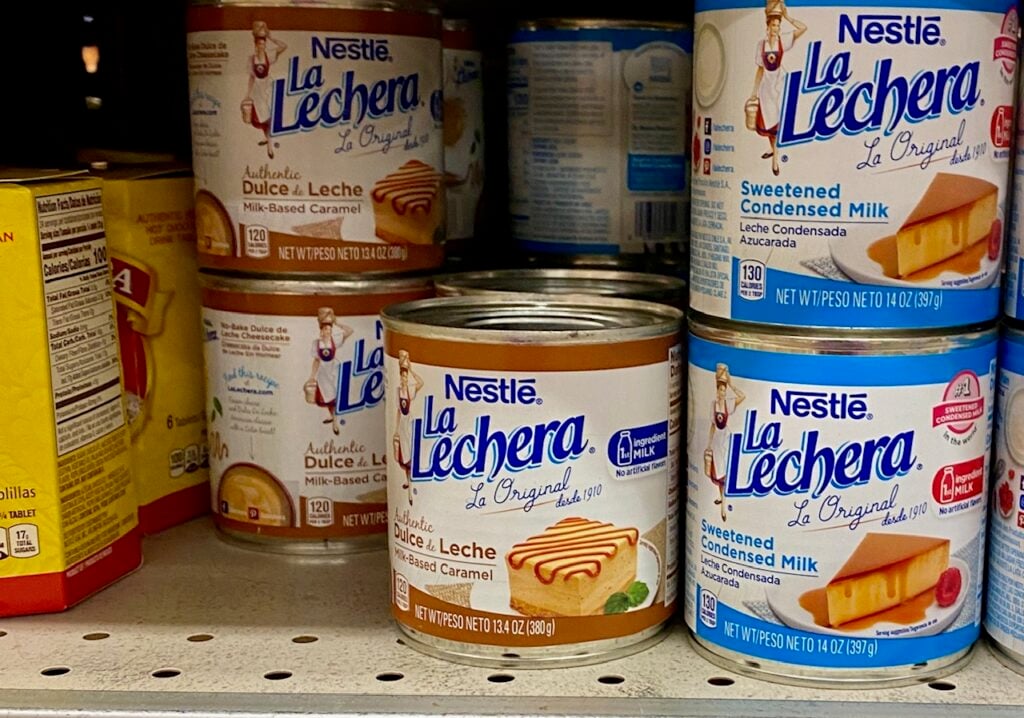 Print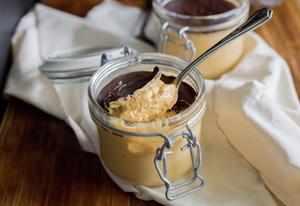 Manjarate Dulce de Leche Mousse
Total Time:

30 minutes

Yield:

10
1

can of evaporated milk, chilled all night

1

pound

of dulce de leche, I used the canned dulce de leche La Lechera brand available at Latin markets

1/2

cup

heavy whipping cream

1

envelope unflavored gelatin

1

cup

bittersweet chocolate chopped
Instructions
In a large bowl, whip the evaporated milk with a hand or stand mixer on high speed until thickened, about 4-6 minutes, depending on the mixer's power. The volume should increase at least twice.
Add the dulce de leche and beat on low speed for 1 minute until fully incorporated. Add cream and beat on high speed for 2 minutes. Watch out for splashes.

In a bowl, put the unflavored gelatin and cover with cold water, stir to wet all the gelatin and let stand for 1 minute, add half a cup of boiling water, and stir 1 minute until the gelatin is completely dissolved. Add the dissolved gelatin (can use a strainer if you are unsure) to the mixture and beat for 1 minute.

Spoon mixture into individual ramekins and refrigerate for at least 1 hour.

Melt the chopped chocolate in the microwave for 45 seconds, remove and stir for 1 minute. If not totally melted, continue heating for 20 seconds and stir for 1 minute each time. When melted, spoon on top of each mousse.

Author:

Pilar Hernandez

Prep Time:

30 minutes

Cook Time:

0 Minutes

Category:

Dessert

Method:

Chilled

Cuisine:

Chilean
Nutrition
Serving Size:
Calories:

317

Sugar:

38 g

Sodium:

98.4 mg

Fat:

12.6 g

Saturated Fat:

7.9 g

Carbohydrates:

45.5 g

Fiber:

1.6 g

Protein:

7.9 g
Keywords: Dulce de Leche Mousse