Healthy Mexican Food: Pork Enchiladas with Spanish Rice and Refried Beans is sponsored by the Transamerica Center for Health Studies. All opinions are mine. 
You may remember that in March I shared two recipes adapted from the cookbook Tradiciones Saludables from the Transamerica Center for Health Studies: Healthy Meatloaf with Chard and Healthy Cheesesteak Quesadilla. Today I want to share a full meal, very Mexican and healthy. Each traditional recipe has been adapted into a version lower in calories, saturated fat, and salt, but still retaining its original flavor.
For example, this Fiesta Pork Enchiladas, page 9 of the cookbook Healthier Traditions, a different cut of meat with less fat is used, and the enchilada salsa is homemade, to control added salt and fat. Furthermore, since my idea was to serve a full meal, I skipped the beans in the recipe. Another modification was to dip the warm tortillas in enchilada salsa and then to fill them. A tip shared by a Mexican friend.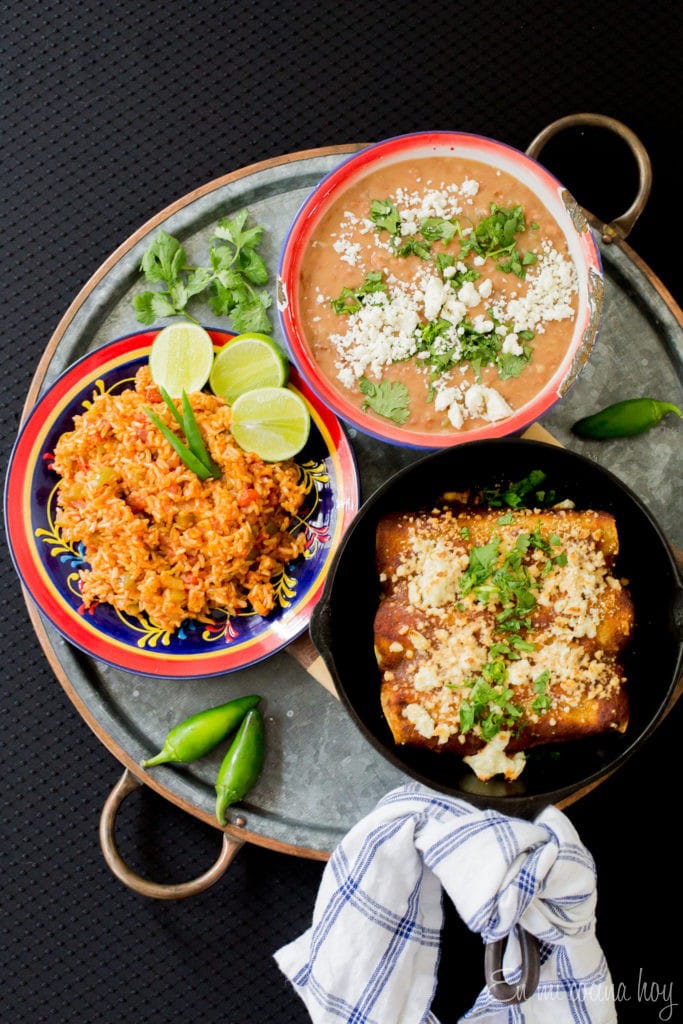 And of course, I had to include two classic sides: Mexican rice and refried beans. Please try these healthier versions with brown rice and no lard, and I hope you enjoy them, they are as delicious as the original recipes.
Mexican Rice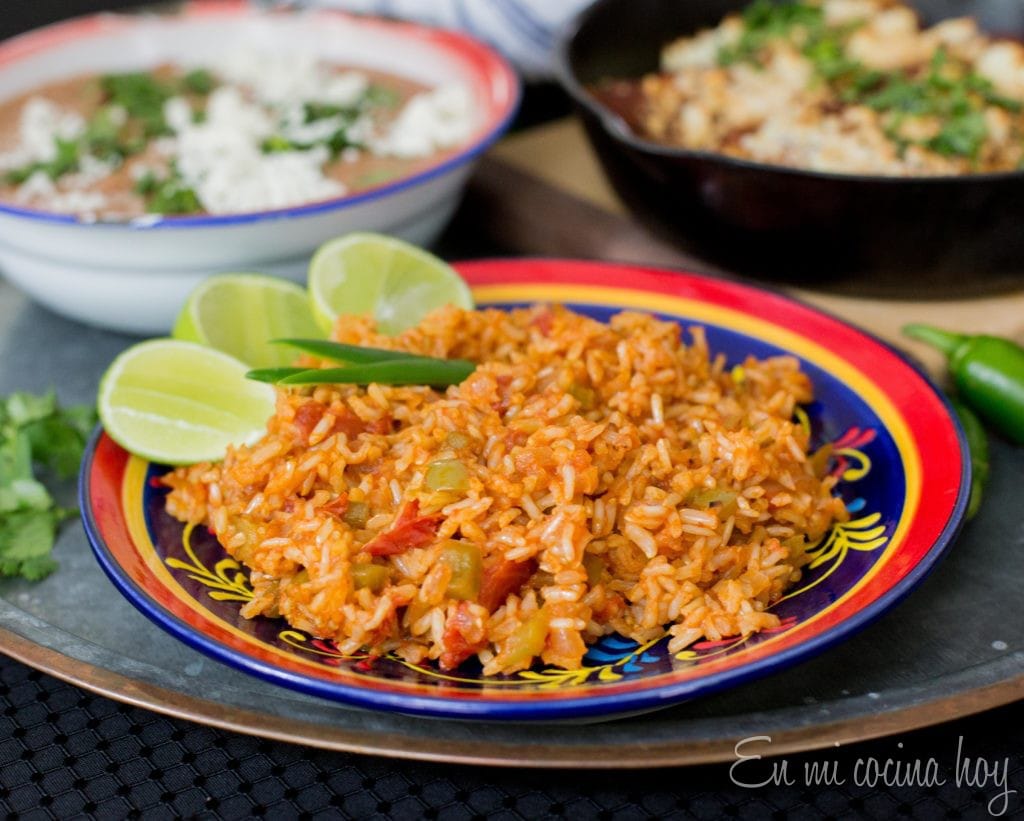 Serves 8 (per serving: 129 calories, 4 grams fat, 0.5 grams saturated fat, 240 mg sodium, 20 grams carbohydrates, 2.2 grams fiber, 3.4 grams protein)
Ingredients:
2 tablespoons olive oil
1 1/2 cups brown rice, long grain
1 medium onion, finely diced
1 green pepper, finely diced
1 jalapeño pepper, no seeds and chopped small
1 can (15 ounces) diced tomatoes, low salt
2 1/4 cup chicken stock, low sodium
1/2 teaspoon cumin
1/2 teaspoon salt
1/8 teaspoon cayenne pepper, optional
Preparation:
In a pan or large pot, heat oil over medium heat. Add the rice, onion, pepper, and jalapeño. Cook for 5-10 minutes, stirring until the vegetables are soft.
Add tomatoes, stock, cumin, salt, and pepper, stir and turn up the heat.
As soon as it comes to a boil, lower the heat, cover and simmer for 45-50 minutes until the rice is cooked. Stir with a fork and serve.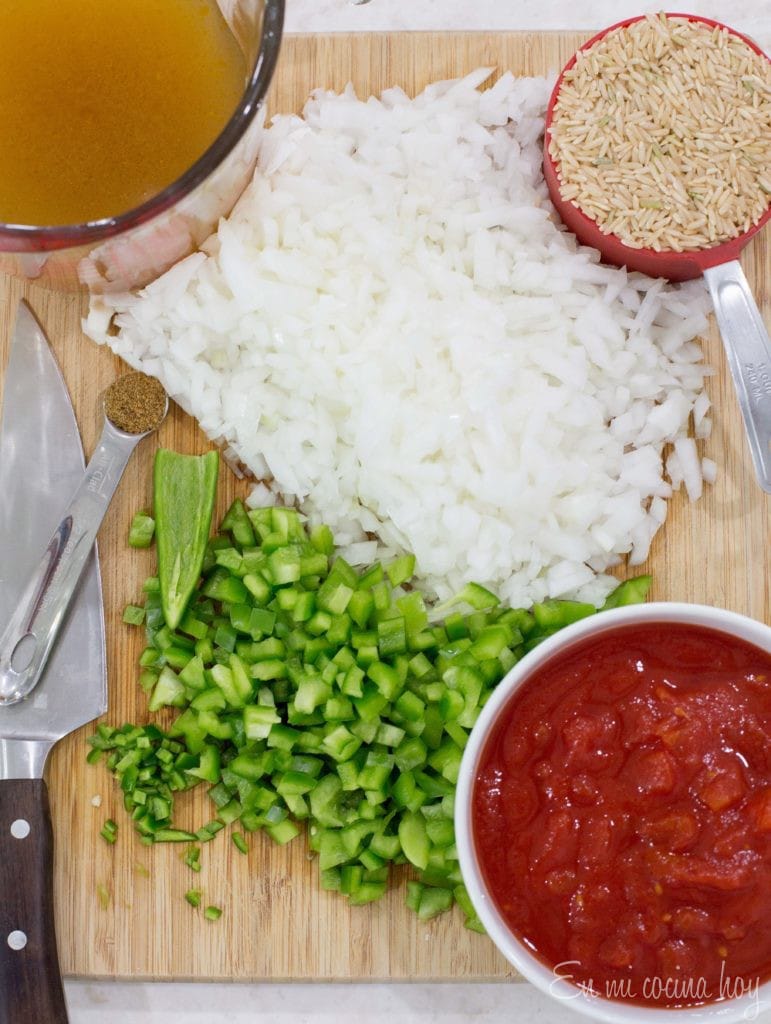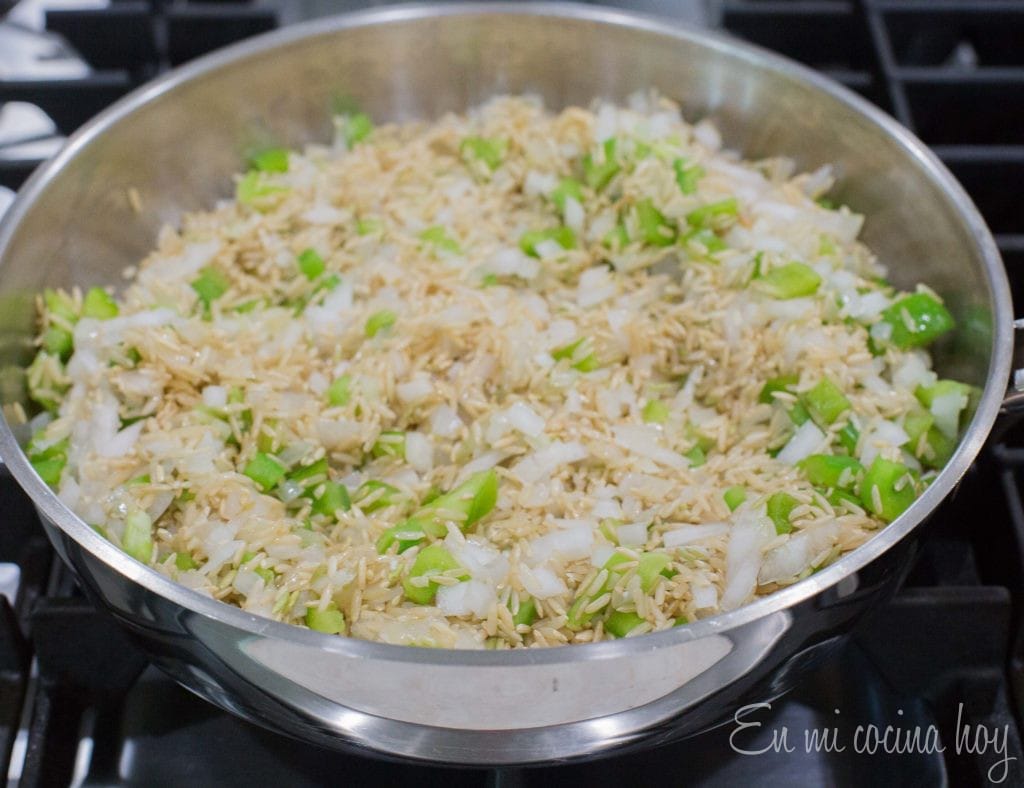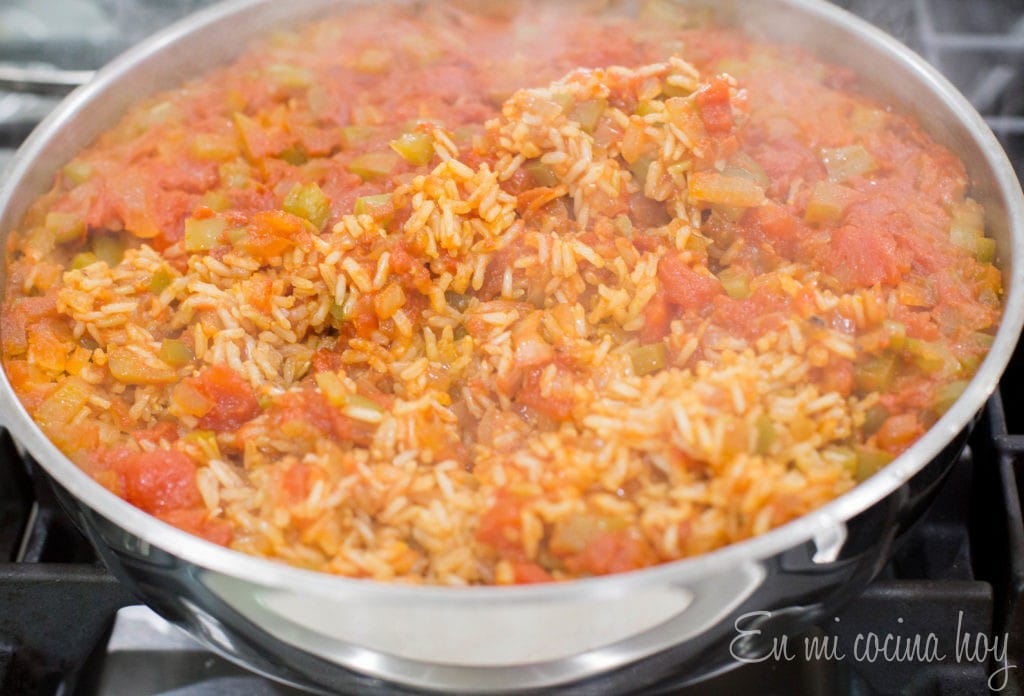 Refried Beans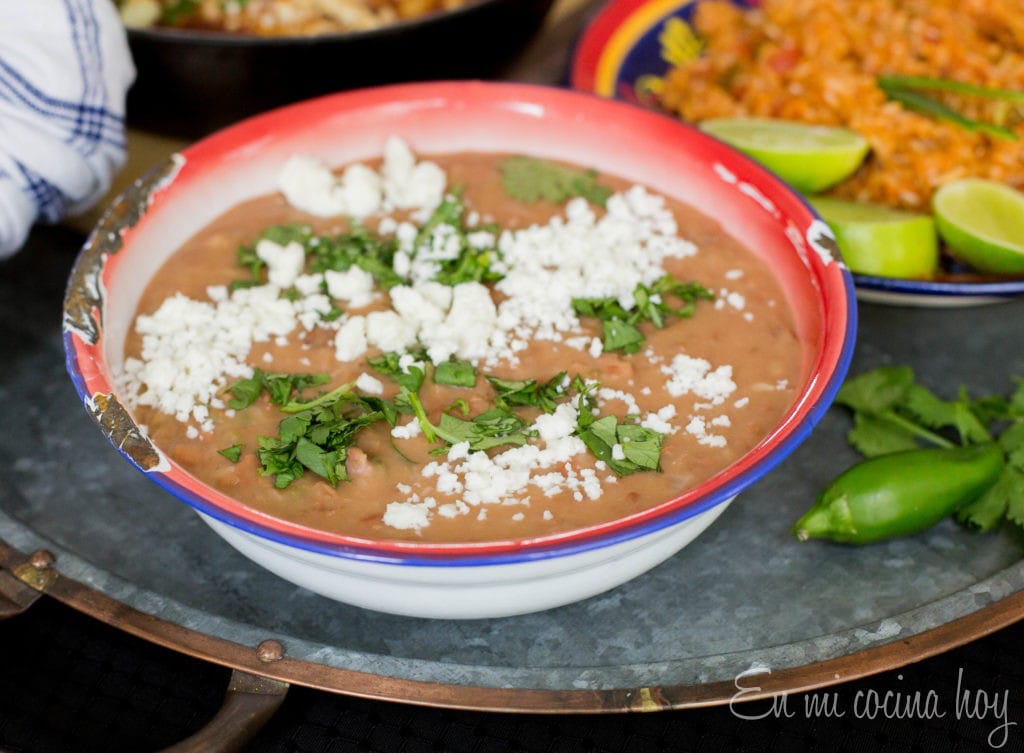 Serves 8 (per serving, no cheese: 217 calories, 4.8 grams fat, 0.9 grams saturated fat, 188 mg sodium, 33 grams carbohydrates, 11 grams fiber, 11.8 grams protein)
Ingredients:
2 slices of bacon, reduced in sodium, finely chopped
1 small onion, finely chopped
1 green pepper, chopped
2 garlic cloves, finely chopped
1 ounce (1/2 kilo) beans or pinto beans (approximately 2 cups), rinsed
1/2 teaspoon salt
2 tablespoons olive oil
3/4 cup to 1 cup beef stock
Queso Fresco in crumbles and chopped cilantro to serve, optional
Preparation:
Place the bacon in a large pot over medium heat. Add the onion and pepper,  and cook, frequently stirring, until it starts to soften, 3-5 minutes. Add garlic and cook for 1-2 more minutes. Add 12 cups water, salt, and beans to the pot. Turn up the heat and allow to boil.
Lower the heat to medium and cook, uncovered, occasionally stirring until the beans are soft, about 2 hours.
Drain the beans. In the same pot, heat the oil over medium heat. Add back the beans and brown while stirring. Add the beef stock 1/4 cup at the time and crush the beans. Continue until the mix thickens and all beans are crushed.
Serve warm with queso fresco and cilantro.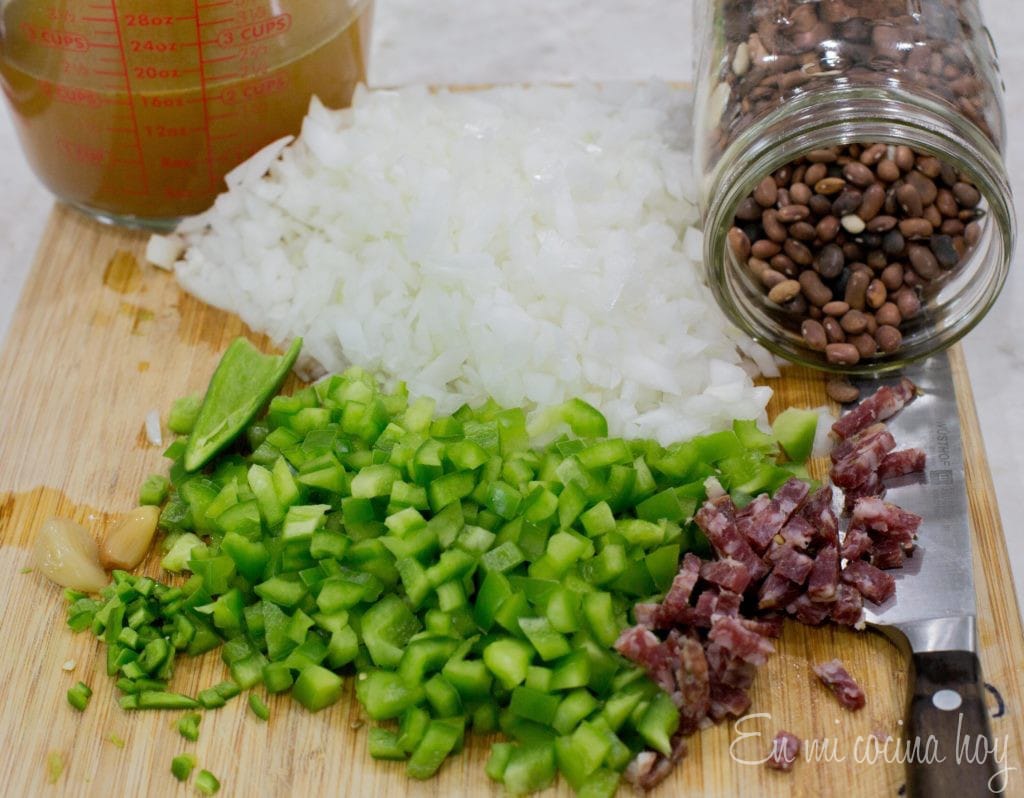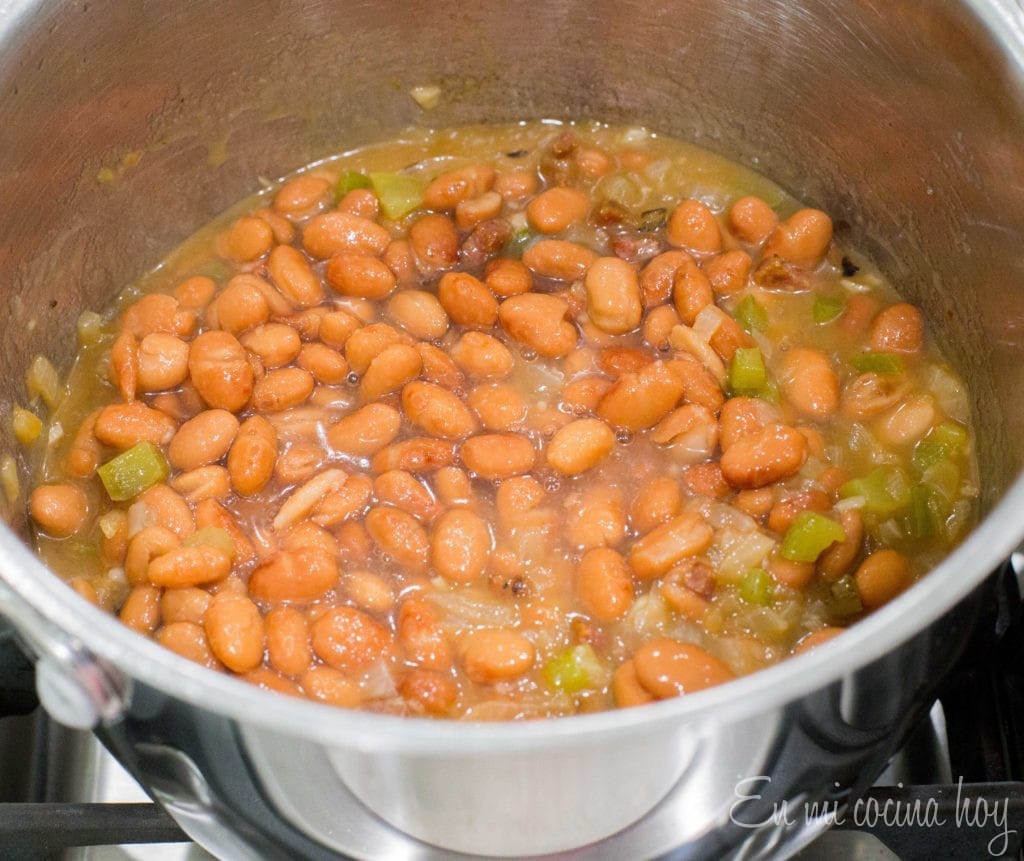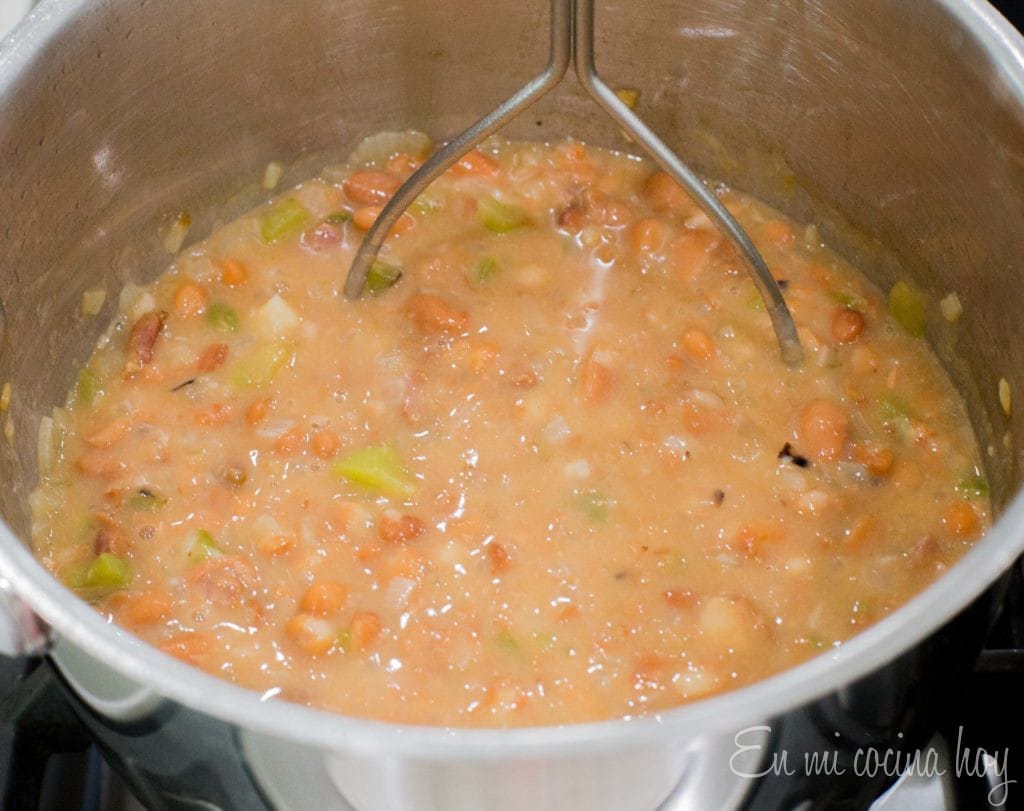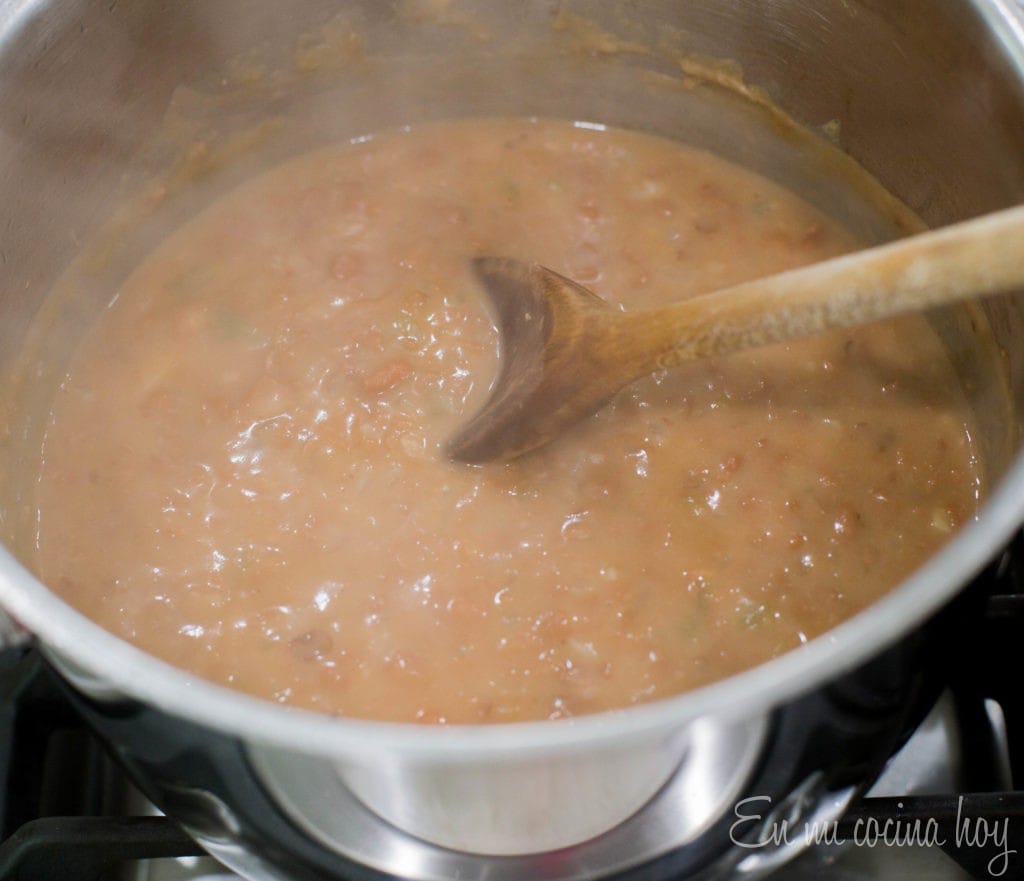 Pork Enchiladas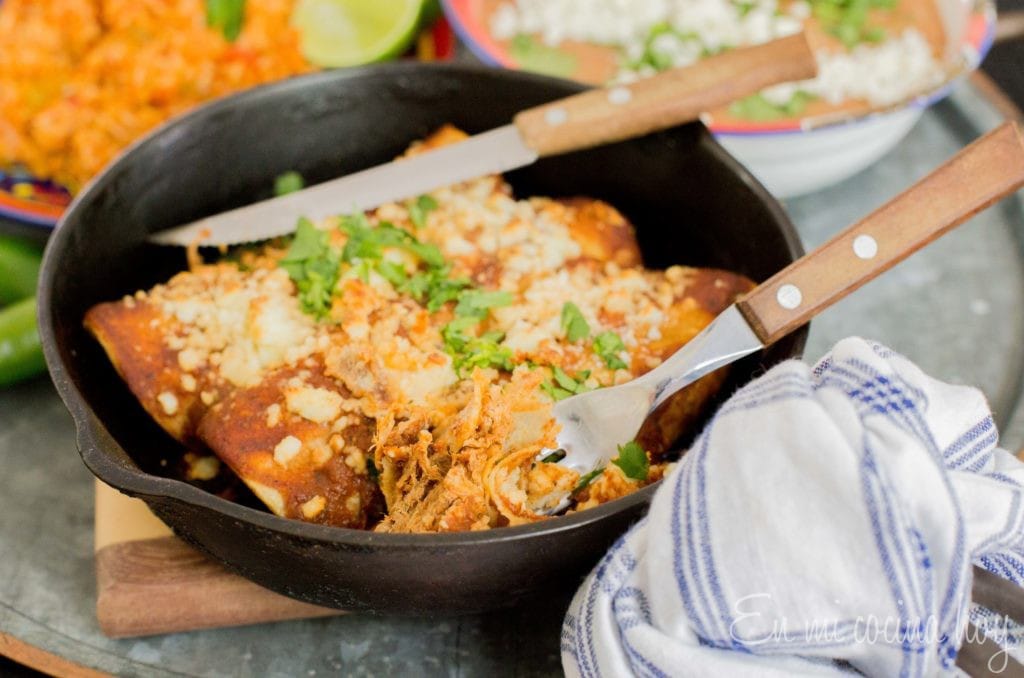 for the recipe visit the Healthier Traditions cookbook (page 9).