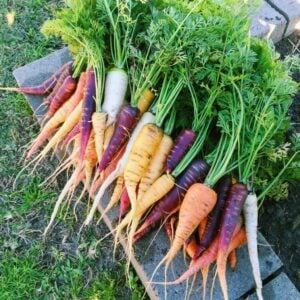 One of the things that I love is planting vegetables so that my kids can see them grow and harvest them. If I'm honest, it took me two years to achieve a medium success growing my carrots at home. So the first thing to keep in mind if you plant a garden is that like everything in nature there will be some dead (plants) and wounded pride :). Learn how to plant and grow carrots in Houston successfully.
Growing carrots is relatively easy, and children like them and will not quickly forget the experience of taking a carrot from the ground, washing it and eating it. They will also be surprised at how sweet the carrots are when just harvested.
Where to grow carrots?
You can grow carrots in a raised bed or a pot; carrots grow better in the loose sandy soil. It must be a place with sunny almost all day, 8 hours. It can be next to a wall, but not under a tree. To prepare the soil first remove all stones and roots, with a shovel turn the upper layer (about 1″ deep), spread organic fertilizer MicroLife 1/2 cup per square foot (read fertilizer instructions, concentrations vary ) and with a small rake or shovel incorporate the fertilizer and work the soil.
How to plant?
Make small hills with the soil of about 3″ height and at the top make a groove with your finger, spread the carrot seeds (they are tiny) sprinkle them in the ridge, cover with a thin layer of compost, and pat gently to settle the soil. If you are working on a establish garden and don't want to disturb the ground, you can skip the hill and spread the seeds on a flatbed. Just make the grooves 4′ apart.
If you want to use a planter, it must be a deep one (15″ or more), place in a sunny location and the easiest is to buy organic potting soil that already comes with fertilizers and ready to plant. In this case, I recommend forming the little grooves to plant in concentric circles.
What varieties of carrots do well in Houston?
All Nantes are tasty and produce a good harvest in Houston. The rainbows are perfect for growing with children. They provide white, yellow, orange, and purple carrots. Johnny's Seeds is an excellent place to buy online. Danvers 126 is another good one.
How to water?
Watering is critical; the seeds should be watered EVERY day hopefully in the morning before 10 AM,  gentle rain watering is the best. Water every day until the carrots have four leaves. Even a day without a watering can kill the germinated seed. Carrots can take up to 21 days to germination. In Houston, is usually less than 14 days, I resow if need it. Once established water once a week.
When the little carrots plants are 3″ hight they must be thin to make sure there is enough space between each plant, leave the most vigorous plants at least 2″ apart, take out the smaller plants to let the strongest ones keep growing. It is not recommended to transplant the carrot seedlings.
You can sow carrot in Houston in between October and January and every two weeks plant new seeds so you can harvest several times. Carrots in Houston are fall/spring harvest. They don't do well during the summer.
They are ready after 70-80 days when the orange part begins to show and is of an approximate diameter of 2″. To harvest pull carefully grabbing from the bottom of the leaves.
Visit our collection of articles on how to grow vegetables in Houston. Thanks for reading How to Plant and Grow Carrots in Houston.