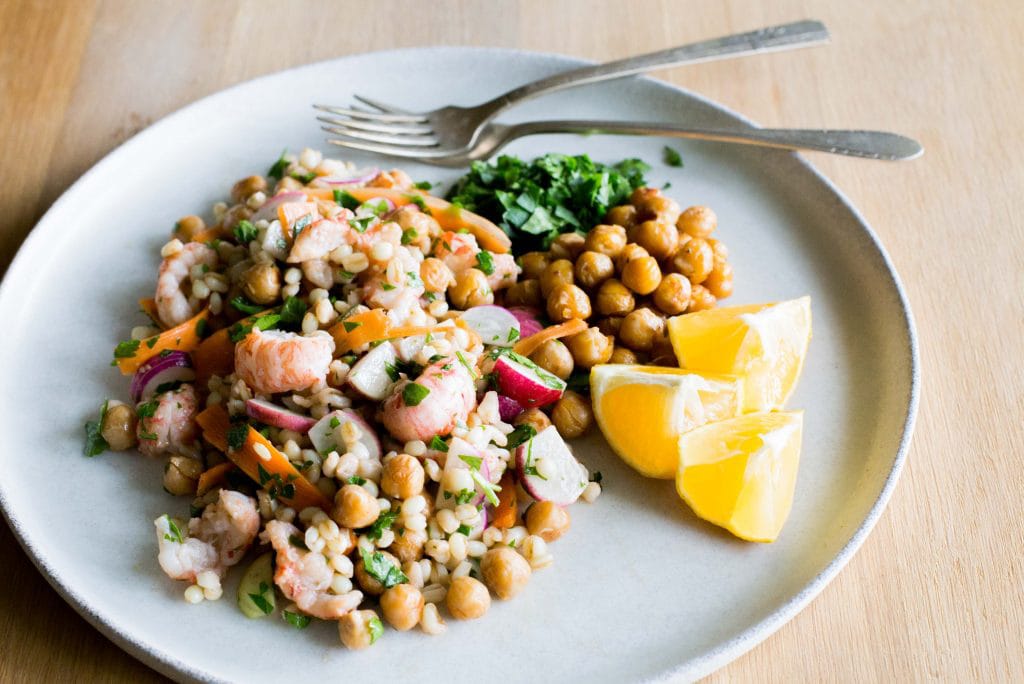 I wanted to make this salad using as many Chilean products as I had on hand, I looked in my pantry and found rica-rica olive oil, a syrup I bought  in Northern Chile, of course, mote (wheat berries), and merquén (Chilean chili powder) and I was just lucky to find frozen Langostino tails at Costco. They are not as good as fresh, but being this far away I welcome them with open arms.
The salad was delicious, refreshing and with a nice texture.
Langostino Tails Salad
4 people
Ingredients:
2 cups cooked "mote" or wheat berries, farro or similar
1 cup langostinos tails, defrosted and pat dry
1 cup cooked chickpeas, I use canned
1 small carrot, sliced
5 radishes, chopped
4 tablespoons of chopped parsley
oil, merquén (chili powder), salt, pepper, honey, lemon juice
Preparation:
In a small skillet over medium heat, heat 1 tablespoon oil and 1 teaspoon chili powder. Rinse the cooked chickpeas and add them. Cook, stirring occasionally, for 5-8 minutes until golden. Add salt and stir.
Make the dressing, in a jar put a finger of olive oil, 1 finger lemon juice, 1 teaspoon of honey, salt, and pepper. Close the jar and shake well for 20 seconds. Taste and adjust the seasoning.
In a bowl mix the mote (farro) with carrots, radishes, and parsley. Season with the dressing and add the prawns and chickpeas just before serving.