Langoustine pasta is a delicious dish that combines the delicate flavor of langoustine, a type of small lobster or prawn, with the rich and comforting flavors of pasta. Langoustines are often considered a delicacy in many parts of the world, particularly Mediterranean cuisine.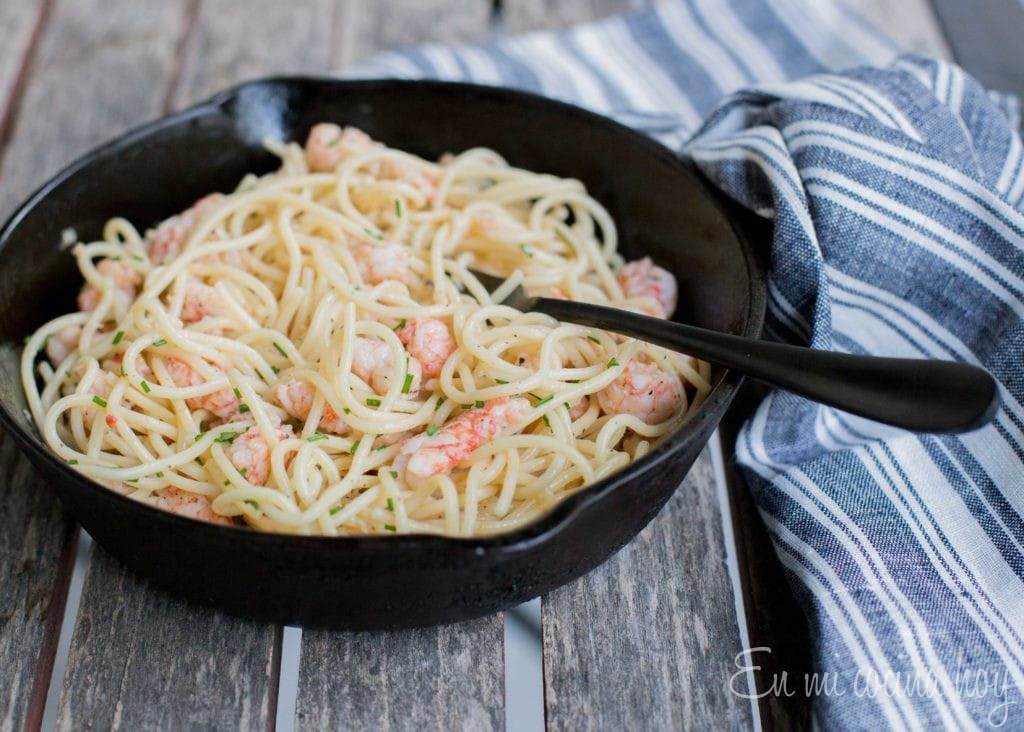 This pasta dish typically features langoustine meat that is sautéed with garlic, shallots, and often white wine or tomato-based sauces. The langoustine meat is tossed with al dente pasta, such as linguine or spaghetti, to create a satisfying and flavorful meal.
I grew up eating langoustines on special occasions. Langostinos are sweet, plump, and delicious. They are caught in the southern part of Chile. This dish is inspired by "Gambas al pil pil."
Gambas al pil pil is a traditional Spanish dish from the Basque Country. It is a simple yet flavorful preparation highlighting the natural flavors of shrimp or prawns, garlic, and olive oil.
To make al pil pil, fresh shrimp or prawns are typically sautéed in a generous amount of olive oil along with sliced garlic, red pepper flakes, and sometimes a touch of paprika. As the shrimp cook, they release their natural juices, which, when combined with olive oil and garlic, create a flavorful and aromatic sauce that is rich and slightly spicy. The key to a successful al pil pil is achieving the perfect emulsion of the shrimp juices and olive oil, resulting in a thick and creamy sauce that coats the shrimp.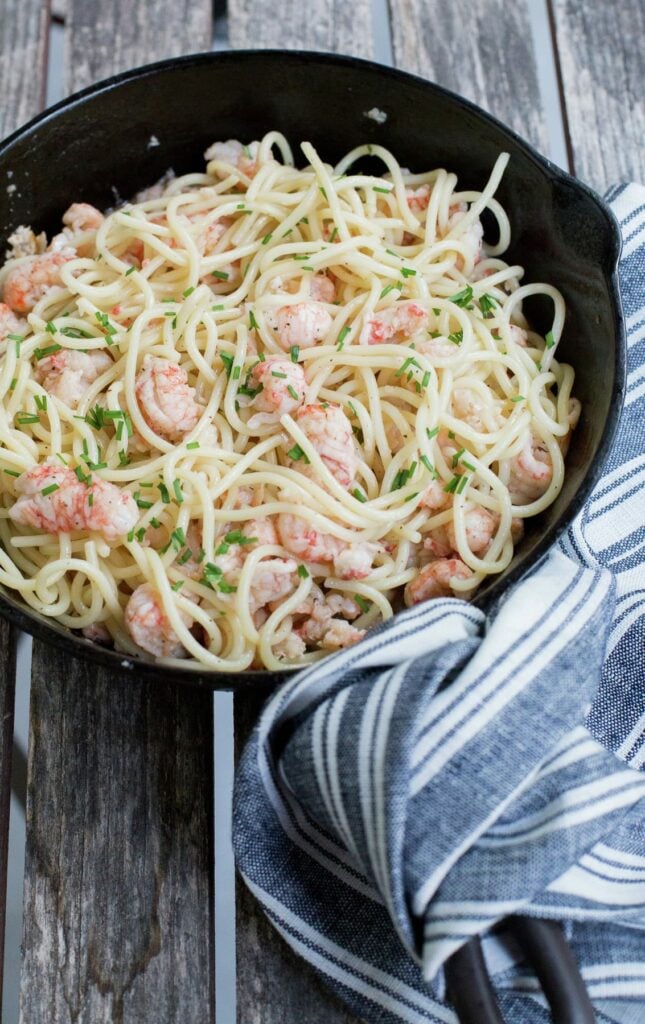 You want to achieve the same emulsion and combine it with noodles or other short pasta. You will have an elegant and straightforward dinner preparation in a few minutes.
Langostinos are sold at Costco and Trader Joe's.
Print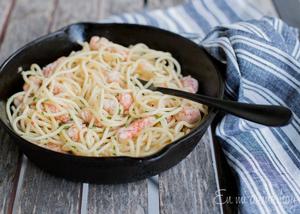 Langoustine Pasta, Chilean Recipe
Total Time:

1 hour

Yield:

4
1

packet of spaghetti or fettuccine regular or whole-wheat

1 1/2

cups

cooked langoustine

1

–

2

garlic cloves, finely chopped
chicken broth or white wine, optional
a handful of chopped parsley or chives
olive oil
Instructions
Cook the noodles according to package instructions. Strain. Return the noodles to the pot and add olive oil and mix well.
Heat a large skillet over medium-high heat. Place one tablespoon of olive oil or butter and add the garlic cook for 1 minute. Add the langoustines. Mix, add wine or chicken broth if you want a sauce.
Add the desired amount of noodles (for four people, half the package) and the parsley or chives.

Stir and serve with grated Parmesan.

Author:

Pilar Hernandez

Prep Time:

20 minutes

Cook Time:

40 minutes

Category:

Pasta

Method:

Stove-cooked

Cuisine:

Chilean