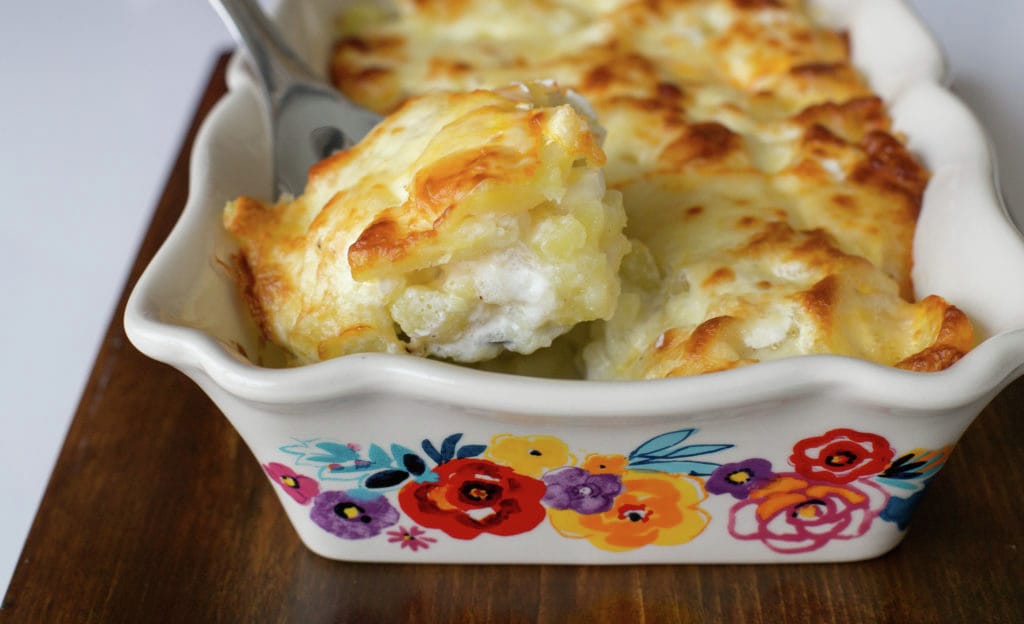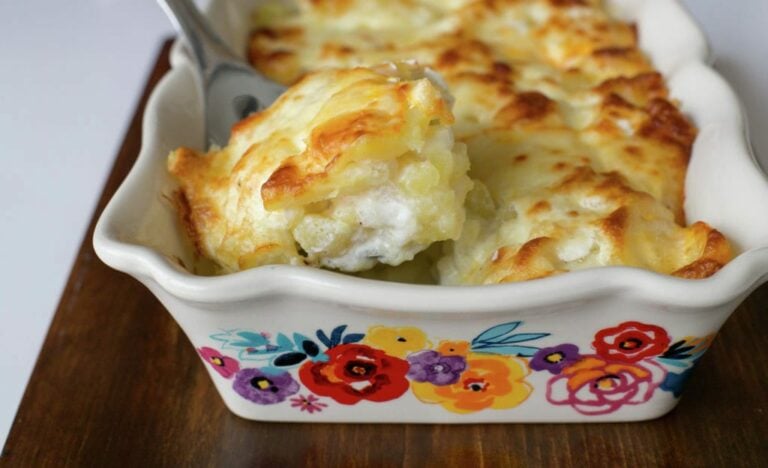 As you know I love potatoes and scalloped potatoes in white sauce are Heaven to me. I grew up eating this dish and I truly love it. Such humble ingredients and such a rich result.
While cooking these potatoes I reflected on the difference practice and confidence in the kitchen makes, and if you think about it, in all areas of life. I remember doing this same recipe 10 years ago when I was just learning to cook after having come to live in the US and I was stressed out and felt they it was too much work. They were delicious but too fussy, so they were relegated to very special dishes that I do only if I have guests.
Now I cooked them without sweating, and my daughters, who are also potato lovers, they love the dish too so I've been doing it at least once a month … My mood has been reflective lately because in a week I will be in Los Angeles, California at a Bloggers conference and I'll be on a panel called "An Inside Look into the World of Food Content Creators" where we will share the secret of our success, so I've been thinking how this blog has grown and has become my work, as I have created real-world connections that have become cookbooks and have traveled through beautiful places in the US and the Caribbean. And what excites me the most is I have achieved this without losing my Chilean roots.

Scalloped Potatoes in White Sauce
For 6 people
Ingredients:
2 pounds of yellow potatoes
3 tablespoons flour
2 tablespoons butter
3 cups whole milk warm
4 slices of cheese (Havarti, Muenster)
1 teaspoon salt
ground pepper and ground nutmeg
Preparation:
Peel and cut potatoes into slices 1/4″ thick. Place them in a pot with enough water to cover them completely.
Add a generous pinch of salt. Cook over high heat with the lid on. Bring to the boil, lower the heat to medium and simmer for 12-15 minutes.
In the meantime, prepare the white sauce. In a medium saucepan over medium heat, melt the butter, add the flour and cook for 1 minute stirring with a whisk.
Add the warm milk slowly and always stirring, let a smooth paste form and continue adding the milk. Always stirring, turn on the heat to medium-high and wait until star boiling, cook for 1 minute more. Season with salt, nutmeg, and pepper to taste.
Preheat oven to 180C – 350F.
Strain the potatoes and place in a buttered baking dish. Alternate each layer of potatoes with the white sauce and cover with more sauce. Place the slices of cheese on top.
Bake for 45 minutes or until golden and bubbling.
Serve hot.