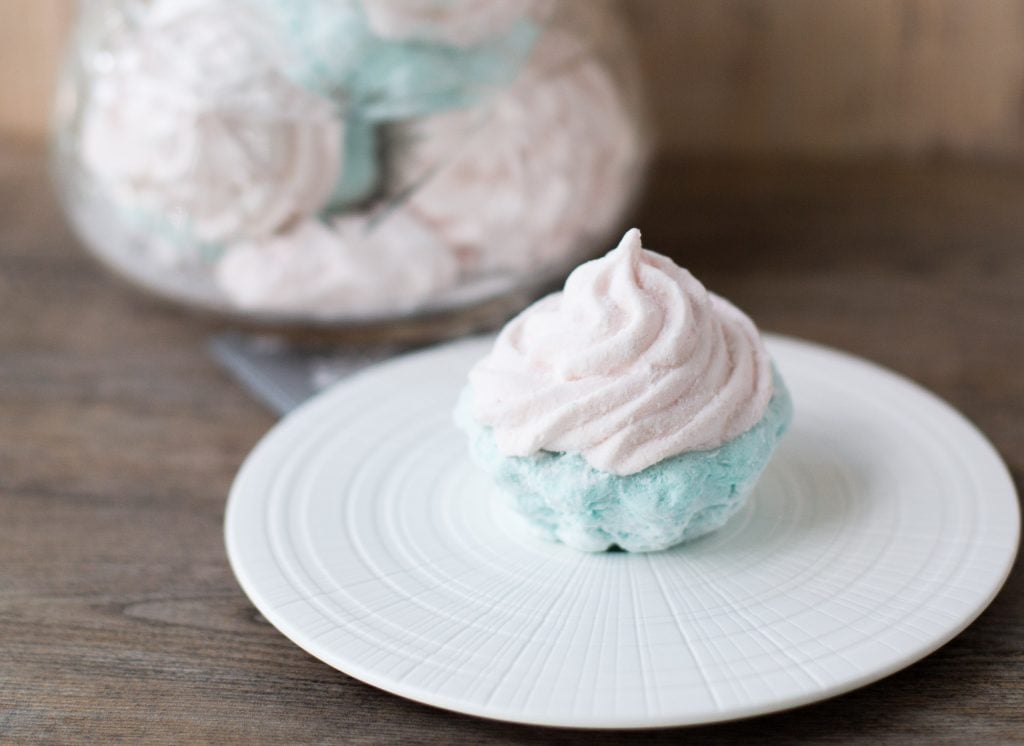 I made these cupcakes for a party where my dear pregnant friend, Hi Steph! revealed the sex of her baby, so are pink and light blue, but the colors can change to fit your party or imagination. They look beautiful and the flavor is awesome. Homemade marshmallow has nothing to do with purchase, is really worth a try and is one of those things that can be done in advance for a party. For this recipe, you must use silicone molds because to unmold basically you have to invert the molds. And the candy thermometer also helps. I went with plain vanilla flavor, but you could also play around with that (scroll down for the recipe in English).
Marshmallow Cupcakes
for 12 cupcakes
Ingredients:
1 1/4 cup sugar
1/3 cup water
2 envelopes unflavored gelatin (14 grams total) plus 1/3 cup of water
3 egg whites
1 tablespoon vanilla extract
potato starch (potato flour) or cornstarch
candy thermometer
Preparation:
Prepare silicone molds, sprinkle with potato starch over the entire surface. Prepare two large pastry bags one with a star tip, the other with a round tip.
In a small saucepan place the water and sugar, cook over medium heat, stirring until sugar is completely dissolved. Continue cooking without stirring until the syrup reaches a temperature of 265F or 130C. About 10 minutes.
In the meantime, sprinkle the gelatin over 1/3 cup water, go slowly so all get wet. Let stand for 5 minutes. Heat in microwave for 20 seconds until liquid or in a small saucepan or double boiler.
In a bowl with mixer on high speed, beat the egg whites until they begin to look white and shiny, just as the syrup reaches the proper temperature, add the syrup slowly, beating on medium speed, to the egg whites. Then slowly add the gelatin and beat for 3 minutes more, finally add the vanilla.
Separate the batter into 2 half and dye with food coloring (I used the gel version). Place each mixture into each pastry bags.
Using round tip bag fill the silicone molds, forming the base of the cupcake. Using the star tip bag make the "buttercream" cupcake topping.
Dust the cupcakes with more potato starch using a sieve or colander.
Let sit overnight to dry.
The next day, place 1/2 cup potato flour in a bowl, carefully unmold the cupcakes and dust around, 2-3 each time. Shake a little and serve.
The cupcake can be stored for up to 1 week, cover loosely.