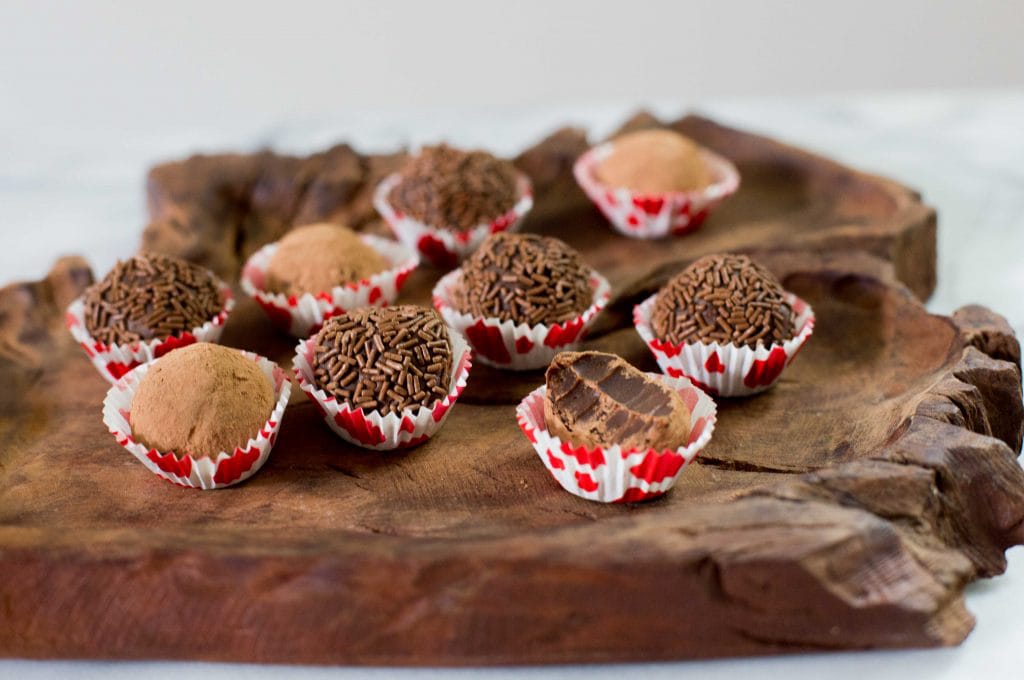 When my youngest kid has a playdate at home, we cook! These nine years old love it. We have made fruit smoothies, cookies, bread (the favorite one) and in this last visit, we made Brigadeiros, Brazilian truffles. They turned out excellent; when the kids arrived, they helped me to stir the mixture before cooking. And then they went to play until the mixture reached the right temperature.
We made little balls and rolled them on different sprinkles and put them on decored boxes to take them home. Ultra recommended as an activity to do with children.
You may also be interested in the recipe: Carrot and breakfast cereal cookies.
Brigadeiros, Brazilian truffles
for 40-50 truffles
Ingredients:
2 cans (395 grams) of condensed milk
4 tablespoons cocoa powder, sifted
4 tablespoons of butter
1 teaspoon vanilla extract
pinch of salt
Preparation:
In a medium skillet, this makes the process faster, place the condensed milk and cocoa. Mix well, add the salt and stir.
Add the butter. Turn the heat to medium-high and stir, when it starts to boil, lower the flame to medium and keep stirring all the time for about 8-10 minutes.
The mixture will thicken, and you will see the bottom of the pan when mixing.
Turn off the heat, add the vanilla and stir well.
Let cool completely. Scoop balls and roll between greased palms.
Roll in sprinkles or cocoa and place in paper cups.
Keep refrigerated, eat before

 the last five days

.