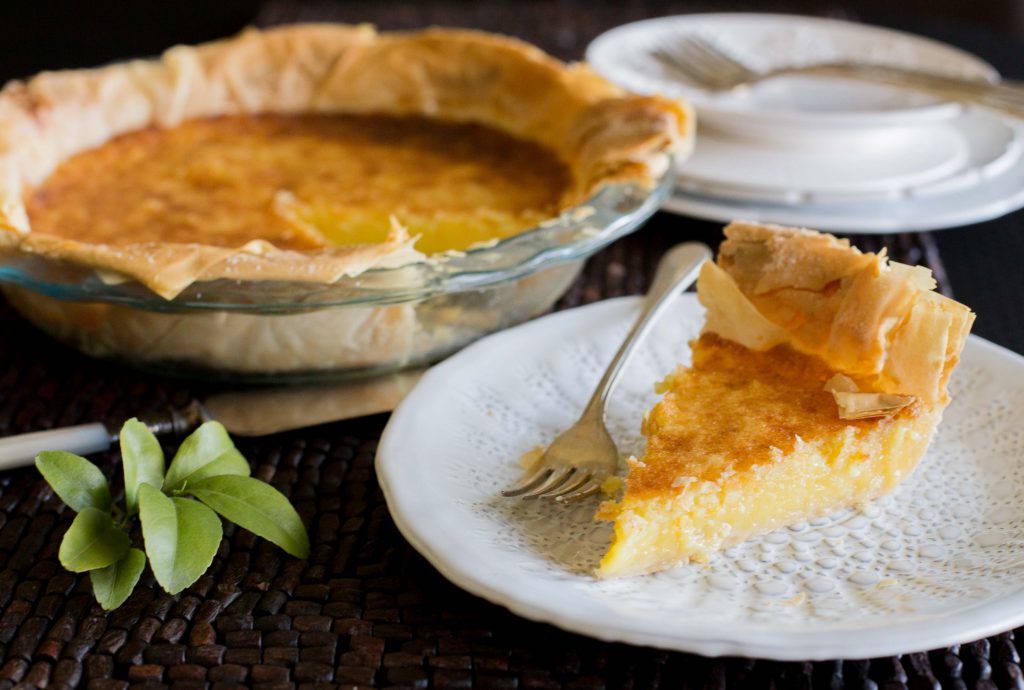 Every year at the end of the winter I do recipes with lemons. I love them and we have a nice supply. It's luxury, Meyer Lemons grow wonderfully in Houston. Meyer lemons are less acidic and more floral than normal lemons, and they have a very thin peel.
This recipe was taught to me by a friend who has lemons in her yard. She always makes a very similar version of this tart for our annual urban farmer's meetings. It is very easy, one of those recipes that you do it once and you memorized in the order to do it on vacation or at any chance because it's also delicious.
I used phyllo dough because it is what I had, but it can be made with a store bought pie shell or a homemade one.
The recipe was also inspired by the awesome Meyer Lemon Chess Pie I had at Husk, Charleston
Meyer Lemon Chess Pie
8 servings
Ingredients:
4 sheets of phyllo dough (18'x13′)
2 tablespoons melted butter
10 teaspoons of sugar
1 juicy Meyer lemon or 2 lemons
1 1/2 cup sugar
115 grams of butter (1 stick)
4 eggs
1 teaspoon vanilla extract
Preparation:
Preheat oven to 350F or 180C. Butter a pie pan.
Place in a blender: the eggs, 1 1/2 cups of sugar, 115 grams of butter, vanilla and lemon washed and cut into 4, remove the seeds.
Melt 2 tablespoons of butter.
Remove phyllo dough, cover with a damp kitchen towel.
Place a sheet on the counter and brush half with butter, sprinkle with a teaspoon of sugar. Fold in half and repeat 3 more times until you have 4 layers stacked. Cover the pie pan.
Repeat with remaining phyllo and place in the pan across (see picture). Fold the edges.
Blend the eggs, sugar, butter, and lemon for 2 minutes.
Pour over crust and bake for 35-40 minutes or until set and golden brown.
Allow cooling completely. Refrigerate or serve at room temperature.