This is part of a sponsored collaboration with DiMe Media and National Pork Board.  All opinions on Pork in a walnut sauce "Cerdo Nogado" are 100% mine.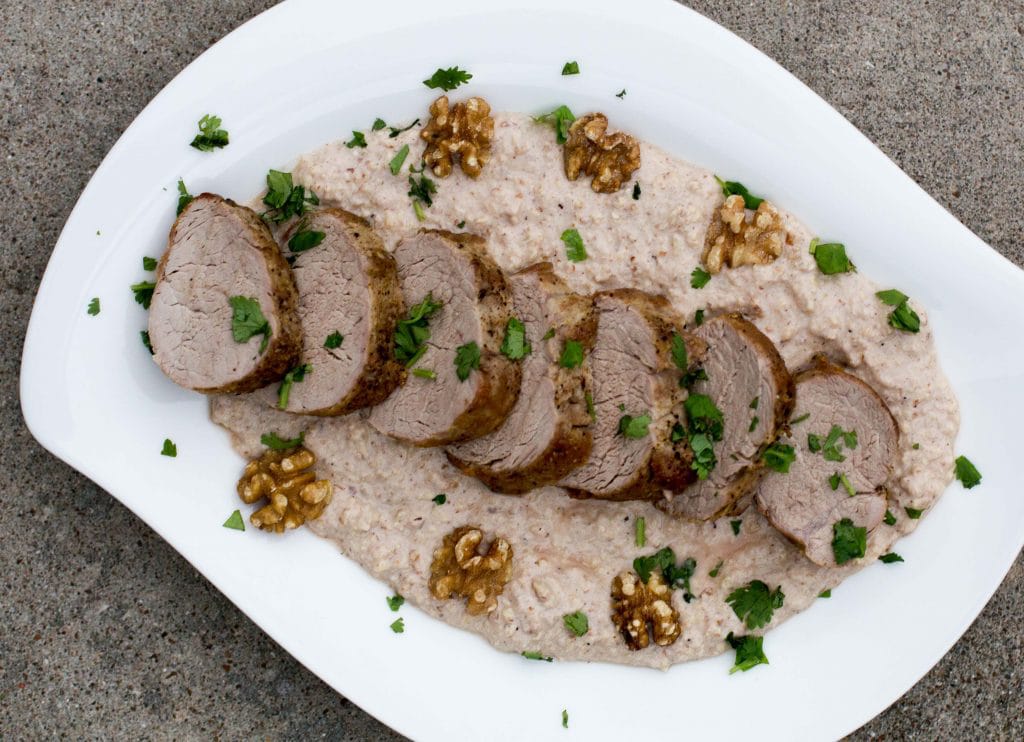 As our family lives far away, every year we take Holiday pictures of our daughters to share with them. And they do the same, I treasure the pictures of my nieces and nephews celebrating the Holidays.
Be inspired to share a beautiful message with your loved ones. The National Pork Board is sharing and giving its best product: Delicious pork! For each greeting card created and shared in PorkTeInspira.com/InspirateADar , 1 pound of pork will be donated to a charity (maximum $ 5000 in value)
Christmas in Chile coincides with the beginning of summer. The atmosphere is usually relaxed because the vacations are near and the school year is over. Holiday meals can be very simple…. often for Christmas or New Year in my family rather than a formal dinner my grandmother, aunts, and mother set up a cold buffet: a collection of dishes with cold meats, salads, rice or pasta salads, fruit, and sauces to be enjoyed during the afternoon and evening without rushing.
It is also very easy for guests or family members to contribute a dish that does not require heating upon arrival… if you've never tried a cold buffet for the Holidays I totally recommend it. It takes a lot of pressure off the cook!
My recipe today, an adaptation of the traditional tongue Nogada, is the perfect example of a more elegant, but not complicated or difficult, dish. In fact,t you can have it ready in less than 30 minutes. At the end of the day, during the holidays the important part is to enjoy the company of family and friends.
For a juicy and delicious pork tenderloin follow these 3 key points: at the store look for a dark pink piece of meat like in the picture. Do not overcook your pork tenderloin: the perfect range is 145 -160F. Before cutting the meat let it stand for 5-10 minutes.
To see more recipes like Pork & Apple Stuffing Bites and learn more about cuts of pork, recipes, videos, and tips on how to prepare delicious Holiday dishes, visit: PorkBeInspired.com
Pork in a walnut sauce
4 people
Ingredients:
1 pork tenderloin
salt pepper
4 slices of white bread, crust removed
2 cups whole milk
1/2 cup white wine
2 cups finely chopped walnuts
Directions:
Preheat oven to 400F or 200C.
Soak bread in milk in a medium bowl.
Clean the tenderloin removing the white membrane. Season.
In a large skillet over high heat, heat 1 tablespoon olive oil. Sear the loin on all 4 sides, 2 minutes per side.
Place the seared meat on a baking sheet covered with foil and bake for 12-15 minutes or until the pork reaches an internal temperature between 145-160F. Remove from the oven and let stand 10 minutes before cutting.
In the meantime, prepare the sauce in the same pan where you seared the pork. To the still-hot pan add the wine and scrape all the stuck bits.
Reduce heat to low and add the bread with the milk and nuts. Mix well. Taste and adjust the seasoning. If you want a smooth sauce, blend it.
Serve the pork on top of the walnut sauce.