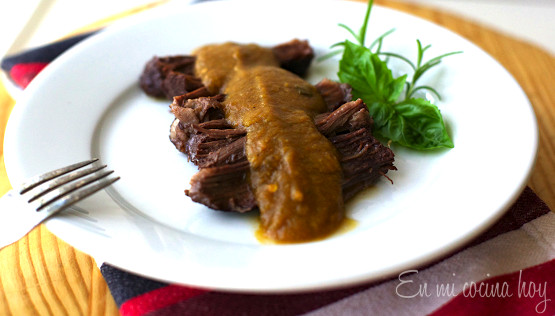 This dish I learned from my mother in law, I really like it, especially during the cold weather months. Serve with rice.
Pot roast with vegetable sauce
6 people
Ingredients:
A large piece of meat, between 1kg and a half – 2 Kg, 5 pounds of top Sirlion or similar
3-4 carrots scrubbed
1/2 red pepper, seeded
3 zucchini chopped
2 onions, cut into large cubes
1 cup red or white wine
2 cups beef broth, vegetable or water
herbs, I use a small bunch of basil and a sprig of fresh rosemary about 8cm
salt, oil, pepper
Directions:
In a large pot with a heavy bottom, heat about 2 tablespoons of vegetable oil over medium-high heat. Dry the meat with paper towels and add salt and pepper everywhere. Using tongs put the meat inside the pot and let brown 4-5 minutes per side without lifting, should seal / brown on all sides. Remove the meat to a plate.
Reduce heat to medium and add all the vegetables and herbs (if using dried use 1/2 teaspoon at most), stirring occasionally, about 5-8 minutes let it brown, add wine and loosen all the bits that have stuck to the bottom of the pan using a wooden spoon. Push the vegetables to the edge and return the meat to the pot. Add the vegetable stock or water should be all covered under the liquid. When boiling, lower the heat to low and let cook for 2 hours covered.
Remove meat to a cutting board and verify that this soft and can be separated with a fork. Cut the meat into pieces or shred. Remove the hard parts and dispose of nerves or fat.
Process the vegetables and broth by using a stick blender or blender grind all. Taste the sauce and adjust the seasoning to taste. Add water if very thick. You may also take part of the broth before blending to thereby control the thickness of the sauce.
Return the meat to the sauce or serve as in the picture.