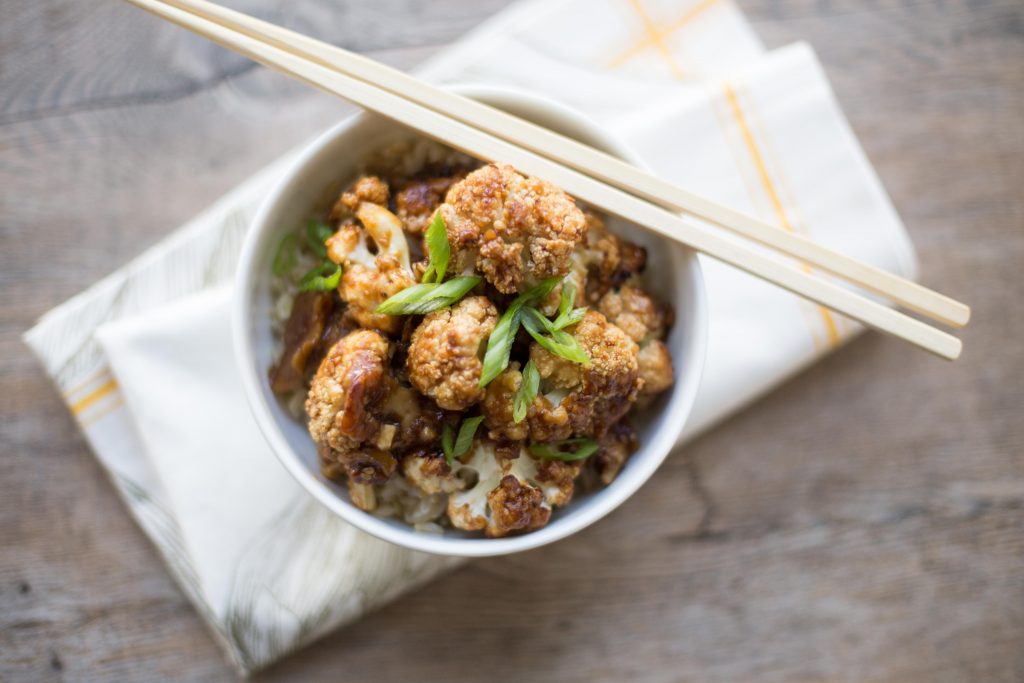 I love Chinese food, but like all things bad for you, so I'm always willing to try a more lightweight alternative, but with the same characteristic flavors (scroll down for the rest of the article in English). This is an example where the fried chicken is replaced by baked cauliflower. Obviously, if you do not like cauliflower this is not a good recipe for you, but I love it and this recipe is just the kind of replacement that makes it attractive to me.
Sesame Chinese Cauliflower
4 people
for sauce,
1/2 cup soy sauce
1/4 cup honey
1/4 cup rice vinegar
1 tablespoon sesame oil
1/2 teaspoon fresh ginger, grated fine
2 scallions, chopped white and light green part
Mix everything in a medium bowl, stir well.
1 large?head cauliflower ?separate into small pieces
1/4 cup cornstarch
1/4 cup all-purpose flour
1/2 cup of milk, I used skim
Preparation:
Preheat oven to 450F or 220C.
In a large bowl mix cornstarch, flour and milk, stir well with a fork. Add chopped cauliflower into small pieces and mix well with your hands until the cauliflower is fully covered.
Prepare a lightly oiled baking sheet. Remove the cauliflower with hands, leaving the remaining milk and flour behind. Place the cauliflower in a?single layer in the baking sheet and bake for 15 minutes.
Add the remaining flour and milk mixture to the sauce prepared with soy and honey. Mix well.
Remove the cauliflower and pour the soy and flour sauce?over the freshly cooked cauliflower.
Return to oven for 5 minutes.
Remove carefully, stir well.
Cook 5 minutes more.
Remove, stir well, and serve sprinkled with chopped chives on top and rice.
Recipe adapted and translated from the blog Cupcakes & Kale chips.