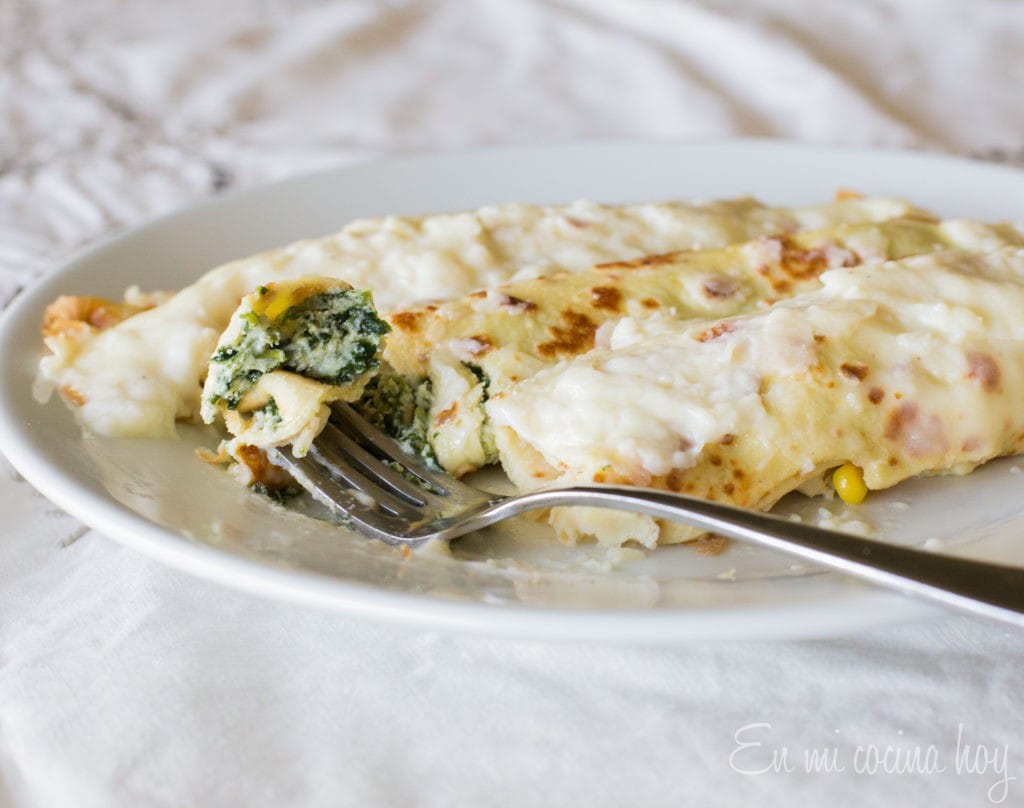 Last Thursday, we invited some friends to dinner at home (Americans), so I wanted to do something more Chilean, but as long as I was able to do it beforehand and just have to put in the oven to heat when visitors arrive. Finally, considering the dietary restrictions of the guests. I decided to make Spinach and Ricotta Stuffed Crepes. Initially thought to make stuffed chicken, corn, and spinach. In the end, I opted (I ran out of time) for only spinach and chicken. It was a total success.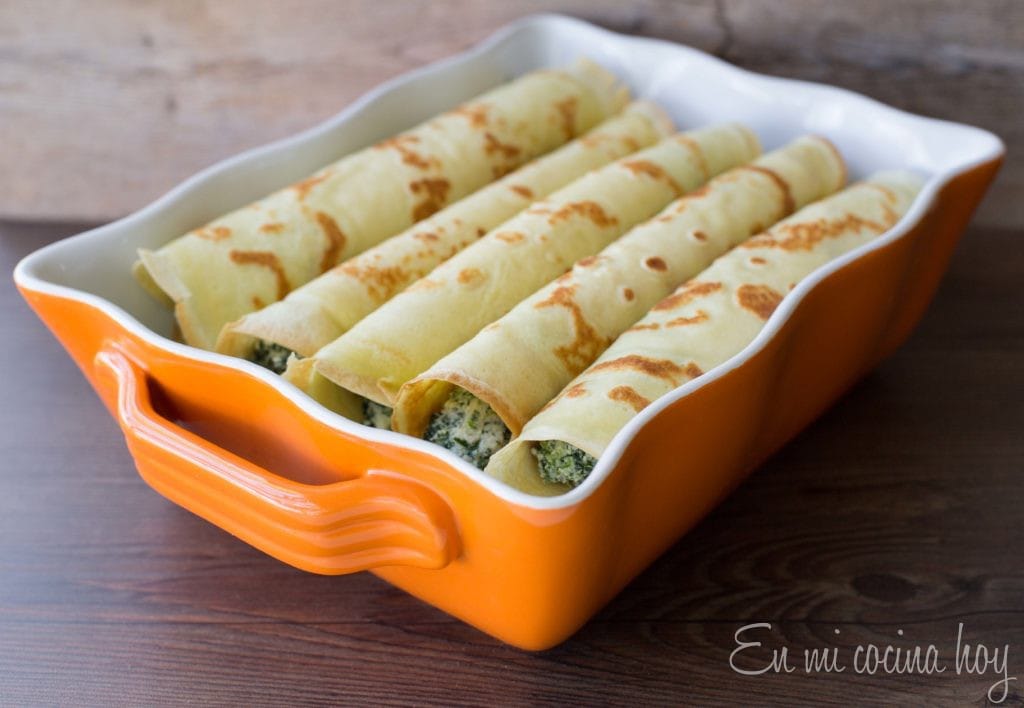 Spinach and Ricotta Stuffed Crepes
for 8 crepes
for the crepes,
3/4 (180 ml.) cup whole milk
2 tablespoons butter, melted
3 eggs
1 teaspoon granulated sugar
1/4 teaspoon salt
3/4 cup (110 grams) all-purpose flour
In the blender place the milk, eggs, flour, sugar, and salt, blend for a few seconds until everything is mixed. Add the melted butter with the machine running on slow and blend until smooth. Transfer to a bowl and refrigerate for at least 1 hour or overnight.
Remove the mixture from the refrigerator about 30 minutes before making the crepes and beat with a whisk 30 seconds.
Heat a nonstick pan about 23-25 cm in diameter over medium-high heat until water droplets dance and jump before evaporating. Add 1/4 cup or 60 ml or half a ladle of batter into the pan, turn the pan so that the mixture coats the entire bottom, and cook 45-60 seconds when the edges begin to brown and slightly lifted with the help of a spatula to turn the pancake and cook another 45 seconds. The first usually is not very good, you can eat it ;).
Stack cooked crepes on a plate and keep covered with a clean kitchen towel.
Once cooked crepes can be frozen, tightly wrapped in plastic wrap and then in foil for up to 2 months, thaw on the counter.
for the spinach filling,
425 grams or 1 bag frozen or fresh spinach
425 grams of whole ricotta
1 cup grated cheese (I used a blend: Havarti, Swiss)
nutmeg, salt and pepper
In a medium saucepan over high heat, bring salted water to boil. Drop the spinach and wait to return to a boil, cook for 4 minutes. Strain and compress with a spoon to remove as much water as possible. Cut small. Mix with ricotta cheese in a large bowl, stir well and season to taste. Use 3 tablespoons of stuffing per crepe. Line them up in a dish that can go in the oven.
for the white sauce,
3 tablespoons butter
1 cup milk
1 cup vegetable broth or water or milk
2 tablespoons cornstarch diluted in 1/4 cup cold water
1 teaspoon salt
nutmeg and pepper
In a medium saucepan melt butter over medium heat, add the milk, water, salt and cornstarch diluted. Cook over medium heat stirring until it boils, reduce heat and simmer 2 minutes always stirring. Season with nutmeg, pepper and salt to taste.
Pour over stuffed crepes and bake for 20 minutes at 300F or 150C.
Serve hot.