This soup is considered one of the oldest in Chile. Valdiviano is traditionally prepared using jerky (dried and salty beef), one way to preserve meat before refrigeration was available.
My family used to eat it made with charqui or BBQ leftovers; sometimes, it contains potatoes. This version is known as Ajiaco.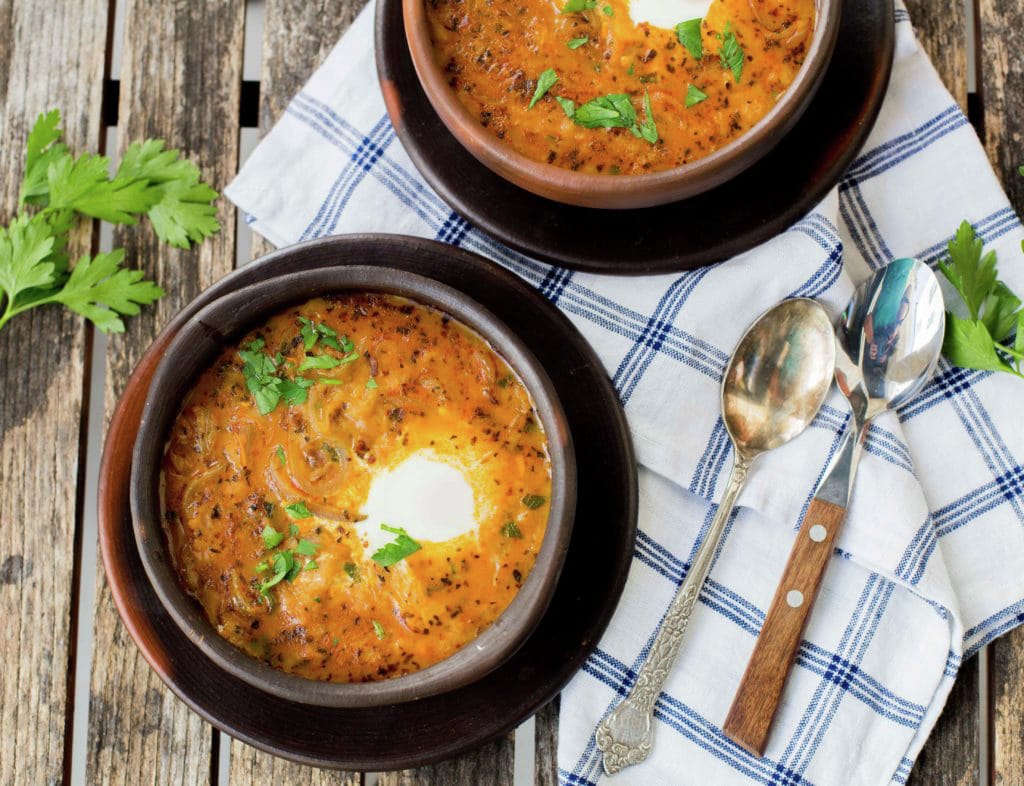 I must confess that this is one of the few kinds of soup I liked growing up. When I prepared it in the United States, I felt transported into my grandmother's kitchen in Chile. My kid came downstairs excited to know what that yummy smell… genes calling. My grandmother was never shy about adding chili sauce to her cooking. Here in the USA, I use original Tabasco sauce with excellent results. I recommend it. And remember to bring it to the table for anyone wanting a hot, tastier dish.
Jerky available in the US is different from traditional jerky found in Chile. They generally use sugar to cure the meat, which changes the flavor, so I recommend using leftovers from a BBQ or buying roast beef and drying it in the oven, as indicated below. The result is very similar to the classic Chilean jerky.
In Chile, jerky needs to be heated and prepared before making soup.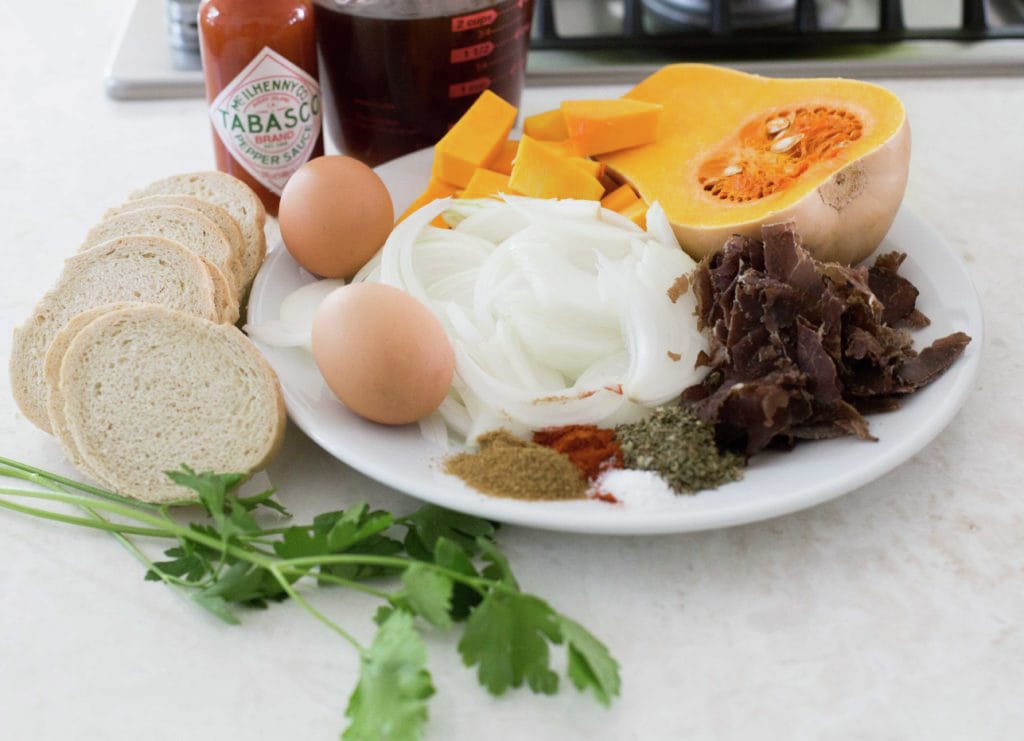 Preparation of roast beef for Valdiviano
Preheat the oven to 200F or 100C.
Place roast beef on the baking sheet covered with aluminum foil—Cook for one hour. Turn off the oven and let it cool in the range. Chop small. You can make it the day before.
Preparation of jerky:
Preheat the oven to 350F or 180C. Distribute jerky on a baking sheet—Cook for 15 minutes. Remove from the oven. When cold enough to touch without burning, shred and discard any tricky bits or connective tissues. Chop the rest small.
Print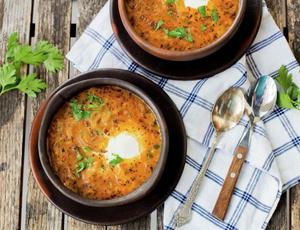 Valdiviano, Chilean Soup
A fantastic traditional Chilean soup.
Total Time:

1 hour, 20 minutes

Yield:

8
1 tablespoon

lard or butter

2

onions, sliced thin

2 teaspoons

paprika

150

grams

jerky (roast beef)

1 tablespoons

dried oregano

1 teaspoon

cumin

1 teaspoon

Tabasco original or other hot sauce

2

liters

beef broth

2

cups

yellow pumpkin, diced

1

bread

1/2

cup

of milk
Salt, oil
Parsley

1

lemon

8

eggs
Instructions
In a large pot over medium-high heat, one tablespoon of oil and butter. Add paprika, stir.
Once butter is dissolved, add thinly sliced onion and stir. Cook, occasionally going for 5 minutes.
Add the chopped jerky or roast beef, oregano, cumin, and the hot sauce. Stir and cook for five more minutes.

Place chopped bread and milk in a bowl and allow to rest for 5 minutes. Using a fork, form a homogeneous paste.
Add broth and pumpkin. Stir and when it starts boiling again, lower the heat and cook for 10 minutes.

Preheat the oven to 400F or 200C.
Add bread to the soup, cook for five more minutes until or until it boils again. Add chopped parsley and lemon juice. Stir, taste, and adjust seasoning.

Serve in bowls that can go in the oven, traditionally ramekins or clay plates.
Place one egg in each ramekin and bring it to the oven until the egg white is cooked 5-10 minutes.

Serve hot. Be careful with the ramekins. They will be very hot.

Notes
TABASCO sponsored the recipe Valdiviano in 2016. All opinions are mine.
Author:

Pilar Hernandez

Prep Time:

20 minutes

Cook Time:

1 hour

Category:

Soup

Method:

Stove cooked

Cuisine:

Chilean
Keywords: Valdiviano soup