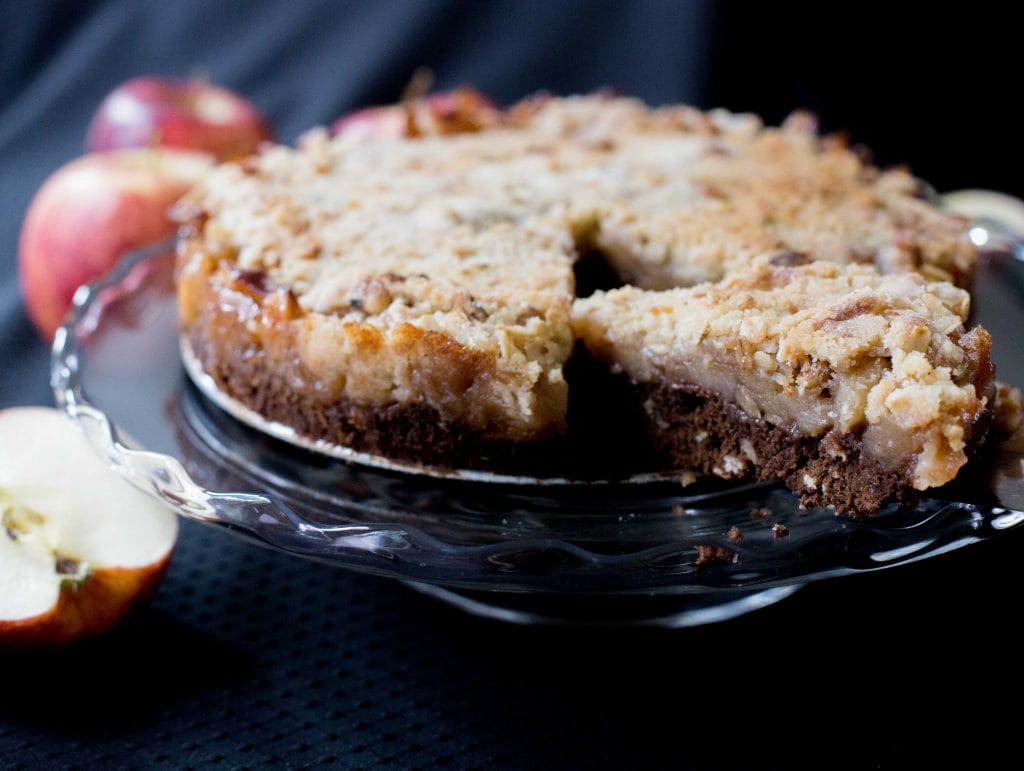 Last night, I was missing my mom, wishing for her to live nearby and not 10.000 miles away. I was craving her baking: oatmeal cookies and strudels. I have one of her recipe books, and I found this lovely, forgotten, Apple Chocolate Kuchen that my mom used to make for me. It was just what I need to bring all the good memories. I love the smell of when the apples are cooking in the oven. My husband and children couldn't wait to try it.
The chocolate and apple combination is delicious; the walnuts give contrast in the texture and the oatmeal also. Probably my favorite part is the crumbs on top. A fast and excellent recipe.
Recipe originally published in February 2009.
Apple Chocolate Kuchen
12 portions
Ingredients:
for the apples,
½ cup of sugar
1 tablespoon cornstarch
½ teaspoon of cinnamon
4 peeled and chopped apples in 1 cm cubes
For the kuchen,
1 cup of all purpose flour
1 cup of sugar
½ teaspoon of salt
½ cup of unsalted butter, cold
½ cup chopped walnuts
½ cup of traditional oatmeal, not instant
1/3 cup of unsweetened cocoa or dutch cocoa powder
½ teaspoon baking powder
2 eggs
½ teaspoon vanilla
Preparation:
Preheat the oven to 350F or 180C.
Butter a 9″ springform pan.
Cook the apples with sugar, cornstarch, and cinnamon in a small pot over medium heat for 5-8 minutes. Let boil gently. Set aside.
In a large bowl combine the flour, sugar, and salt. Add the butter cut into pieces and work until crumbs form. Add the walnuts and oats, stir. Reserve a cup of this mixture.
Add the cocoa and the baking powder to the rest of the mixture. Add the eggs and vanilla, combine.
Spread the mixture in a buttered pan, place the apples on top and sprinkle with the reserved crumb mixture.
Bake for 45-50 minutes or until browned.
Serve cold.