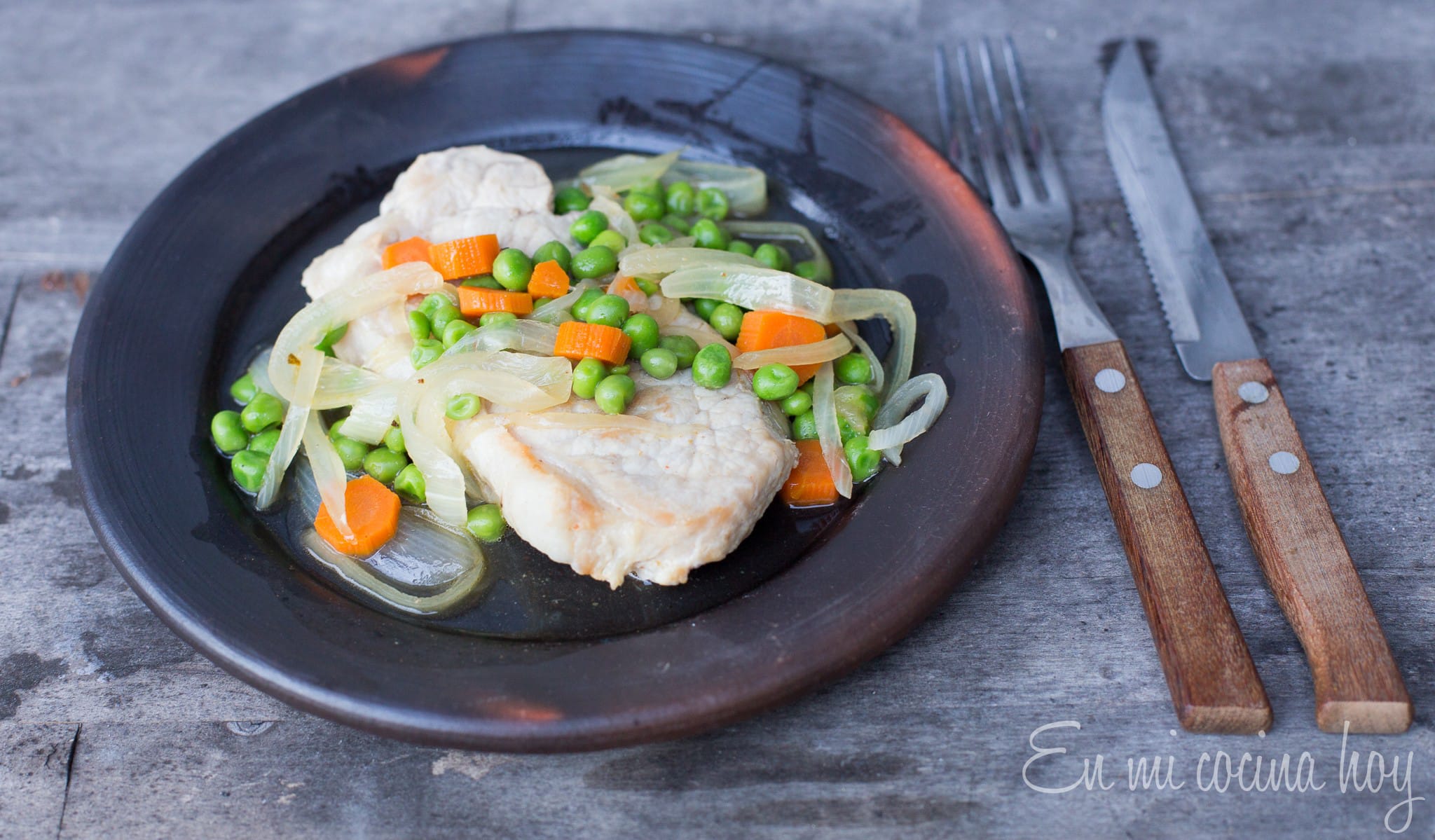 Disclaimer: This is part of a sponsored collaboration with DiMe Media and National Pork Board. All opinions on Pork Arvejado are 100% mine.
This recipe is very common in Chile, most of the time it is made with chicken, but I much prefer it with pork. So when the National Pork Board invited me to make a recipe for the fall season and all different weather in the porknóstico campaign it was the first recipe to come to my mind.
The pork cooks quickly and I can have dinner ready in minutes. This dish may also be prepared with pork chops which are even faster to cook. Always cook the pork to a temperature between 145-160F (62-71C), it is ideal to use a digital thermometer to check and always leave the meat rest for 3 minutes before serving, so it's juicy and tender. Do not overcook it.
During the fall and winter test adding pork cuts to traditional soups and stews, and you'll see how you manage a flavor front in your kitchen. Check the porknóstico to plan your meals ahead.
In short, a super quick and easy to prepare recipe. Visit Pork te inspira to find more recipes and learn different cuts of pork, its uses, and qualities.
Pork Arvejado
6 persons
Ingredients:
6 pieces of pork tenderloin, can also be done with chops
1 onion chopped
4 medium or 2 large carrots, sliced
1/2 cup vegetable broth or white wine
2 cups fresh or frozen peas
salt, oil, merkén or paprika, 1 clove garlic, and 1 bay leaf
Preparation:
Heat 2 tablespoons oil in a large skillet over medium-high heat.
Season the loin. Seal the pork 2-3 minutes per side. Remove to a plate.
In the same skillet brown the onion, finely chopped garlic (if desired) and carrots for 5 minutes.
Add broth or wine and scrape the pan to loosen all bits. Return the pork with their juices. Cover, reduce heat to medium and cook for 8 minutes or until pork is cooked (will depend on the thickness of the meat)
After 6 minutes add the peas. Cook for 2 minutes.
Taste and adjust the seasoning served with rice or mashed potatoes.
Variations: If you like a thicker sauce, flour the meat before sealing.
Be prepared for any weather forecast and enter to win a #Porknostico umbrella! Enter via DiMeMedia.net.