Chilean Cocadas or Cookie truffles with dulce de leche are a delightful treat made by combining crushed cookies with creamy dulce de leche, rolling the mixture into bite-sized balls, and often coating them with chocolate sprinkles, cocoa powder, coconut shaves, or other toppings. This no-bake cookie is famous in various forms and goes by names, such as cookie truffles, cookie dough truffles, or cookie balls.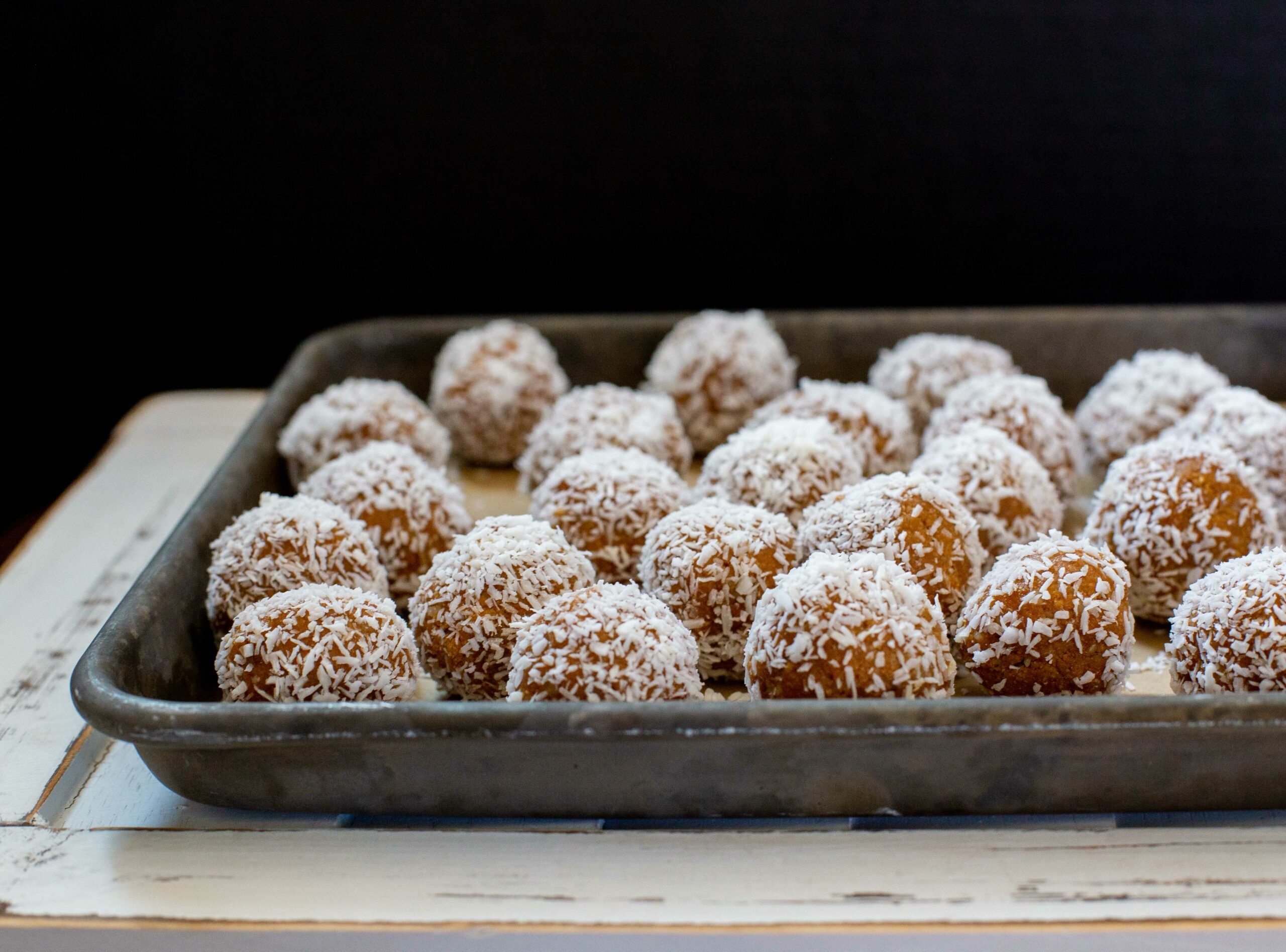 These Chilean Cocadas or Cookie Truffles with Dulce de leche are an absolute classic for children's birthdays and easy to make. I like them the most when they rest for a couple of days and are drier and delicious with tea or coffee.
I leave you the more traditional version in Chile and an alternative with condensed milk rolled in cocoa powder.
Both versions can be rolled in rainbow nonpareils, sheered coconut or cocoa powder, chocolate nonpareils, etc. In Chile, they are served on trays or plates as part of a birthday or Christmas, accompanied by other cookies and Pan de Pascua (Chilean fruitcake).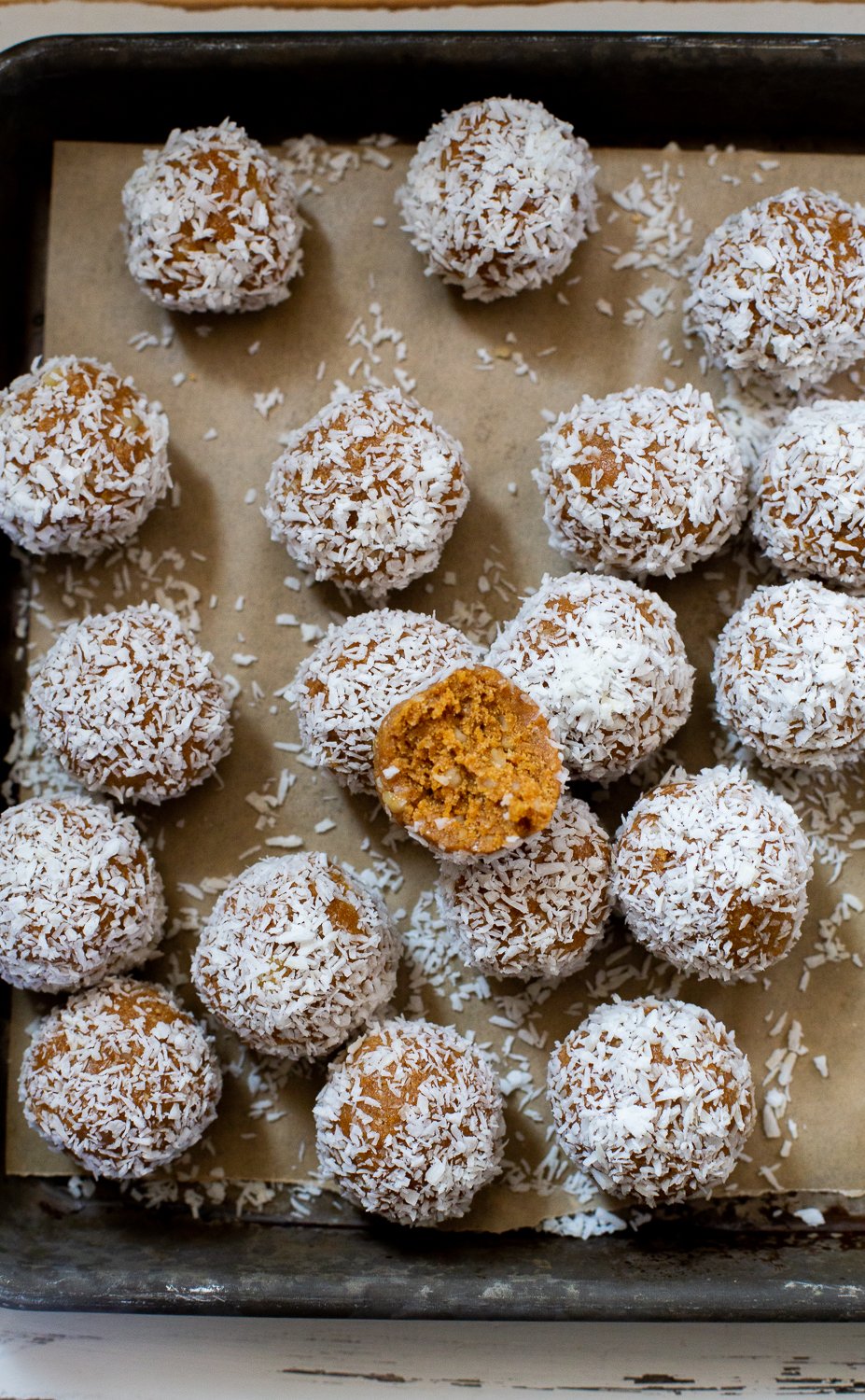 The essential ingredients for making cocadas or cookie truffles with dulce de leche are:
Cookies: You can use your favorite cookies for this recipe. Common choices include graham crackers, Marias, or any non-filled cookie you prefer.
Dulce de Leche: Dulce de leche is a sweet caramel-like milk-based sauce popular in Latin American cuisine. You can purchase it ready-made from stores. I recommend La Lechera brand (made in Chile), available at Walmart and Safeway nationwide.
Optional toppings: Nonpareils, Crushed cookies, sprinkles, chopped nuts, cocoa powder, and coconut are good toppings.
These truffles are perfect for special occasions, parties, or as a sweet indulgence for yourself. Feel free to experiment with different types of cookies and toppings to create a variety of flavors and textures.
Print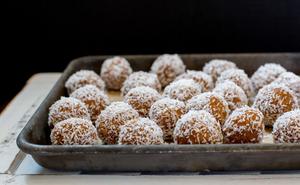 Cocadas with Dulce de leche (Cookie Truffles)
Total Time:

30 minutes

Yield:

40
450

grams

Maria cookies or/and digestive cookies

100

grams

of walnuts

400

–

450

grams

of Dulce de leche

1/2

cup

of unsweet shredded coconut
Instructions
The food processor grinds the cookies very fine for about two minutes. You can also put the cookies in a bag and crush them with a rolling pin.

Grind the walnuts. Not as fine as crackers.
Put the ground cookies with the walnuts in a bowl, add the Dulce de leche, mix well with a fork, and then with your hands until you get a smooth dough.

Scoop out portions and roll between hands to form balls.

Roll each ball in the shredded coconut. If the surface has dried, you can quickly roll each ball in water for a few seconds and then roll it in the coconut.

Serve or store in an airtight container for up to 5 days.
Author:

Pilar Hernandez

Prep Time:

30 minutes

Category:

Cookies

Cuisine:

Chilean
Nutrition
Serving Size:
Calories:

104

Sugar:

8.2 g

Sodium:

61.8 mg

Fat:

4.3 g

Saturated Fat:

1.4 g

Carbohydrates:

14.8 g

Fiber:

0.3 g

Protein:

1.9 g
Keywords: Chilean Cookie Truffles,
Another version
40 balls of diameter ~ 2cm
Ingredients:
500 grams of plain cookies, like Marias (on Latino markets) or plain butter cookies
1 can of condensed milk
1/4 cup cocoa powder
Preparation:
Grind the cookies finely using a food processor, put them in a bag, and crush them using the rolling pin. My grandmother has a manual grinder that we use for this.
Place crushed cookies in a large bowl and add 3/4 of the can of condensed milk. Mix with a spoon, then add more condensed milk, if necessary, by hand. the idea is to be able to form a sticky dough. Use more than you need because they dry out a little after forming. Take spoonfuls, form balls with your hands, roll in cocoa powder, and place in paper cups.
Serve or store in an airtight container for up to 3 days.