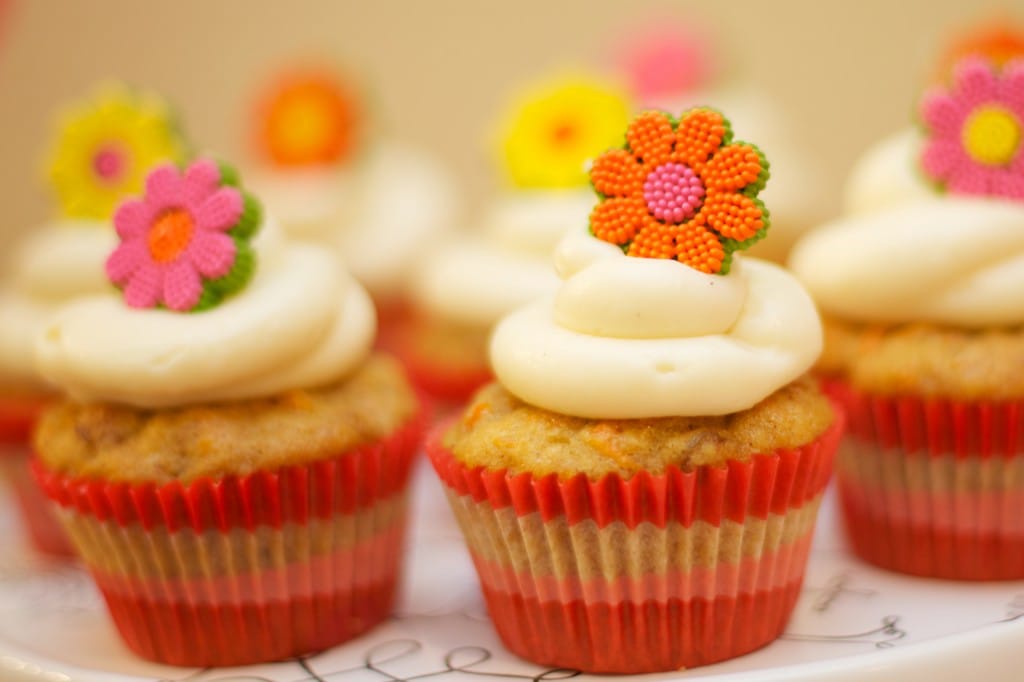 These carrot cupcakes are a total crow pleaser. Moist and well balanced. Not too sweet.
Carrot Cupcakes
24 cupcakes
Ingredients:
1 cup chopped walnuts
450 grams of grated carrot
3 eggs at room temperature
1/2 cup milk plus 1 teaspoon lemon juice, rested for 10 minutes (buttermilk)
2 cups of sugar
1 cup oil
1 teaspoon vanilla extract
3 cups all-purpose flour
1 teaspoon baking soda
2 teaspoons baking powder
1 teaspoon coarse salt or 1/2 of fine salt
1 teaspoon cinnamon
1/2 teaspoon grated nutmeg
for icing,
2 packages of cream cheese at room temperature
115 grams unsalted butter at room temperature
900 grams of powdered sugar
2 teaspoons vanilla
Directions:
Preheat oven to 180C or 350F.
Put the nuts on a baking sheet in the oven and roast for 5-7 minutes, let cool.
Grate carrots and place in a large bowl with the oil, eggs, sugar, vanilla, and buttermilk, stir with a fork until well blended.
In another bowl mix the dry ingredients: flour, baking powder, baking soda, salt, cinnamon, nutmeg. Pour the wet ingredients over the dry ingredients and mix with a wooden spoon or spatula until you don't see any flour. Do not over mix, add nuts and raisins and mix.
Using a serving spoon or ice cream scoop fill the cups for cupcakes 3/4 full. Bake at 180C or 350F for 21 minutes or until a stick comes out clean.
Remove from the pan and let cool on a wire rack.
For icing,
With a hand mixer, mix the butter and cream cheese until very creamy needs to be at room temperature.
Add the powdered sugar carefully mixing on low speed. When it's creamy again, and all the sugar is incorporated add vanilla extract and combine well.
Place in a piping bag fitted with a big round tip and decorated away.