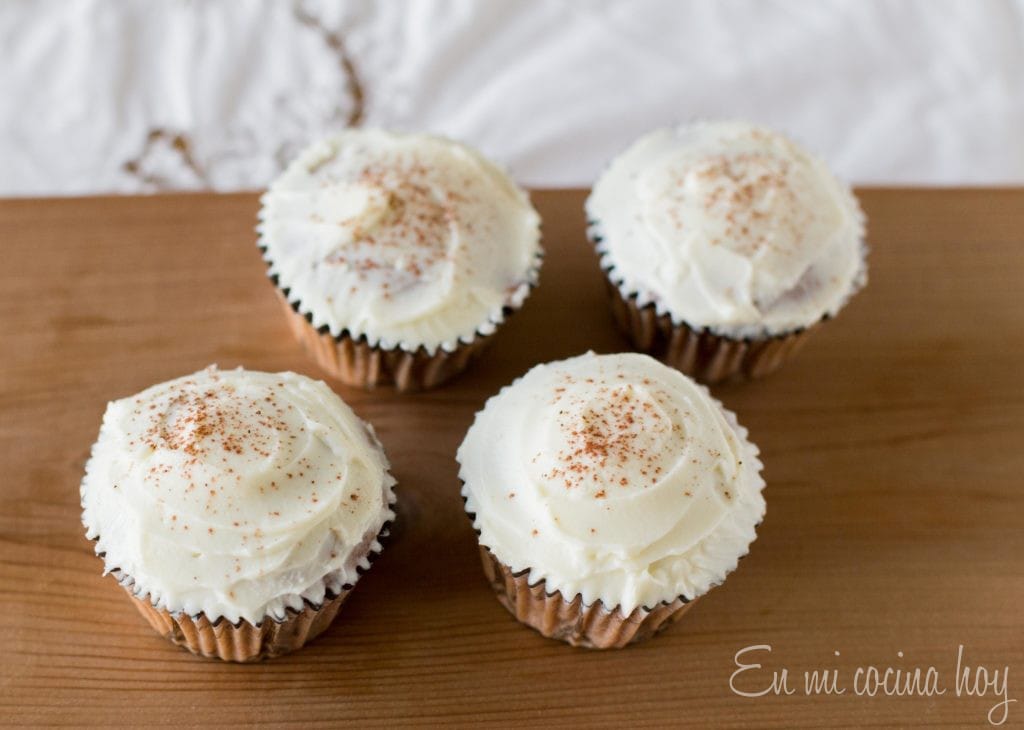 These coffee cupcakes are really good, light, with a good crumb and just the right sweetness. I have to confess that I got distracted in the middle of the recipe, we were painting Easter eggs with my daughters and didn't make the syrup that Alma recommended to wet the freshly baked cupcakes … I can only think they are even better. I also modify the mascarpone cream because I do not like frosting to be overly sweet.
Coffee Cupcakes
for 12-14 cupcakes
For the dough:
115 grams of butter at room temperature
220 grams of granulated sugar (1 cup)
3 large eggs at room temperature
200 grams of flour without baking powder (1 1/2 cup)
1 1/2 teaspoon baking powder
1 tablespoon unsweetened cocoa powder
2 teaspoons instant coffee
150 ml of milk (use skim)
Preheat oven to 350F or 180C. Place paper cups in the muffin pan.
In a bowl sift together the flour, baking powder, coffee, and cocoa.
In another bowl with a mixer, beat the butter until it looks like mayonnaise, add sugar and continue beating about 3 minutes, until creamy and pale. Add the eggs one at a time beating well between each until incorporated. Beat 1 minute more.
Add half the flour mixture and beat on low speed until incorporated, add the milk, whisking gently, let it fully integrates and add the remaining flour and beat just enough to mix. Finish integrating with a spatula.
Using a ladle or a measuring spoon fill the paper cups 2/3, as in the photo.
Bake for 22-25 minutes, until a stick insert in the center, comes out clean.
for the cream,
225 grams of Mascarpone cheese cold
50 grams of powdered sugar (1/3 cup)
Cocoa for dusting
Place the mascarpone and sifted icing sugar in a bowl mix using a whip. Use immediately in already cooled cupcakes. Decorate to taste.
Sprinkle with cocoa. Serve hopefully the same day or refrigerate.