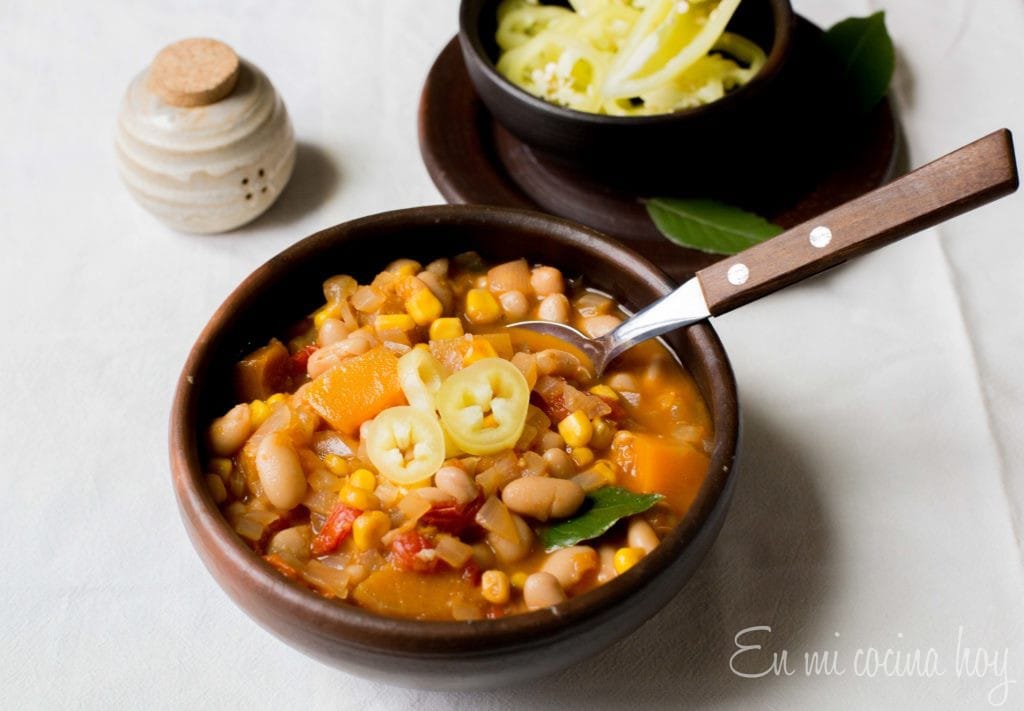 As a girl, I was not too fond of beans, and I hated that my family would love having soup in summer … now I eat Porotos Granados with pleasure.
This dish is another ode to our seasonal summer vegetables in Chile. So many sunsets spent shelling beans for lunch the next day, husking the corn, cutting the squash, feeling the tomatoes to get the right one, and collecting the most aromatic sweet basil.
Thanks to the semitropical climate of Houston, in 2 more weeks, I will start planting tomatoes (Early Girl) and Dragon Tongue or Cranberry (Granados) beans in the gardens. And in a couple of months: corn, squash, and basil, I rewrite the memories in my backyard. There's nothing like walking between tomato and basil plants; the smell is the sweet promise of summer.
Tips for fantastic Porotos Granados:
What beans are traditionally used?
Porotos Granados is a summer dish in Chile when this variety of beans is easy to find at the farmer's market and supermarkets. They can be bought in the pod or shelled and ready to cook. If you get them fresh in the pod, make time the night before to shell them.
Two kilos of beans or 4 pounds in the pod serve 4-6 people.
What bean do you recommend in the US?
In general, I use canned beans. I recommend cannellini or white kidney, or great northern beans. Or fresh frozen shelled speckled butter beans,
It is not common in Texas, but in other states, you can find fresh beans such as Dragon Tongue or Cranberries for sale in the summer. It is crucial to make sure that the bean is formed and plump. These varieties are also grown for green beans, depending on when they are harvested if they can be used for this soup.
You can also use dry beans like cranberries but cook them first.
Why are they called Porotos Granados with Pilco in Spanish?
Pilco alludes to shelled corn, derived from the Mapuche word Pidcu (stew with corn). Pirco is also used.
What is the corn that is traditionally used?
Porotos Granados is made with Humeros or Chocleros. This variety of corn is widespread in Chile but very difficult to find in other countries. It has irregular kernels. The husk is hard. When you prick the kernel, whitish milk comes out. It is used fresh, as green corn. Don't store it for more than ten days. The corn dries out and loses its consistency.
How do I replace corn in the US?
I recommend using frozen corn (whole kernel). The fresh corn available in the US is sweeter because it is different. In Latin supermarkets, you will sometimes find ears of fresh Mexican corn that is less sweet.
Can I use canned corn, and what basil should I buy in the US?
I do not recommend using canned corn. It has more water than frozen corn.
Be careful with basil. Thai basils (they tend to be purple) have a lot of anise flavor. I recommend using Sweet Basil or Genovese (in moderation). Taste the basil before adding it to the pot.
What squash can I use in the US?
I used butternut squash, which is sweeter and creamier than the typical Chilean winter squash. Squashes with a flavor similar to the Chilean ones are Hubbard, Turban, and Kabocha.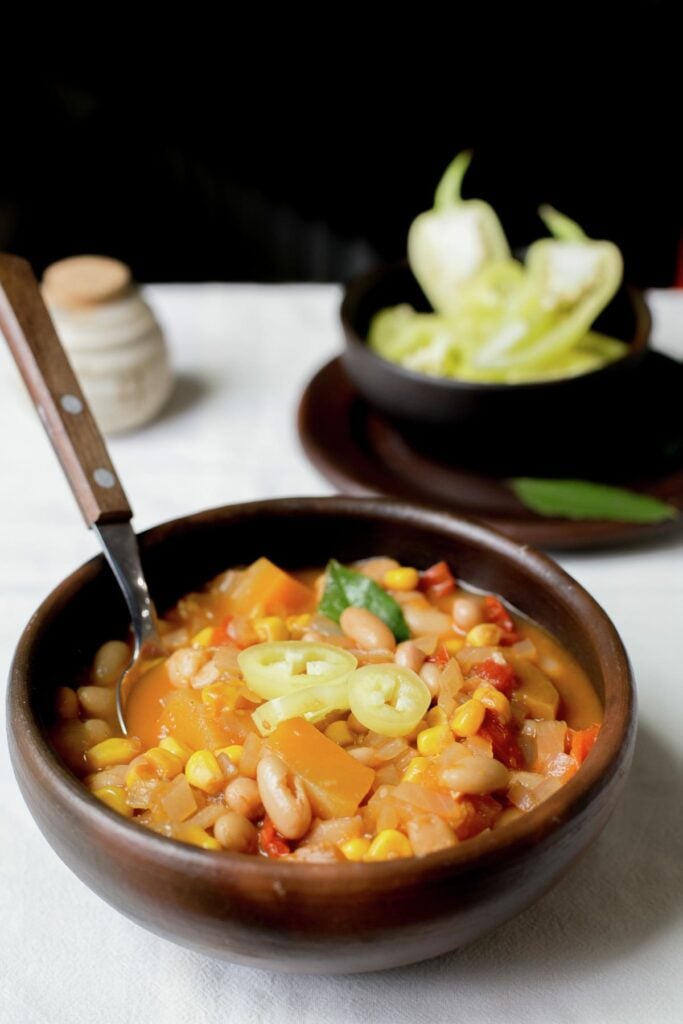 Print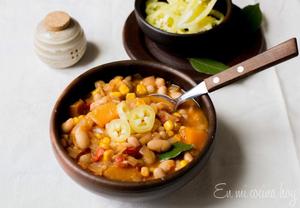 Porotos Granados Chilean Cranberry Bean Stew
Traditional Chilean summer bean stew.
Total Time:

50 minutes

Yield:

4
1

fine chopped yellow onion

1 teaspoon

of paprika

2

cups

of chopped squash in cubes of 1 cm (butternut or pumpkins)

2

cups

of corn (frozen) or

4

ears

4

cups

of shelled beans or 2 cans of Cannellini Beans (I use BUSH'S)

2

cups

of vegetable broth or water

2

–

3

diced tomatoes
basil
oil, salt, pepper, cumin
Notes
If using canned beans: Add the squash, corn, tomatoes, and broth. Stir. Add salt, pepper, cumin if desired, and a bunch of basil. Cook covered for 15 minutes. Drain and wash the beans. Add to the pot and stir. Once hot, turn off, take out the basil and serve.
Author:

Pilar Hernandez

Prep Time:

20 minutes

Cook Time:

30 minutes

Category:

Soups

Method:

Stove cooked

Cuisine:

Chilean
Nutrition
Serving Size:
Calories:

323

Sugar:

11.9 g

Sodium:

963.2 mg

Fat:

3.3 g

Saturated Fat:

0.3 g

Carbohydrates:

62.5 g

Fiber:

14.3 g

Protein:

16 g
Keywords: porotos granados, chilean bean stew