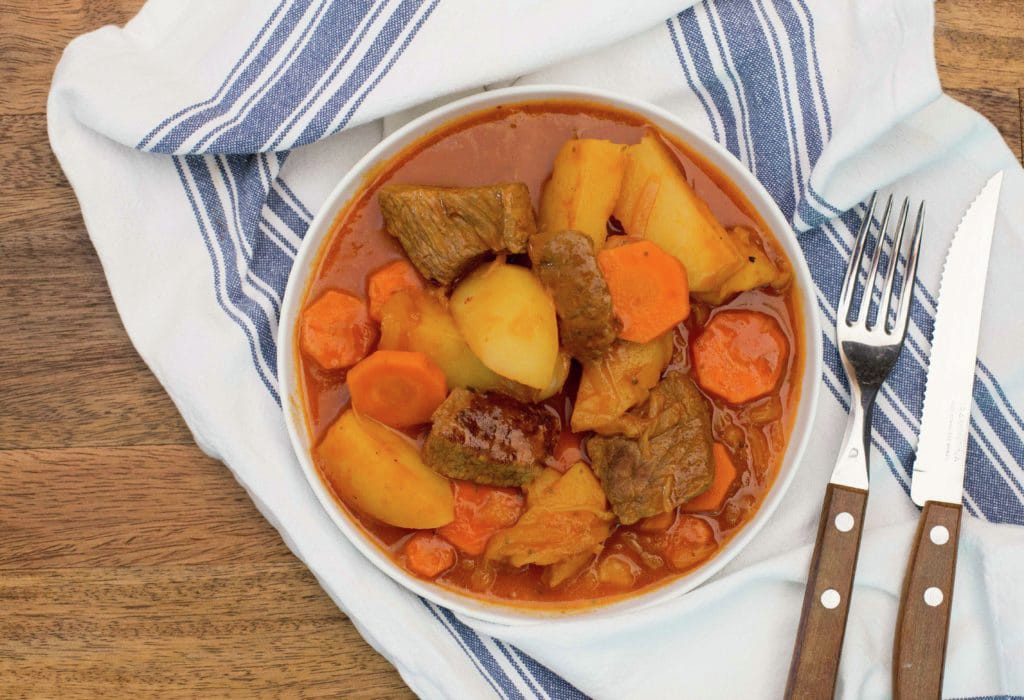 This Chilean Estofado Beef Stew is another traditional dish made on the stove in Chile. It's one of the meals I loved as a girl; my favorite part was mashing the potatoes and carrots to create a puree with the sauce. Delicious.
Chilean estofado is a traditional Chilean stew combining European and indigenous culinary influences. This hearty and flavorful dish is a staple in Chilean cuisine and is often enjoyed in winter.
Here are the key characteristics of Chilean estofado:
Meat: Estofado typically features beef as the primary protein, although you may also find variations with pork or a combination of both. The meat is usually cut into bite-sized pieces and browned before stewing.
Vegetables: Onions, garlic, and sometimes bell peppers are essential aromatic ingredients that provide depth of flavor to the stew. Carrots and potatoes add flavor and texture.
Seasonings: Common seasonings include cumin, paprika, oregano (use only Mexican oregano for true Chilean flavor), and bay leaves. These spices contribute to the rich and savory flavor profile of the dish.
Liquid: Red, white wine, and beef broth are often used as the liquid base for the estofado. The wine adds a pleasant acidity and depth to the sauce, while the beef broth provides richness.
Tomatoes: Tomato sauce or fresh tomatoes are added to create a tomato-based sauce that gives the estofado its characteristic color and tanginess.
Cooking Method: The meat and vegetables are typically sautéed in a large pot or Dutch oven until browned and then simmered in the liquid and tomato sauce. The long, slow cooking process allows the flavors to meld and the meat to become tender.
Estofado is a main dish usually served with green salad: apio palta (celery and avocado) or cabbage salad.
Cultural Significance
Estofado de San Juan
Its consumption is associated with the night of San Juan, the longest night of the year, and from the Mapuche point of view, this food is linked to the rites of the change of year to promote the abundance of food and drink. In both cases, the coincidence with the winter solstice has led to this dish being shared in southern Chile's indigenous traditions and the Creole and mestizo traditions. The Estofado de San Juan recipe is different and only includes meats, usually a combination of beef, pork, and some poultry. No carrots, tomato sauce, or potatoes are cooked with the meats.
Print
Chilean Estofado Beef Stew
Chilean comfort food at it best. Simple and delicious.
Total Time:

40 minutes

Yield:

6
1

onion, chopped in half moon

2

carrots, peeled and sliced

2

pounds

of red potatoes, peeled and cut into sticks

1 1/2

pounds

of beef cubed (Chuck roast, top sirloin)

1/4 teaspoon

cumin

1/2 teaspoon

dried oregano

1/2 teaspoon

paprika

1 teaspoon

cornstarch

1

can (227 grams) of tomato sauce (

8 oz

.)

1

cup

boiling water

1/2

red or white wine
oil, salt
Instructions
In a heavy-bottomed pot, heat two tablespoons of oil over high heat. Add the chopped onion and cook while stirring for 5 minutes. Push the onion to one side.

Stir everything and add the salt, cumin, oregano, and paprika.
Dissolve cornstarch in 1 tablespoon of cold water in a small cup.
Add the potatoes, carrots, tomato sauce, dissolved cornstarch, and hot water to the pot. Stir and distribute well. Cover, reduce heat to medium-low, and cook covered for 30 minutes. Stir occasionally.

Taste and adjust the salt. Serve hot.

Author:

Pilar Hernandez

Prep Time:

20 minutes

Cook Time:

20 minutes

Category:

Beef

Method:

Stove cooked

Cuisine:

Chilean
Nutrition
Serving Size:
Calories:

302

Sugar:

5.5 g

Sodium:

115.3 mg

Fat:

6.8 g

Saturated Fat:

1.9 g

Carbohydrates:

31.3 g

Fiber:

4.4 g

Protein:

29.2 g
Keywords: chilean beef stew, chilean cuisine