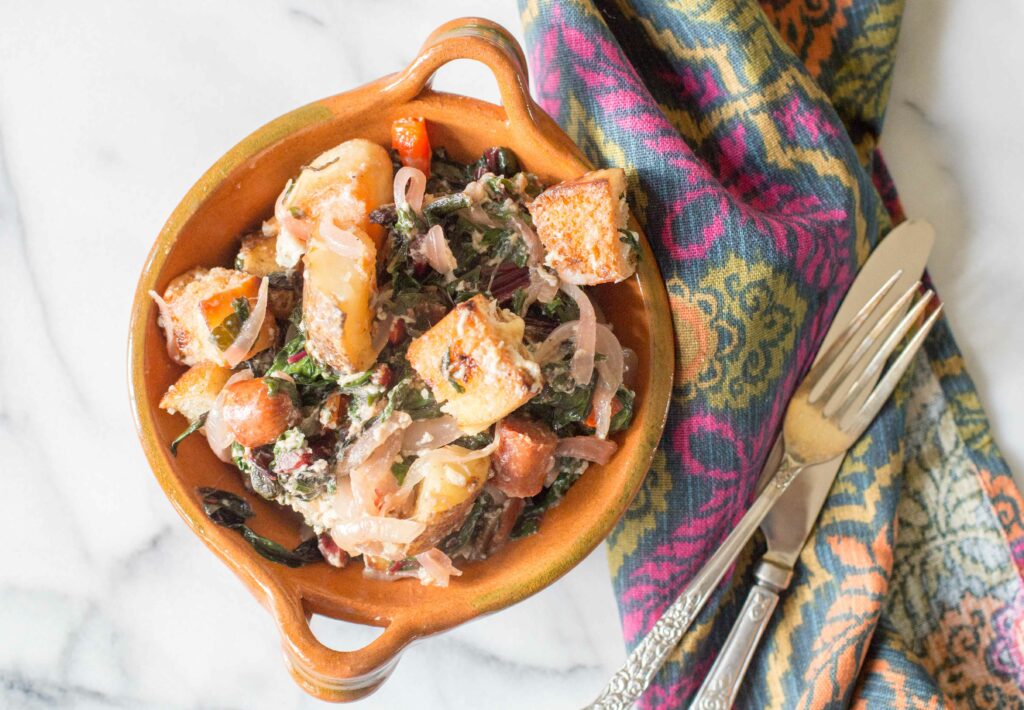 Today I'm sharing my favorite recipe of my grandmother: the Chilean fricassee. Every time I visited my grandmother Adriana, this was the food she prepared for me. When I was little, fricassee days were my favorite because I always steal some potatoes fries or a freshly made croutons. My mother worked long hours; so I spend lots of time with my grandma growing up.
My grandmother died in 2005, and I had always wanted to do fricassee, but for some reason, I could not, now that her birthday is coming on June 5. Finally, I did it and told the whole story to my kids. My grandmother met my oldest kid only by ultrasound; she died suddenly, only days after my first kid was born here in the U.S.A.
The fricassee is as flavorful as I remembered, and delicious, food from the heart.
This recipe was first published on June 2014.
Fricassee, Chilean Recipe
4 people
Ingredients:
1 onion
1/2 red bell pepper
1 large bundle of chard
1-2 slices of country bread?cubed
2 potatoes diced cooked
3 sausages cooked sliced
3 eggs
1/4 cup milk
salt, pepper, merken or smoked paprika
oil
Preparation:
Chop the onion and pepper into cubes.
Cut the stems of the chard; you are not going to use them in this recipe. Cut the chard leaves into strips about 1 cm. More or less.
Heat 1 tablespoon oil in a large skillet or pot. Cook the onion for 4-5 minutes, until translucent. Add the pepper, cook 2 minutes. Add the chopped chard cook 3-5 minutes until reduced in size. Season lightly with salt. Remove to a bowl.
Clean the pan and heat oil. Fry the bread cubes. Remove to a plate covered with paper towels.
Brown the potatoes.
Return all to the pan: add the?sliced cooked sausages. Warm over medium heat.
Beat the eggs with the milk and season with salt, pepper, and Merken or paprika.
Add the egg mixture to the pan, stir and cook 1-2 minutes until the egg is cooked.
Serve immediately.