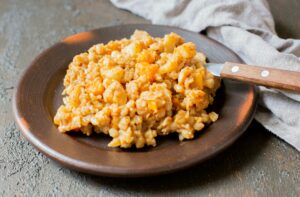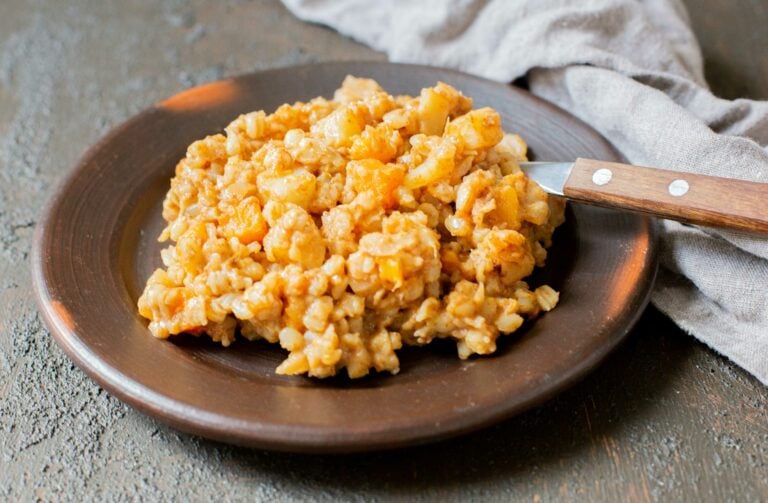 Chilean Papas con Mote, or Potatoes with wheat berries, is an ancient and traditional dish in the countryside. It can be the main dish or a side dish to a protein. It's very flavorful.
Growing up, I spent the summer on the coast of the Seventh region, central Chile, and I remember that the ladies made Papas con Mote often, or its cousin Papas con Motemei, where the Mote is replaced with hominy corn.
Tips for some delicious Papas con mote:
How do I cook Chilean wheat mote?
For Mote "al dente,":
Place two cups of Mote and cover with 4 cups of water. There should be at least three fingers of water above the level of the Mote.
Cook over medium heat covered. Once it comes to a boil, lower the heat so it continues to simmer gently. Taste it after 13-15 minutes.
Stir occasionally and recover.
Do not add salt or sugar to the water. It should be neutral. The Mote will absorb the water.
When ready, drain excess water and let cool.
Oso is a traditional brand in Chile.
What pumpkin can I use in the US?
I used butternut squash, which is sweeter and creamier than the typical Chilean winter squash. Hubbard, Turban, and Kabocha have squashes with a flavor similar to the Chilean.
How do I get a mote in the US?
The equivalent in the US is wheat berries, but it is not processed in the same way, and the most similar grain is barley. You can buy the Quaker brand in all supermarkets in the breakfast section, do not follow the instructions on the package. You have to cook it much less, about 10-15 minutes, to have a good consistency.
I have leftover Mote. In what other dishes can I use it?
The Mote is neutral, so it is effortless to reuse the leftovers in salads or stews. Or in Mote with huesillos.
What can I serve with Papas con Mote?
It can be a side dish to proteins: like a steak, pork chops, etc. I like it with a fried egg as a main dish.
Print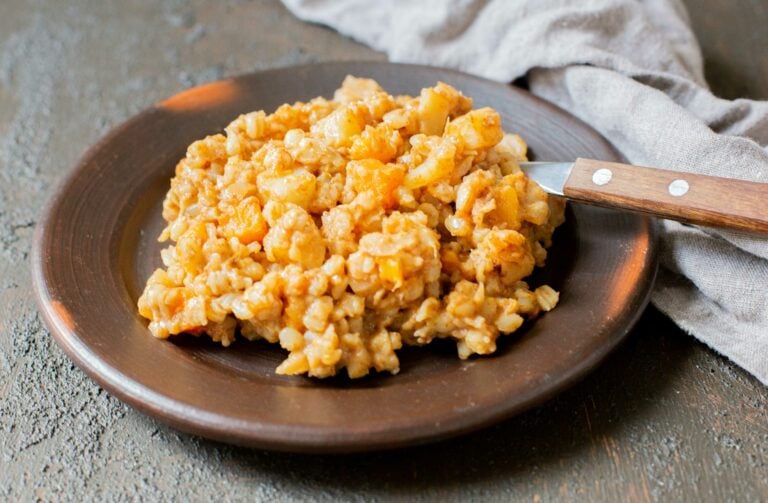 Papas con Mote Chilean Wheatberry and Potato
Total Time:

50 minutes

Yield:

4

as main dish / 6 as a side

1

x
1 tablespoon

of vegetable oil or Chilean color

1

medium yellow onion, chopped into small cubes

2

cups

of yellow squash, cut into small cubes

2

large red potatoes, peeled and diced

1

cup

of milk
Water

2

cups

of cooked mote (see introduction)
Salt, pepper, paprika
whipping cream, optional
Author:

Pilar Hernandez

Prep Time:

20 minutes

Cook Time:

30 minutes

Category:

Vegetables

Method:

stove-cooked

Cuisine:

Chilean
Keywords: Papas con mote, Potatoes with wheat berries, chilean ancient dish