The Ensalada Chilena is straightforward; it's primarily onions and tomatoes but has little secrets to make it tasty.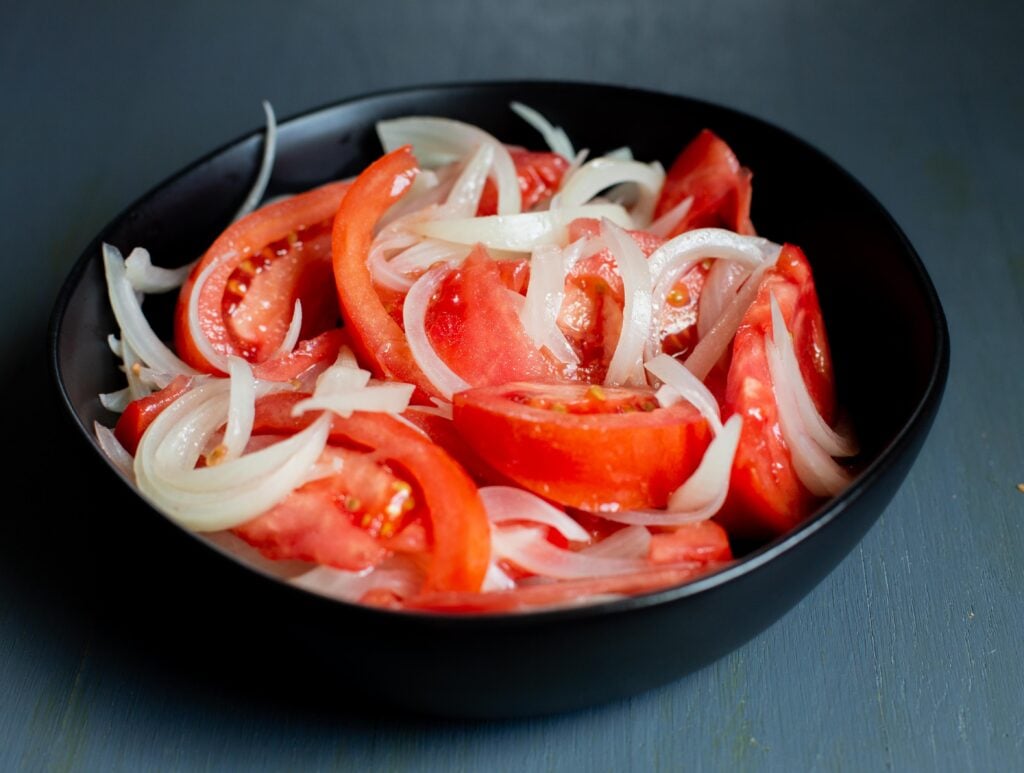 Chilean Tomato Onion Salad, also known as "Ensalada a la Chilena" in Spanish, is a simple yet delicious salad famous in Chile. It is a classic accompaniment to many Chilean dishes, such as grilled meats and fried fish, and you see it often at barbecues, known as "asados."
The salad is straightforward to prepare and consists of just a few essential ingredients:
Tomatoes

: Ripe tomatoes are a vital component of this salad. You can use any variety of tomatoes, but the red, juicy, and flavorful ones are most commonly chosen. Do not use cherry tomatoes.
In Chile, one pink tomato variety is the most sought-after Tomate Limachino. Limache is a small town close to Valparaíso and Santiago. This variety has excellent flavor and texture but only lasts a week after being harvested, so it was replaced by varieties that were easier for industrial processing. Gladly is making a comeback.


Onions

: Spanish or yellow onions. They are thinly sliced and add a sharp, slightly pungent flavor to the salad.

Oil

: A good-quality vegetable oil is used to dress the salad, giving it a rich and slightly fruity flavor. I recommend sunflower or grapeseed.

Salt and Pepper

: These seasonings enhance the ingredients' taste and bring out their natural flavors.

Cilantro

: Fresh cilantro leaves provide a burst of herbaceous flavor. Chop the cilantro finely.

Ají Cristal

: you can replace it with sweet banana peppers.

What to serve with Ensalada Chilena?
Asados (Barbecues)

: Chilean salads are a staple at traditional Chilean barbecues, where they accompany grilled meats such as beef, pork (costillar), and chicken. They add freshness and balance to the smoky and savory flavors of the grilled meats.

Empanadas

: Chilean empanadas, savory pastry turnovers filled with ingredients like ground beef, onions, and olives, are often served with a side of Chilean salad to contrast textures and flavors.

Seafood Dishes

: Chile has a long coastline, and seafood is a significant part of its cuisine. Salads like the Chilean Tomato Onion Salad pair well with seafood dishes, such as fried or grilled fish, to provide a zesty and refreshing contrast.

Traditional Chilean Stews

: Hearty Chilean stews like Cazuela, a chicken or beef and vegetable stew, or Porotos con Mazamorra, a bean and corn stew, Pastel de Choclo, and Humitas, are often served with salad to add freshness and crunch.

Everyday Meals

: Chilean salads can be served alongside daily meals, including rice, beans, or roasted vegetables, to add flavor and nutrition to the plate.
Most important for authenticity:
Do not use olive oil; neutral vegetable oil is traditional.
Don't use purple onion. White onion can be used in a pinch.
You can do the salad with or without chili peppers (ají cristal) and minced garlic.
I do not recommend you skip salting the tomatoes before combining them with the rest of the ingredients. The salt brings out the flavor of the tomatoes.
Print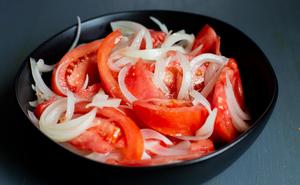 Ensalada Chilena Tomatoes and onions
The most traditional salad in Chile.
Total Time:

20 minutes

Yield:

6
1

Spanish onion (yellow)

5

medium-sized tomatoes

1

clove of garlic (optional)

1

yellow Thai chili or sweet banana pepper (optional)
salt, pepper, oil, wine vinegar
Instructions
Boil water.
Chop onion in half-moons as thin as possible. Place in a bowl, cover with boiling water, let stand for 10 minutes. Drain and rinse with cold water. Dry with paper towels.

Chop the garlic and seed the peppers. Cut finely.
Chop the tomatoes into wedges, place in a bowl and sprinkle with salt. Stir.

Add onion, garlic, and finely chopped pepper if desired.

Season with salt, pepper, oil, and vinegar.
Stir and taste. Adjust the seasoning.

Author:

Pilar Hernandez

Prep Time:

20 minutes

Cook Time:

0 minutes

Category:

Salad

Cuisine:

Chilean
Nutrition
Serving Size:
Calories:

52

Sugar:

4.2 g

Sodium:

6.9 mg

Fat:

2.5 g

Saturated Fat:

1.9 g

Carbohydrates:

7.1 g

Fiber:

1.8 g

Protein:

1.3 g