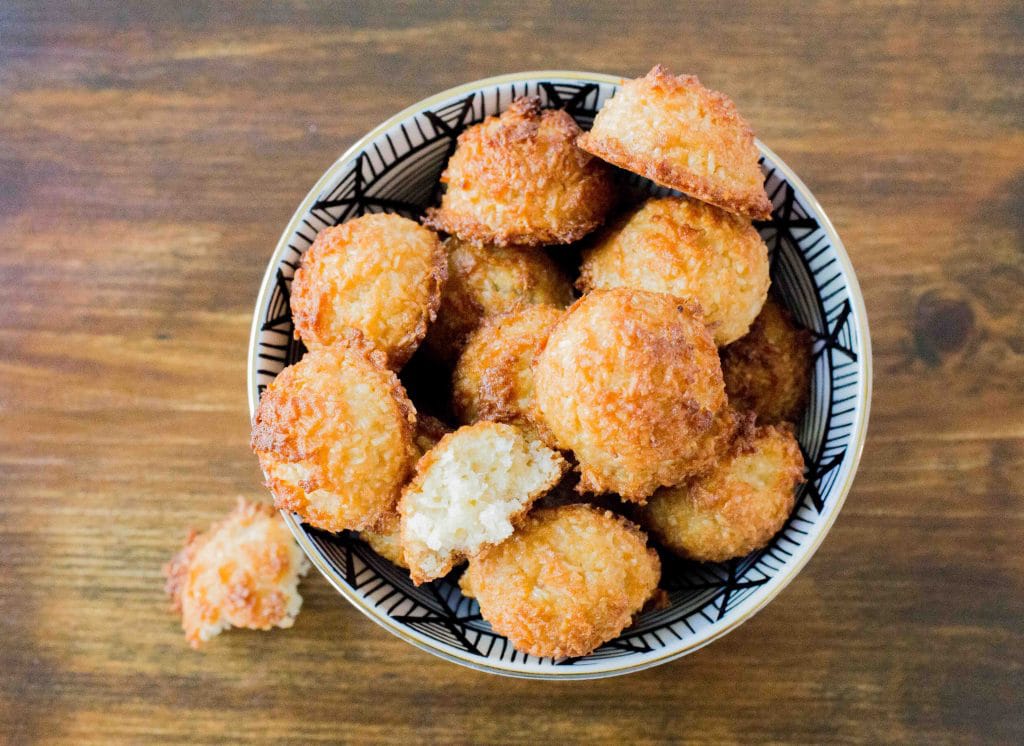 Coconut Macaroons or "cocadas" are so classic, but at least for me, they are a grown-up discovery. I grew up hating coconut, I do not know why, but now as an adult and thanks to the Piña Coladas I reconciled with the flavor. And I enjoy these delicious cookies often.
Coconut Macaroons are very fast and easy to make. If you keep them a couple of days, they start losing some crunch, so I re-heat them in the toaster oven for a few minutes (3-5) and they come back as freshly made.
Recipe originally published in September 2011.
This recipe is excellent to get rid of all the whites that you collect when you make a Chilean Thousand Layers Cake.
Coconut Macaroons
for about 30 cookies
Ingredients:
4 egg whites (125 ml / 1/2 cups)
250 grams of sugar
1/4 teaspoon of salt
1 tablespoon of honey
175 grams of grated coconut
35 grams of all-purpose flour
1/2 teaspoon vanilla
Preparation:
In a medium saucepan, combine the egg whites, sugar, salt, honey, coconut, flour and vanilla. Cook over medium-low heat stirring, when the bottom begins to bubble and sound (like a whistle) is ready, transfer to a bowl and let cool about 10 minutes.
Preheat the oven to 350F or 180C.
Prepare a baking sheet with parchment paper or a silpat.
Scoop balls of about 3cm. each and place them in the prepared baking sheet, they almost don't grow in the oven so they can be put close together.
Bake until very golden, almost on the verge of burning, about 20 minutes. Allow to cool in the pan.
Serve, can be stored in an airtight container for up to 3 days.
Recipe translated and adapted from Ready for Dessert by David Lebovitz.