Cornstarch Alfajores is my favorite cookie. I grew up eating them. In my family, any special occasion, such as a birthday, baptism, family reunion, etc., required a cookie buffet, and Alfajores were always present.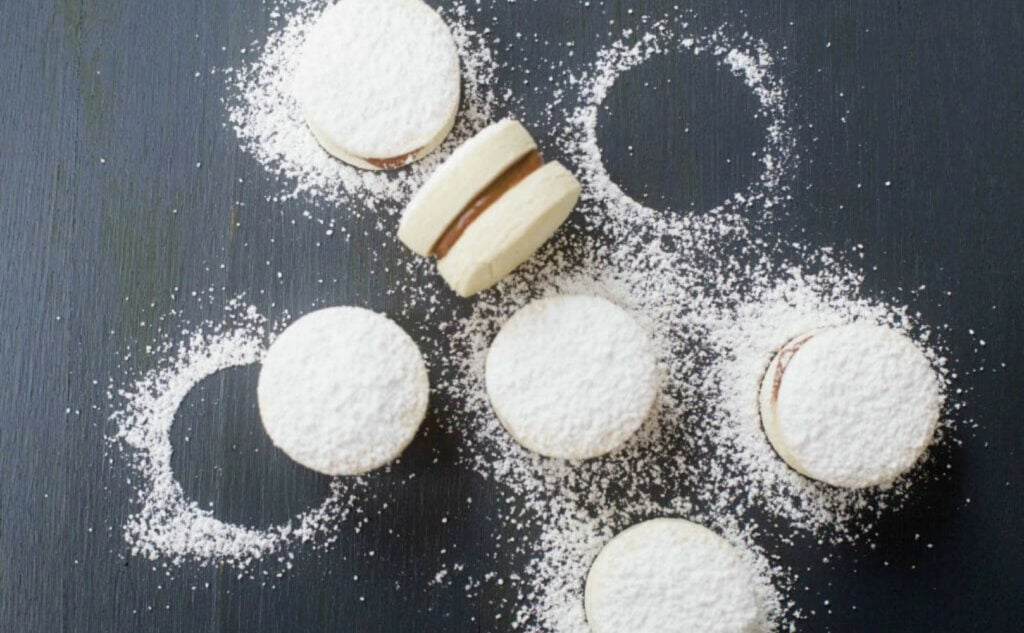 This recipe is perfect. I've made it many times, and these cookies have that sandy, delicate texture that dissolves in the mouth, not very sweet, that complements the Dulce de Leche and crunchy walnuts.
Eat them carefully because of the powdered sugar. It flies everywhere and usually dusts black clothes … one option is to wear white or, what I do, make them small to eat in one bite.
This recipe is adapted from our old family recipe and an old recipe from a Chilean magazine. These cookies keep their shape in the oven.
What are Alfajores made of and filled with?
Great question, and it depends. Alfajores is a cookie filled with something, and like many recipes introduced by the Spaniards, with time, they have gotten different variations throughout Latinoamerica.
They are most popular in South America, especially in Chile, Peru, and Argentina. In Peru and Argentina, the most common variation of Alfajor is this recipe: a melt-in-your-mouth cornstarch cookie filled with Dulce de leche.
In Chile, alfajor is a cookie made with a crunchy dough (Hojarasca) made with egg yolks and flour and filled with Dulce de leche. See the recipe here: Chilean Alfajores. Or try this other traditional filling with molasses, Alfajores Atoradores.
In Argentina and Chile, Alfajores Mendocinos are very popular too. I included a recipe in my book, The Chilean Kitchen (Amazon affiliate link). You can see a recipe here, too: Chocolate alfajores, which are similar to the commercial ones Alfajores Havanna (Amazon affiliate link).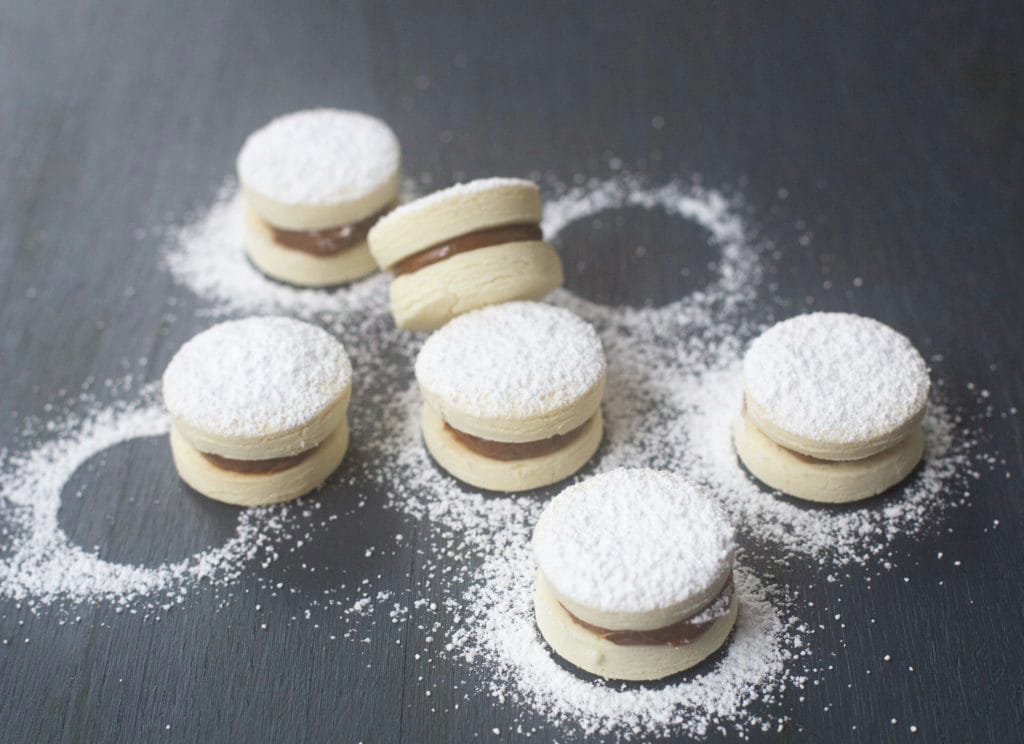 What is unique about Alfajores?
They are well-balanced cookies; the two cookies are not very sweet, and with the Dulce de leche, you get a little of everything in each bite. They are also pretty and easy to make at home. And for everyone who grew up in South America, total comfort food.
Can I use any Dulce de leche as a filling?
The Dulce de leche used to fill these cookies is also called Dulce de leche Repostero. It's more tick, so it doesn't spread out of the cookie.
Also, Argentinian Dulce de leche is generous in vanilla flavor, contrary to Chilean and Peruvian ones, where you don't find vanilla in the ingredients. I recommend the Nestlé canned dulce de leche; it's made in Chile and easy to find in Latin stores, Walmart, Safeway in the USA, or Amazon. (affiliated links)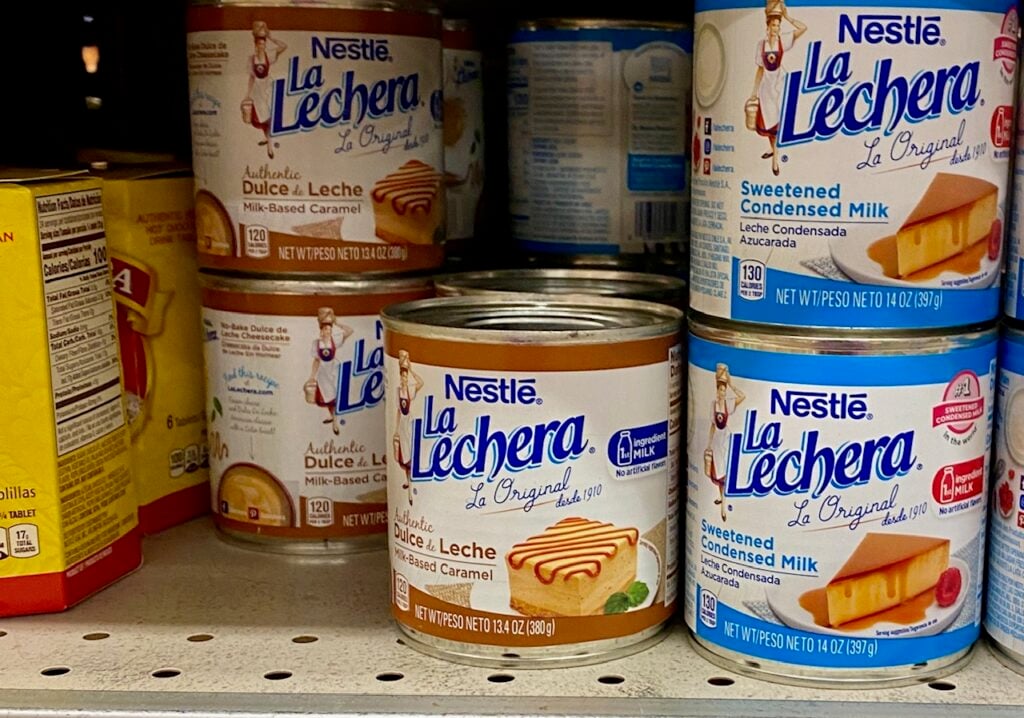 How do I store them?
Assembled or filled alfajores with Dulce de leche can be stored at room temperature for 7-10 days in an airtight container. Frozen for up to 3 months.
Where and when are Alfajores enjoyed in South America?
Since they are extremely popular and liked, you can buy alfajores in any bakery. You can also buy them in mass-produced versions, artisanal, and in upscale bakeries. You could make it your mission to taste all versions and have a fantastic holiday.
Many families have their versions, which will be made for special occasions like Christmas, birthdays, funerals, etc.
They can be a snack, served with tea, or as part of a dessert spread.
Print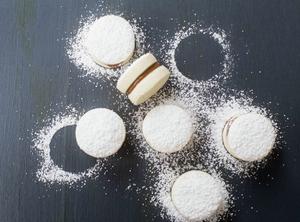 Traditional Cornstarch Alfajores recipe
Melt in your mouth cornstarch cookies. Most famous in South America.
Total Time:

1 hour

Yield:

30
225

grams

of unsalted butter at room temperature

1

cup

powdered sugar

4

egg yolks at room temperature

1 teaspoon

vanilla extract

2 1/2

cup

(300 grams) cornstarch

1 1/2

cup

(190 grams) all-purpose flour
Powdered sugar for dusting
chopped walnuts or ground nuts or coconut to decorate the edge, optional
Dulce de Leche, I used the Nestle can, available in Latin supermarkets
Instructions
In a large bowl, beat the butter with the sugar until creamy, about 3 minutes. Add the egg yolks one at a time, thoroughly beating in, for about 2 minutes. Add vanilla and mix well.

Add all the flour and cornstarch and mix until crumbs are formed. Then use your hands to form a soft dough. Wrap in plastic film and let it stand in the refrigerator for 30 minutes, or leave it overnight.

Preheat the oven to 350F or 180C.
Divide dough into 2, roll until it is 1/2 cm. thick, don't roll them thin because they are very fragile—cut circles (I used one of 2cm in diameter).

Bake on a baking sheet covered with parchment or Silpat in a preheated oven at 180C or 350F for 13-15 minutes until they are lightly browned underneath. You can put them fairly close together since they almost do not grow. Cool completely on the baking sheet.

Fill with the Dulce de Leche. Optional around the edges, too, and roll in the ground walnuts.

Finally, dust with powdered sugar through a sieve.
Let stand 2 hours before serving, or you can fill them the day before. They last well three days in a locked box on the counter.

Author:

Pilar Hernandez

Prep Time:

40 minutes

Cook Time:

20 minutes

Category:

Sweets

Method:

Baked

Cuisine:

Peruvian
Nutrition
Serving Size:

1 alfajor

Calories:

229

Sugar:

14.3 g

Sodium:

27.7 mg

Fat:

10.7 g

Saturated Fat:

5.1 g

Carbohydrates:

30.4 g

Fiber:

0.5 g

Protein:

3 g
Keywords: cornstarch alfajores, peruvian alfajores, alfajores de maicena