Chocolate alfajores are a delicious and famous confectionery treat in South America, particularly Argentina, Uruguay, Chile, and Peru.
Chocolate Alfajores are a variation of the traditional alfajores, a type of sandwich cookie made with two delicate, crumbly cookies (with cocoa powder) filled with dulce de leche and covered in chocolate.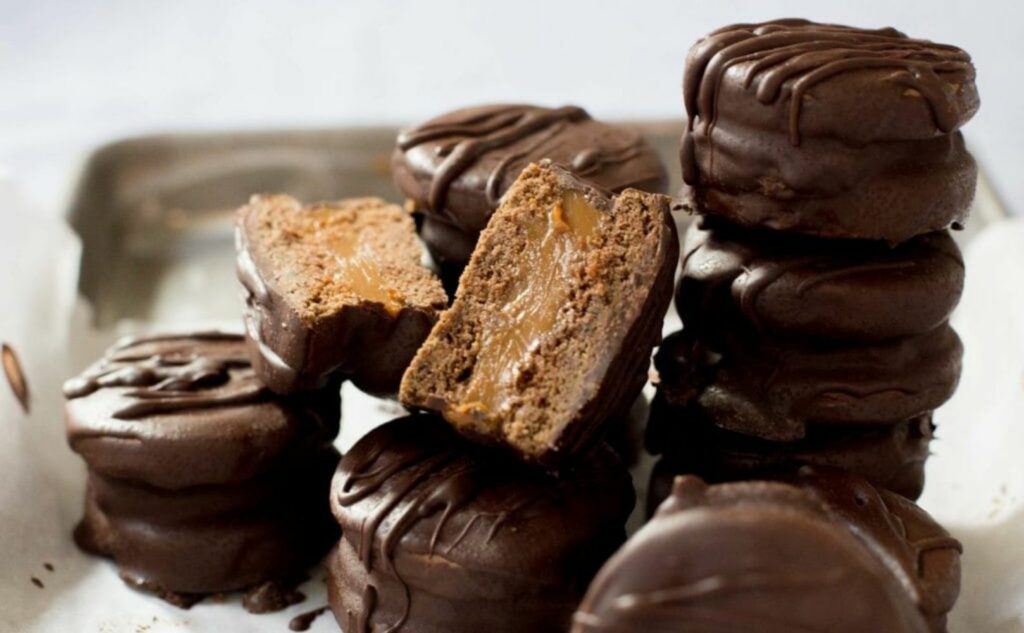 If you are an old-time reader, you may remember my mother-in-law is Argentinian, and I was introduced to Alfajores Havanna at her house. They are unique, with a soft chocolate cookie that melts in your mouth. And they are filled with Dulce de Leche, a perfect complement to the semi-bitter chocolate coating.
I made these Chocolate Alfajores for International Night at my kid's school. I love this celebration. Our school in Houston gathers students from more than 25 different countries. Hence, there was food from Ethiopia, South Africa, Sweden, Russia, Cameroon, China, Japan, Israel, Mexico, Puerto Rico, Japan, France, and Chile!
In Chile, this kind of Alfajores is usually associated with the Sausalito brand, initially from Viña del Mar, a beach city close to the capital.
What are Alfajores made of and filled with?
Great question and it depends. Alfajores is a cookie filled with something, and like many recipes introduced by the Spaniards, with time, they have gotten different variations throughout Latinoamerica.
They are most popular in South America, especially in Chile, Peru, and Argentina.
In Peru and Argentina, the most common variation of Alfajor is the recipe: a melt-in-your-mouth cornstarch cookie filled with dulce de leche.
In Chile, alfajor is a cookie made with a crunchy dough (Hojarasca) made with egg yolks and flour and filled with dulce de leche. See the recipe here: Chilean Alfajores. Or try this other traditional filling with molasses Alfajores Atoradores.
In Argentina and Chile, Alfajores Mendocinos are very popular too. I included a recipe in my book, The Chilean Kitchen (Amazon affiliate link), similar to the commercial one Alfajores Havanna (Amazon affiliate link).
What manjar do you recommend?
I like the Colun or the artisanal one from Playa Venado in Chile. It's terrific.
In the US, I preferred the La Lechera brand, canned in the USA and made in Chile.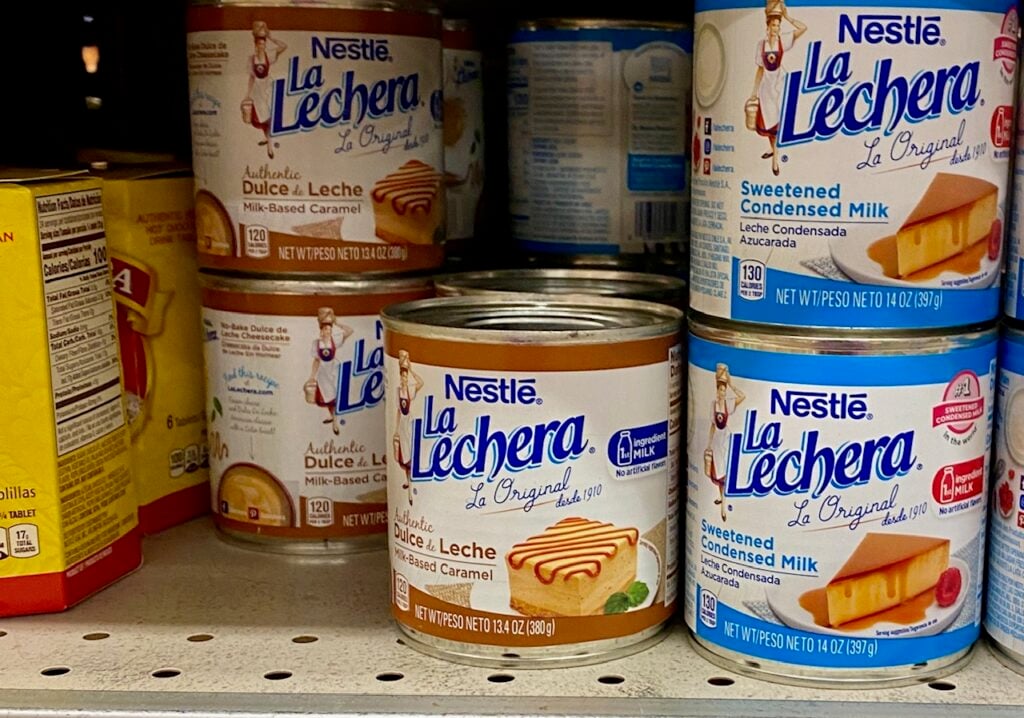 Do not use Argentinian Dulce de Leche or Cajeta. They have different flavor profiles.
What can I do so the circles do not deform or shrink when cutting and handling them?
I recommend rolling the dough directly on the baking sheet (cookie sheets work great for this) with a bit of flour. Cut and straight to the oven. Or on silicone mats that you can slide onto the baking sheet. Avoid having to lift the circles.
What is the standard egg size in pastry?
Recipes in the US are written for large eggs, which weigh about 65 grams in the shell.
Without the shell, 50 grams: 35 grams the egg white, 15 grams the yolk.
Print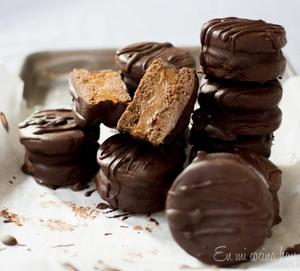 Chocolate Alfajores
The cookie you have been dreaming about it.
Total Time:

1 hour, 20 minutes

Yield:

30
170

grams

unsalted butter at room temperature

130

grams

of light brown sugar

2

eggs at room temperature

20

grams

of honey

340

grams

of flour without baking powder

2 teaspoons

vanilla extract

4 tablespoons

Dutch cocoa powder

2 teaspoons

baking powder

1 teaspoon

baking soda

1/8 teaspoon

fine salt
for the filling,
500

grams

of Dulce de Leche
for coverage,
200

grams

of semi-bitter chocolate, I use one with 60% cocoa

1 tablespoon

vegetable oil
Instructions
To make the dough. In a large bowl with the paddle mixer attachment. Beat the butter until creamy and pale, about 5 minutes, add sugar, mix until smooth (3 minutes), add the eggs one by one, and beat until combined. Add honey and vanilla, beat everything for 2 minutes.
Sift the flour, cocoa, baking soda, baking powder, and salt, add to the previous mixture and mix with a wooden spoon (do not use the mixer) until a soft and moist dough forms. Wrap in kitchen plastic and refrigerate for 1-2 hours.
Preheat oven to 350F or 180C.
Divide dough into 4 and scoop out a quarter and make a ball. Roll the dough thin 1/3″ over a floured countertop. Cut the Alfajores in circles of 3 cm in diameter, place them on an oven tray covered with parchment paper.

Bake for 5 minutes on each baking sheet (without removing the paper). The dough will slightly rise in the oven. Remove and let cool in a grid on the same paper.


Once baked and cooled, you can put them in a plastic bag and freeze them.  Repeat with the remaining 3 pieces of dough.

Fill the Alfajores with Dulce de Leche. Wrap in plastic and refrigerate overnight.

The next day, chop the chocolate into small pieces, add the vegetable oil, melt in the microwave slowly, 30 seconds each go. Remove, stir for 1 minute, and melt in the microwave until all the chocolate is dissolved.
Author:

Pilar Hernandez

Prep Time:

1 hour

Cook Time:

20 minutes

Category:

Cookies

Method:

Baked

Cuisine:

Chilean
Nutrition
Serving Size:
Calories:

198

Sugar:

16.9 g

Sodium:

80.7 mg

Fat:

8.7 g

Saturated Fat:

5.4 g

Carbohydrates:

27.8 g

Fiber:

1 g

Protein:

3.4 g
Keywords: Chocolate alfajor, chilean alfajor, chilean cookies