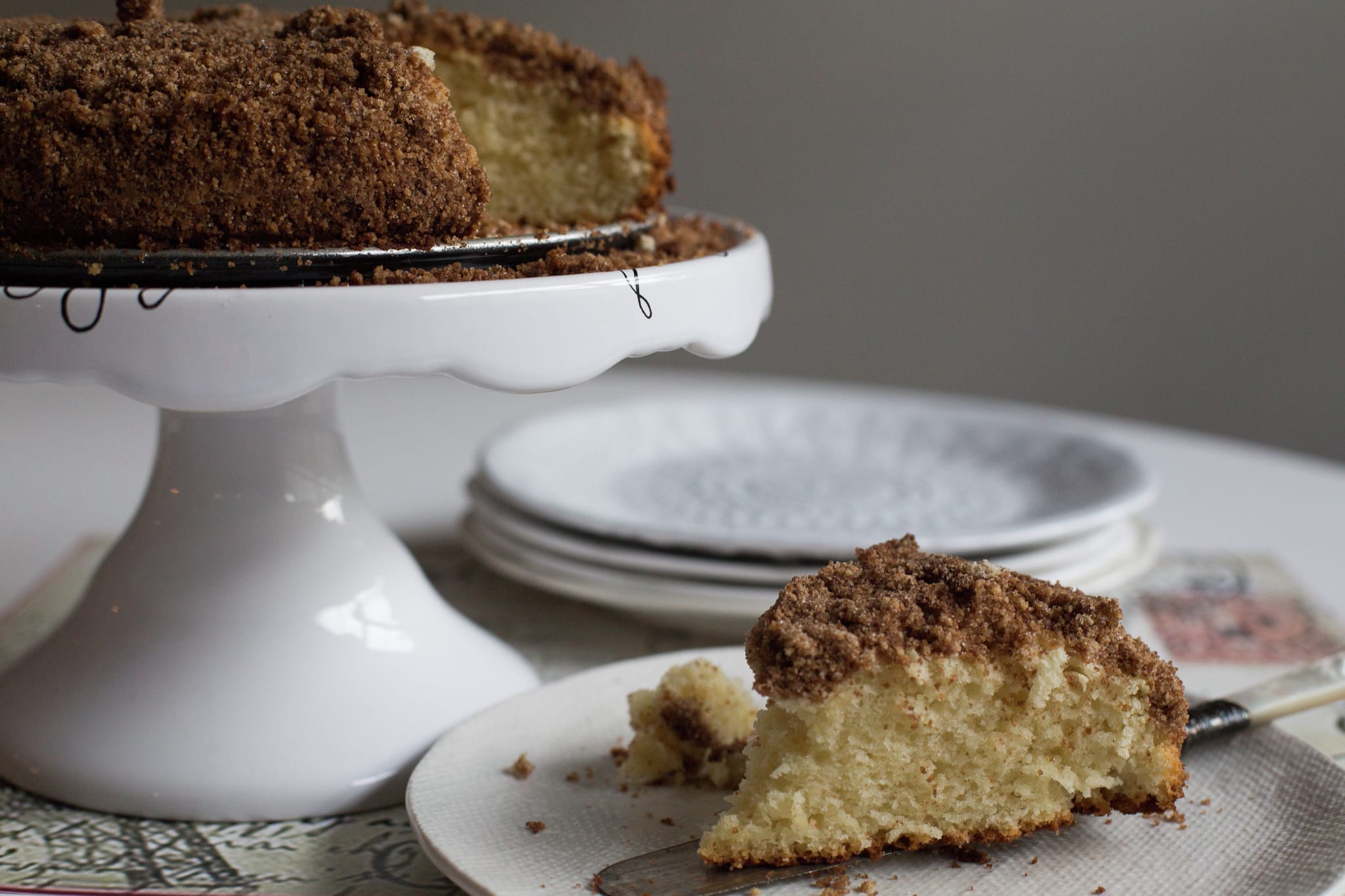 I love coffee crumb cakes, they always hit the spot. I think of them as comfort food. They are also very forgiving and easy to bake. This recipe lent a rich and fluffy cake. All ingredients are very basic and usually at hand.
It's one of the things I usually do when I am invited to an activity and have to bring something everybody really likes. Travels well and doesn't need to be refrigerated.
For storage, I cut the Coffee Crumb Cake, freeze and eat it slowly with my mid-afternoon coffee. During summer, I add any ripe fruit at hand.

Coffee Crumb Cake
For 1 cake 23 cm
Ingredients:
2 cups flour
1 cup granulated sugar
1 generous pinch of salt
10 tablespoons or 140 grams of cold butter
2 teaspoons baking powder
3/4 cup plain yogurt
1 egg
1 teaspoon vanilla
2/3 cup brown sugar or brown
2 teaspoons ground cinnamon
Preparation:
Preheat oven to 350F or 180C. Butter a  23 cm in diameter springform baking pan.
In a bowl, mix the flour, baking powder, granulated sugar, and salt. Fluff with a fork.
Add the butter in pieces and work with a fork until crumbs of various sizes form.
Remove 1 cup of this mixture and reserve for crumbs.
Mix the vanilla, egg, and yogurt. Stir well and pour over the flour mixture.
Stir with a fork until thick. Pour into prepared pan.
Mix the crumbs with the cinnamon and brown sugar. Stir well and pour over the batter.
Bake for 50-60 minutes until golden and a stick bury in the center comes out clean.
Let stand 10 minutes. Open the ring and let cool completely before cutting and serving.
Adapted from Sally's Baking Addiction