The recipe Dulce de Leche ChocoFlan has been sponsored by Kroger. All thoughts and opinions are my own.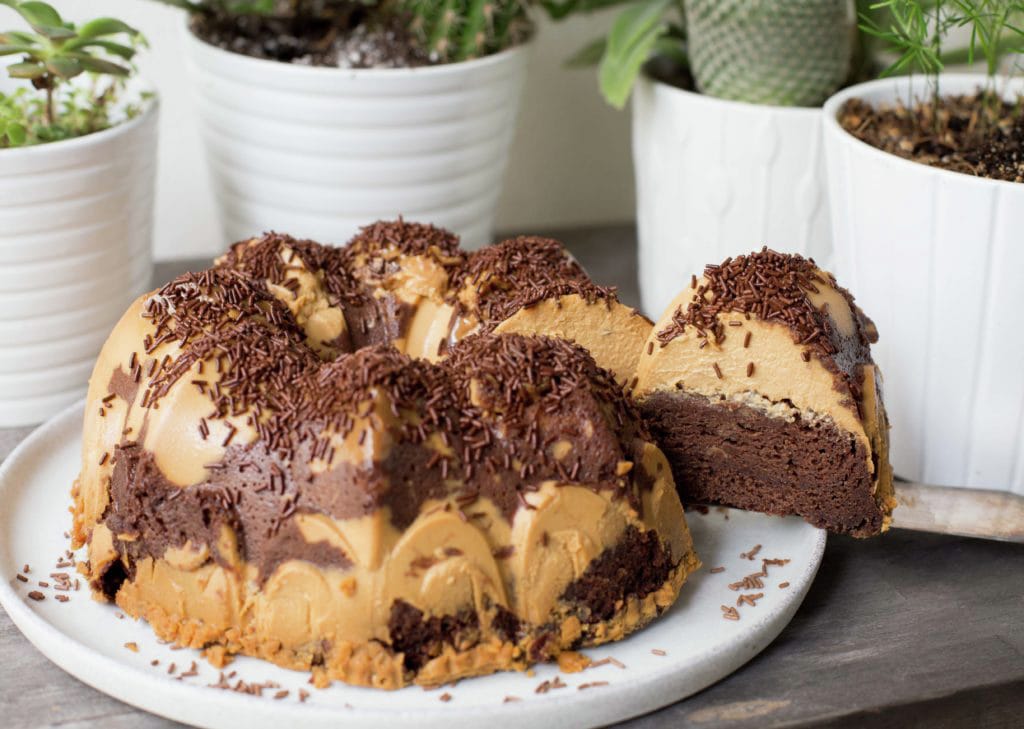 I'd been wanting to try this flan cake or as they call it in tropical countries, Chocoflan. Similar to magic cakes, everything is baked in one go: the cake goes on the bottom and the flan on top, but while they cook they switch places. Definitely, a dessert that surprises, and very tasty.
Instead of making the traditional flan on top I made one with dulce de leche. The combo chocolate dulce de leche is irresistible for us, and apparently for Americans as well… I brought one to a dinner with friends and came back home empty-handed, it was a huge hit. The cake is spongy and moist, the flan as usual. From the outside it looked marbled because I used a mold with many indentations, if you use a smoother mold, it will look as it does in the inner cut. If it breaks, you can always cover it with chocolate sprinkles.
To buy the ingredients I needed, I used the new service available in the Kroger stores near me: you can shop online using ClickList Kroger, I loved it, very easy to use: the search tool offers a variety of products and it's easy to find the brand you are looking for. I bought vegetables such as lettuce, onion, cilantro and jalapeño peppers. Everything was very fresh.  Pantry items and toiletries were also available. You can choose to allow for substitutions, but I did not try it.
I picked up on the next day, during the 1-hour window I had selected. First I had to send a text message to the number indicated, and a few minutes later an employee let me know that I had to call. They asked for my name and 3 minutes later they were loading the groceries into the trunk of my car while I paid. I did not need to get out of the car at all.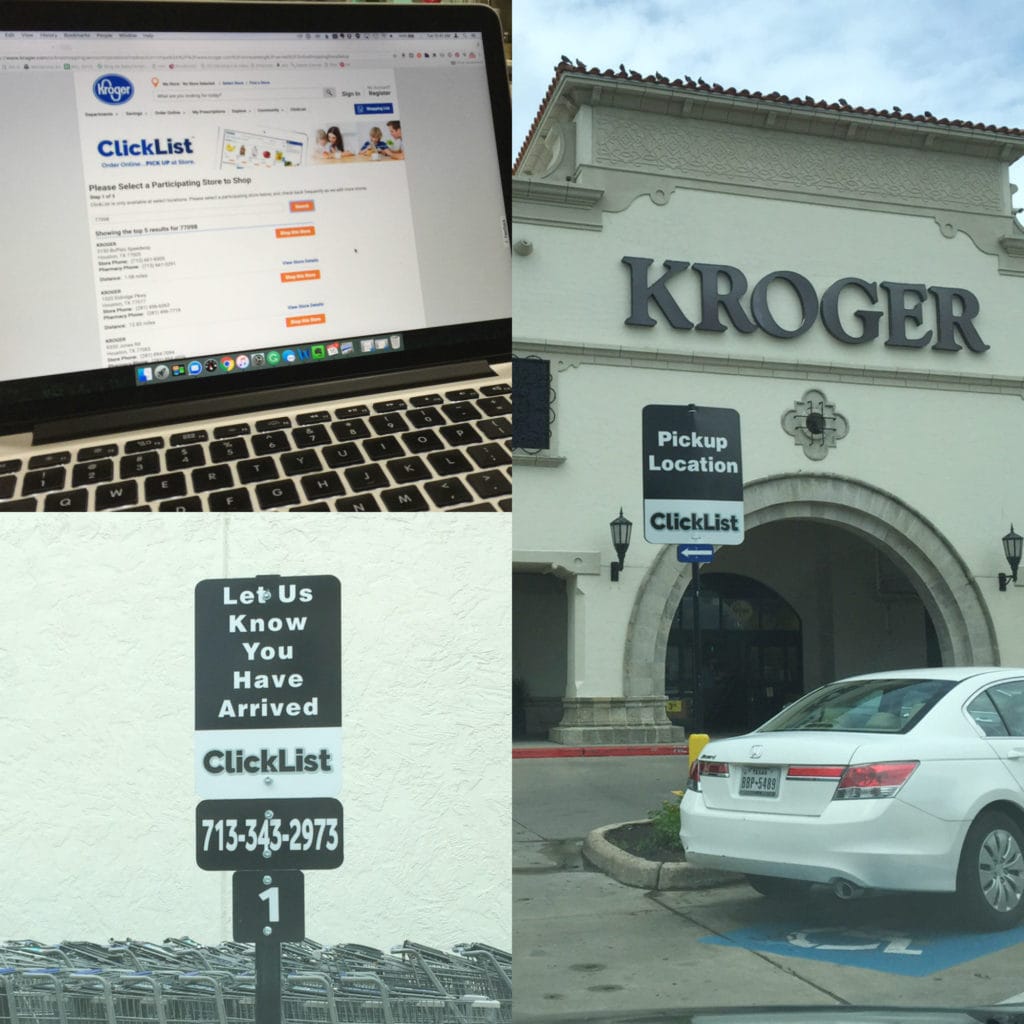 Since I've only been in this neighborhood for a few months now, I loved being able to try this new modality for shopping. This is especially useful when I'm returning from the community garden, and I don't feel like going into the store all sweaty and muddy. I think it's also perfect for people who go grocery shopping during their lunch break, instead of spending one hour at the store they just need to pick up. Or when the children are at that age when they fall asleep as soon as they get in the car… It still happens to me with my youngest after swimming lessons or a long day at school. Highly recommended, easy to use, comfortable, well implemented and the employees were very nice and kind.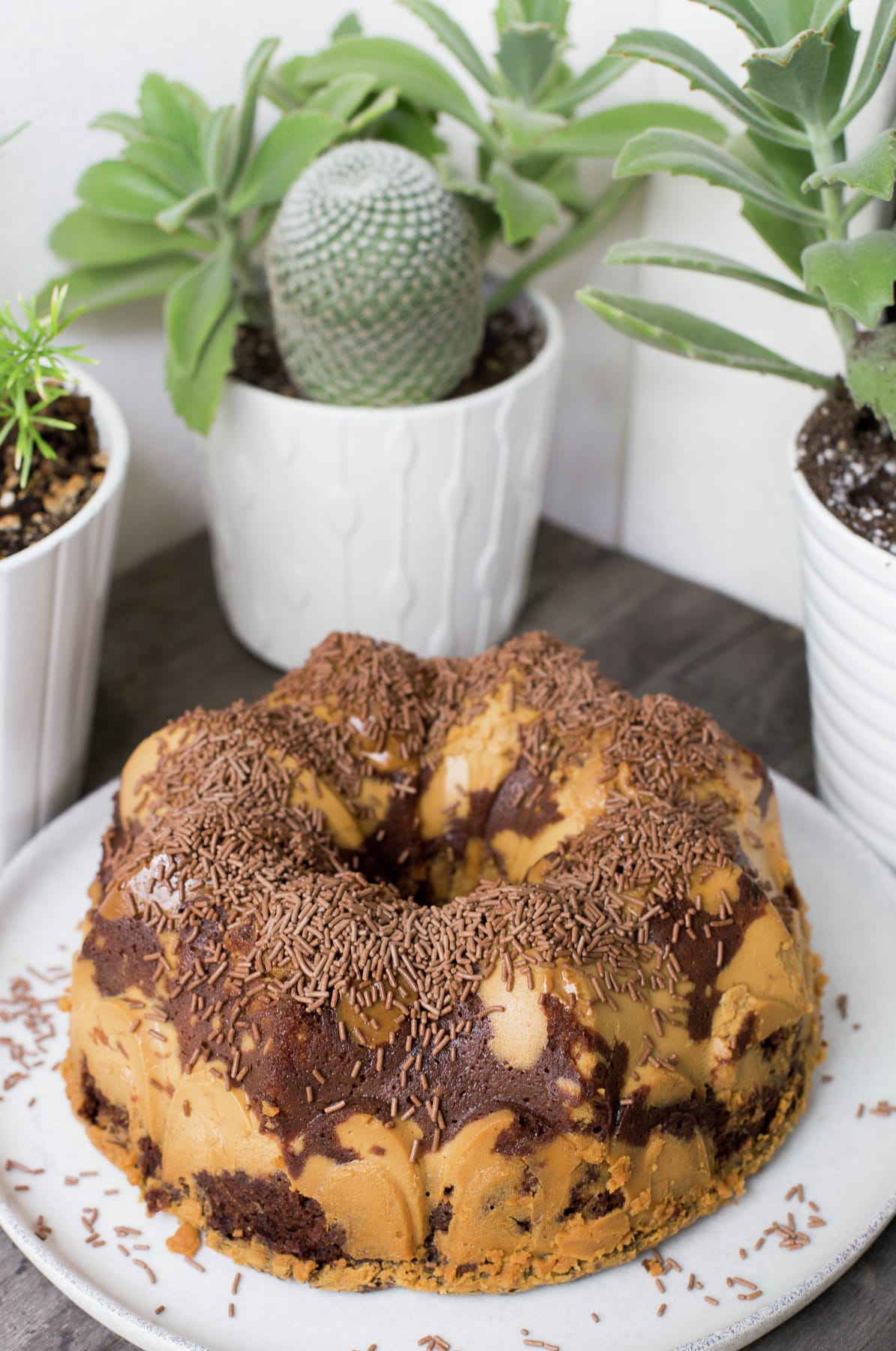 Back at home, I made this delicious dessert. You need to try it.
Dulce de Leche ChocoFlan
for 1 cake
Ingredients:
150 grams butter (10 tablespoons)
1 cup sugar
1 egg
1 3/4 cup flour
1 teaspoon baking powder
1/2 teaspoon baking soda
1/3 cup powdered cocoa, unsweetened
1 1/4 cup of yogurt, unflavored (greek)
1/4 cup espresso coffee
1 can (13.4 oz.) dulce de leche
1 can (12 oz.) evaporated milk
125 g cream cheese
3 eggs
1 teaspoon vanilla
Preparation:
Preheat the oven at 350C or 180C.
Boil enough water for Bain Marie.
Butter a large cake mold (12 cups). Distribute 1/4 cup dulce de leche on the bottom. Spread or distribute in the indentations; this will depend on the mold. Make the cake mix first. In a bowl, using an electric mixer beat the butter with the sugar until creamy, add the egg and beat until smooth.
Sieve the flour, baking powder, baking soda and cocoa. Add 1/3 of the sieved ingredients and half of the yogurt, beat until smooth. Add the rest of the yogurt and sieved ingredients, mix. Finally, add warm coffee. Beat until smooth.
In the mixer, place dulce de leche, evaporated milk, cream cheese, eggs, and vanilla. Blend for 1 minute, make sure it's smooth.
Place the cake mix in the buttered mold. Even out.
 Blend the flan mix for 10 seconds and then slowly pour over the cake mix.
Cover with aluminum foil and place on a dish suitable for Bain Marie. Place in the oven and add warm water, at least 2 cm or 1″ water.
Bake for 1 hour 10 minutes, or until the cake feels firm and until a toothpick introduced in the center comes out clean.
Remove from Bain Marie, allow to cool almost completely for 1 hour, or 1 hour and a half.
Loosen from the mold with a knife and unmold onto a serving dish.
Decorate with shaved chocolate or chocolate sprinkles.