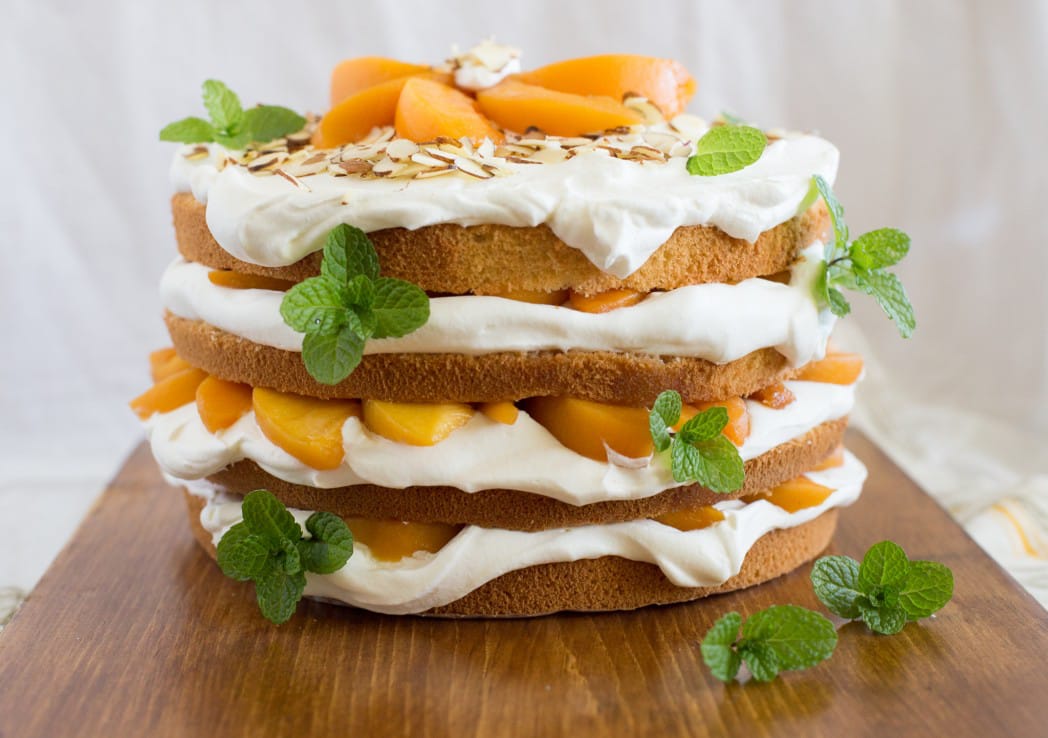 My husband 's birthday is at the beginning of December and he wanted a Peaches and Cream Cake. He is also Chilean and grew up there, we met at the medical school and dated for 5 years before getting married and after 2 years decided to move to the US for him to pursue an MS degree.
In Chile, my mother in law used to make this cake, usually a strawberry and cream cake, using the first strawberries of the season, because you know it is the beginning of the summer down there. My husband still likes fruit and cream cakes the best for his birthday and this year I went with this peaches and cream cake. So classic and delicious. I used frozen peaches, and they look and taste just like fresh in this cake, just don't over cook them.
As always, do the cake the day before serving, so the flavors have time to develop.
Peaches and Cream Cake
9″ cake
For the cake,
225 grams cake flour
6 eggs
225 grams of sugar
1/4 teaspoon salt
1 teaspoon vanilla extract
50 grams of melted butter
Preheat oven to 365F or 185C. Prepare 2 (8″ x 3″) cake pans. Cover the bottom with parchment paper.
In a bowl mix eggs, sugar, salt, and vanilla with a whisk, heat in a double boiler until it reaches a temperature of 115F or 46C always stirring.
Went the mixture reaches 46C, remove from the heat and beat with an electric mixer on high speed until the mixture rises and then collapses leaving a ring on the edge of the bowl, about 8 minutes.
With a spatula incorporate the flour in 3 steps, using soft movements. Add the melted butter and incorporated.
Pour the batter into the prepared pans and bake for 25-30 minutes until lightly browned.
Cool on a wire rack and then wrap and refrigerate. Do not take out of the pan until you ready to cut and assemble the cake.
for the peach compote,
2 pounds of peeled cut frozen peaches
1/2 cup brown sugar
1/2 cup water
1 teaspoon vanilla extract
Place everything in a medium saucepan and cook over medium heat, stirring occasionally, until the sugar dissolves and the peaches are cooked. About 20 minutes if you star with frozen peaches. Cool, and refrigerate.
to assemble the cake,
3 cups heavy whipping cream
6 tablespoons sugar
1/2 cup peach jam, optional
1/4 cup sliced almonds for garnish
mint leaves for garnish
Whip the cream in a cold bowl until soft peaks form, add sugar and continue beating until stiff peaks form.
Take the cakes out of the pans and with a big serrated knife cut each cake in half. Remove the parchment paper.
Strain the compote and save some peaches to decorate.
Assemble the cake alternating cake soaked with juice from the compote, whipped cream, peaches. If you wish to add a layer of jam also.
Finally, cover the cake with cream and garnish with almonds, peaches, and mint.