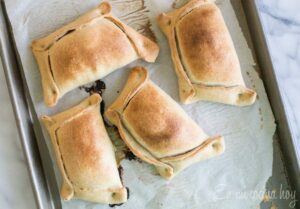 A traditional and handy recipe for Empanada dough, you can use it for your oven or fried savory recipes. Enjoy. Empanadas are a staple of Latin cuisine, found in all countries with different fillings.
Tips for some delicious empanadas:
Can I freeze the empanada dough?
I do not recommend it. The dough gets very difficult to work.
Is this dough good for fried empanadas?
Yes, the recipe for the dough is the same. Heat the oil to 350F or 180C, no more, or the empanadas will remain raw inside and very golden on the outside.
What can I do so that the empanadas do not burst in the oven?
It is essential to keep an eye on them and prick them with a toothpick when they inflate so that the steam escapes and does not burst.
Why do you recommend dividing the dough into portions, not rolling half the dough, and cutting the rounds with a plate?
The more times you roll the dough, gather leftovers, and use it again, the more difficult the dough becomes to work with, it loses flexibility, and if it develops a lot of gluten, the dough cooks hard.
Uses of Empanada Dough in Chile:
The most traditional ones are the Empanadas de Pino (onion, beef, hard-boiled egg, raisins) many families eat them every Sunday for the big family lunch. Also, the Fried Shrimp & Cheese Empanadas are found in coastal towns and restaurants. Kids are usually big fans of the Cheese Empanada.
Print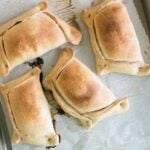 Empanada Dough
Author:

Prep Time:

20 minutes

Cook Time:

20 minutes

Total Time:

40 minutes

Yield:

20

Category:

Savory

Method:

Baked

Cuisine:

Chilean
---
Description
A basic empanada dough, perfect for the oven or to fry.
---
•    1 cup whole milk

•    1 cup of hot water

•    1 tablespoon salt

•    1 kilo or 2 pounds of all-purpose flour

•    4 egg yolks

•    180 grams lard, butter or shortening, melted
---
Instructions
1.    Make a brine with the milk, hot water, and salt, stir to dissolve the salt completely.
2.    In a large bowl or on a stand mixer with the paddle attachment mix the flour and egg yolks, mix for a minute to incorporate. Add the melted shortening and work a little more, at this point you will see only crumbs.
3.    To form the dough star adding the brine with the mixer running on low speed until the dough is soft and flexible. If you need more moisture, keep adding water.
4.    Separate the dough into 20 portions and cover with a moist cloth. Work each piece individually, rolling until thin, cut in a circle about 7″ and fill and bake as directed on the recipe.
---
Keywords: Empanada dough, Chilean cuisine