Cheese Empanadas are very popular in Chile; they are a classic appetizer and popular as snacks or lunches. Empanadas abound throughout Latin America with different fillings and doughs.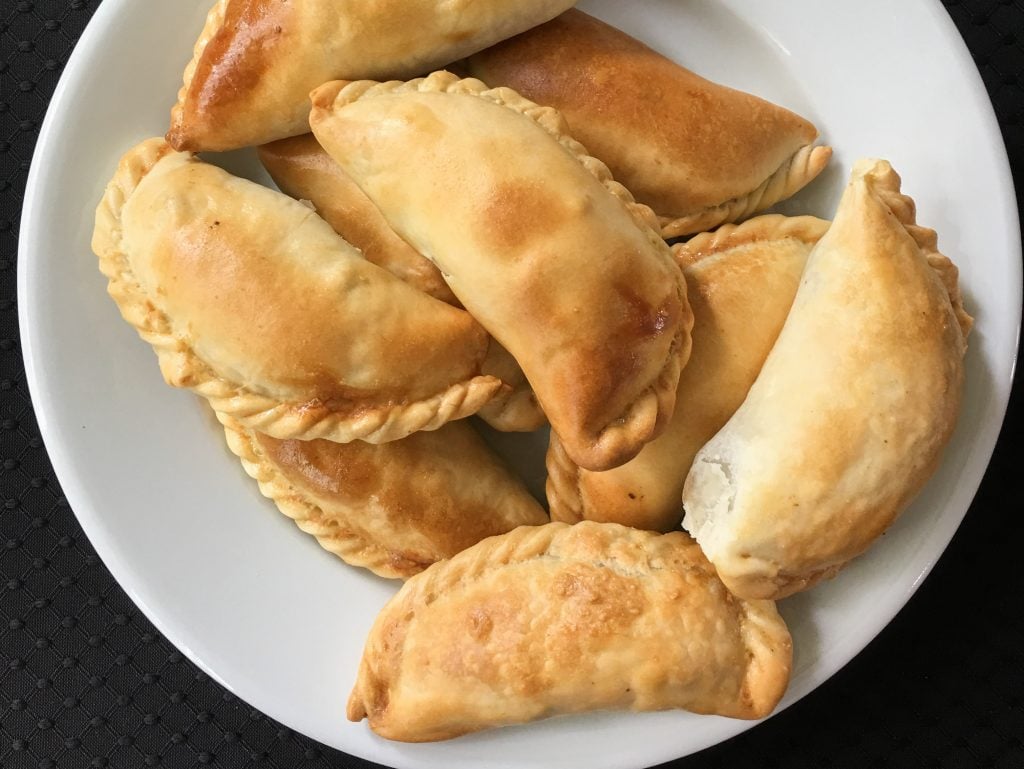 In this case, the recognizable touch is Chilean cheese: Chanco "queso de Fundo" cheese. It is a ripe cheese with a milky flavor that melts very well. In the USA, the closest cheeses are the Havarti or Muenster.
In the recipe, I explain how to make them fried or baked. The dough must be left thin so that it is crispy when eating.
If you are in a hurry, buy the dough premade frozen and use a plastic empanada sealer/press.
Empanadas are a popular dish in many countries, and the filling, dough, and preparation methods can vary significantly from one place to another. Here are some critical differences in cheese empanadas from various countries:
Argentina:
Filling

: Argentine empanadas often contain a mixture of cheese, onions, and spices. The cheese used is typically a mild, melty variety like mozzarella.

Dough

: The dough is usually made with wheat flour and may include some lard for richness. It's rolled thin and often baked to a golden brown.
Chile:
Filling

: Chilean cheese empanadas, known as "empanadas de queso," are typically made with a mixture of cheese, often queso Chanco or Gouda.

Dough

: The dough is typically made with wheat flour.
Colombia y Venezuela:
Filling

: Colombian cheese empanadas, or empanadas de queso, typically contain a combination of cheese: queso costeño, and mozzarella o queso blanco. They can also include other ingredients like guava paste.

Dough

: The dough is made with masa harina, giving it a cornmeal texture, and these empanadas are often deep-fried to a crispy golden brown. These empanadas often have a slightly sweet taste due to the cornmeal.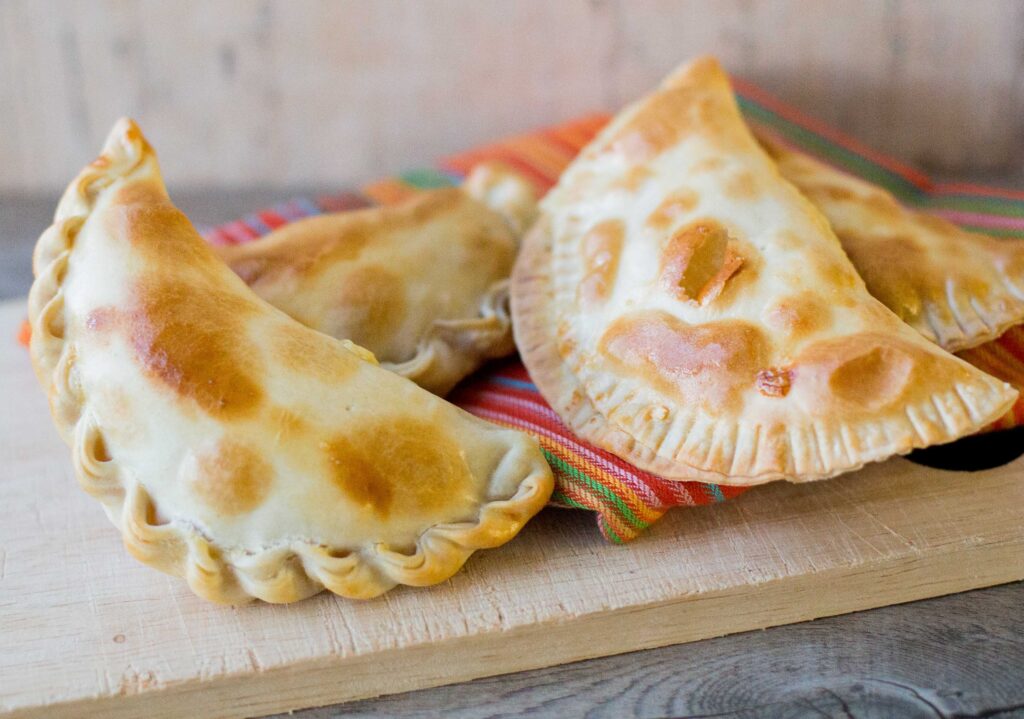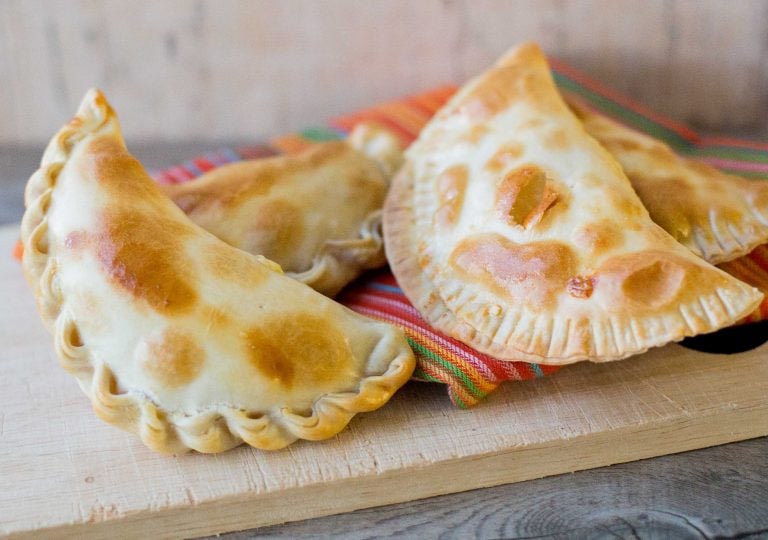 Mexico:
Filling

: Mexican empanadas de queso can contain a range of cheeses, such as queso quesadilla, asadero, or Oaxaca cheese. They may also include ingredients like chiles or epazote for added flavor.

Dough

: The dough for Mexican empanadas can be made from wheat flour or masa harina (corn flour), and they are usually fried to a crispy texture.
These are just a few examples of cheese empanadas from different countries, and each country has many regional variations. The choice of cheese, dough, and cooking methods can vary widely, resulting in unique flavors and textures that reflect the culinary traditions of each region.
Can I freeze the empanada dough?
I do not recommend it. The dough gets very difficult to work. You can freeze the raw-filled empanadas and fry them later. Do not defrost first.
Do you have a sweet empanada dough recipe to recommend?
Yes, this one is easy to work with and has a great flavor: Pear Empanadas.
Print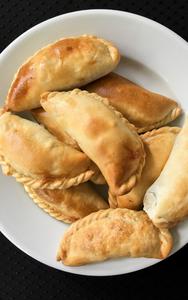 Cheese Empanadas
An excellent dough for these easy empanadas. Enjoy Cheese Empanadas fried or baked.
Total Time:

1 hour and 30 minutes

Yield:

30
1

cup

of cold milk

1

cup

of hot water

1 tablespoon

of fine salt

1

kilo of all-purpose flour

2

whole eggs

180

grams

of warm shortening or melted lard or butter

1

pound of Havarti cheese or any cheese that melts well in pieces 4 cm x 1 cm
Instructions
Make a brine with milk, water, and salt, and stir until the salt is completely dissolved.

In a large bowl, put all the flour, add the eggs, and incorporate, stirring with a wooden spoon, fork, or with the tips of the fingers. You want to obtain sand of different thicknesses.

Add the butter and work a little more in the same way. At this point, you will only have crumbs, not dough, yet.

Continue working the dough while adding the brine until you obtain a soft and elastic dough. This will take about 10 minutes of kneading by hand. If you need more moisture to form a dough, keep adding water or milk without salt.

Preheat the oven to 350F or 180C or the oil to fry at 350F or 180C.
Separate the dough into 20 or 30 pieces and cover with a damp cloth.

Work each portion individually, roll it into a thin dough (3 mm.), and cut it into a circle. I do not recommend extending half of the dough and cutting several circles at once because there will be a lot of dough left, and each time you re-roll, it gets harder. This method ensures that the empanadas are pretty since the dough will have sufficient flexibility.

Place a piece of cheese on one side of the circle. Close the edge with milk, press firmly and make the folds or close using a fork.

Bake for 30-35 minutes until they are golden. Watch them during cooking. If they puff up, bury a toothpick to deflate them so they do not open.
Or fry on one side and then the other. It's fast, about 2 minutes per side.

Author:

Pilar Hernandez

Prep Time:

1 hour

Cook Time:

30 minutes

Category:

Appetizer

Method:

Oven-baked

Cuisine:

Chilean
Nutrition
Serving Size:
Calories:

358

Sugar:

0.5 g

Sodium:

337.9 mg

Fat:

25.6 g

Saturated Fat:

15.9 g

Carbohydrates:

25.9 g

Fiber:

0.9 g

Protein:

7.3 g
Keywords: Chilean Cheese Empanadas