I grew up eating homemade quince paste, and it is a flavor that I love. Here in the USA, you can buy quince paste from the Goya brand or imported from Spain or other countries, and it is terrific, but it does not have the same texture as homemade.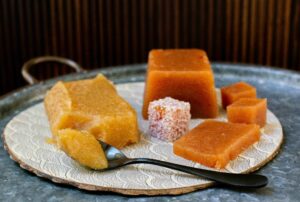 The industrial paste is generally more homogeneous and smooth; the homemade has more texture; you can feel the essence of the quince. If you want a smooth homemade quince paste, you should pass it through a fine sieve.
The color is another consideration. If you use ripe or banged-up quinces, the color inside is darker reddish because the fruit's meat has oxidized by contact with the air. I recommend using not very ripe quinces to privilege the taste, which also suffers from oxidation.
After you cook the quince, the starting quince puree will be yellow, but thanks to the slow caramelization, it will change color to the traditional reddish-brown, and the flavor will improve.
Another critical point is that quince naturally has a lot of pectins. So take out half of the seeds before cooking, so you don't end up with a stiff paste.
Is quince paste a good way to preserve quince?
Yes, quince paste keeps for a long time, like many jams. The sugar-quince ratio is for each kilo of cooked quince pulp. Add 750 grams of granulated sugar. You can freeze quince paste for up to 3 years.
What do I do with quince paste?
The most common way to eat quince paste in Chile is on toast (like jam) at breakfast. My other favorite uses are on apple strudel (add before the apples in a thin layer) with cheese on a board or sugar-dusted candy.
Can I eat quince raw?
Yes, but it is very tart. Quince is seldom eaten raw with salt in Chile.
Note: I tried to make quince jelly with cooking water and leftover seeds, and it did not work out. Not enough flavor left. So I will soon experiment with that recipe, but don't waste ingredients and time trying to reuse that water.
Print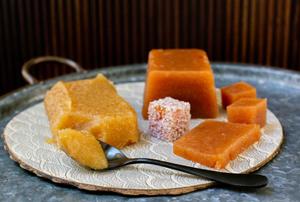 Dulce de Membrillo Quince Paste
A traditional Chilean sweet treat.
Total Time:

2 hours 20 minutes

Yield:

2

pounds

1

x
6

quinces (a little more than a kilo or

2

pounds)

750

grams

of granulated sugar
Instructions
Wash the quinces very well. Remove all the hair by rubbing with a sponge. Cut each quince in 4 and remove the seeds of half of them. Do it one by one and place them in water immediately.

Place the quinces in a pot and cover with the minimum amount of water possible. Cook; once it boils, reduce heat and simmer for 20 minutes.

Drain. Let cool for 10 minutes and then remove the rest of the seeds, and in the food processor or blender, make a puree (do not add water).

Weigh the puree and calculate the sugar. Place in a large pot with high walls to minimize the risk of burns.
Mix and cook over medium heat, stirring. Once it boils, lower the heat to a minimum, and cook for 15 minutes, stirring. At this point, it will still be yellow and a quince jam, spreadable.

Move to your smaller plate with minimum heat if you want a reddish firm paste. It should not bubble. Let cook for 1 hour and a half to two hours until it changes color. Stir every 5-10 minutes so it doesn't burn.
Author:

Prep Time:

20 minutes

Cook Time:

2 hours

Category:

Sweets

Method:

Stove

Cuisine:

Chilean
Nutrition
Serving Size:

1 tb/cucharada/20 gramos

Calories:

70

Sugar:

15 g

Sodium:

1 mg

Fat:

0 g

Saturated Fat:

0 g

Carbohydrates:

18.1 g

Fiber:

0.4 g

Protein:

0.1 g
Keywords: Quince paste, quince jam, chilean food